Born on December 7, 1994, Peter Morgan Alonso, who goes by the nickname "Polar Bear", is an American baseball player. He plays first base for the New York Mets of Major League Baseball (MLB). He joined the New York Mets for the 2019 season, marking his MLB debut. Pete Alonso's parents are Peter Matthew Alonso and Michelle Lynn Alonso. He was born in Tampa, Florida, the United States.
Alonso spent his first two years of high school at Tampa's Jesuit High School before transferring to Henry B. Plant High School to complete his education. As a freshman, he participated in football and lacrosse before deciding to concentrate only on baseball. He was the third baseman for the baseball team. He attended the University of Florida, where he played first base for the Florida Gators during his college baseball career.
Alonso was chosen by the New York Mets with the 64th overall pick in the second round of the 2016 Major League Baseball draught. He signed with the Mets and received a $909,200 signing bonus. In 2016, he played for the Class A-Short Season Brooklyn Cyclones of the New York-Penn League.
The Mets named Alonso as their starting first baseman for Opening Day in 2019. On March 28, the team's Opening Day, he was in the starting lineup. Moreover, in the eighth inning, against Washington Nationals pitcher Justin Miller, he collected his first major league hit.
Alonso declared in August 2022 that he would play for the American baseball team in the 2023 World Baseball Classic.
In November 2021, Pete Alonso married his wife Haley.
Pete Alonso Net Worth
Baseball enjoys very high popularity in many countries. Although that still is much less compared to football, cricket, and basketball, it still generates very high revenue for organisers and players. The game is one of the most followed sports in the United States, although almost every other country that plays it does not at a high level. But because America is also the richest country in the world, baseball also forms a very promising career in terms of income and popularity.
MLB is the world's fourth-most expensive sports league. The American National Football or NFL, the Indian Premier League or IPL, and the English Premier League or EPL of England are the three sports leagues that come before MLB.
This is why we see MLB players earning a decent income. Moreover, if the player is a superstar-level player, that is, one of the best, then it is almost certain that he will have a handsome income. And such a high income also means a high net worth. One such player is Pete Alonso. The New York Mets' first base player, in 2022, agreed to a salary of $7.4 million. He also has been a part of several brand endorsements. Moreover, he is not a rookie in the league. He has been playing in MLB since 2019, which means he has been playing in this league for 3 years now.
For all these, Pete Alonso enjoys a staggering net worth of $7.4 million dollars. Despite no official confirmation, this is the most reliable figure as of now. This is because most of the portals agree with this figure. However, many other portals suggest different figures. Some also say that Pete Alonso's net worth is over $10 million.
Pete Alonso Stats
The New York Mets regular first baseman Pete Alonso has a lot of good performances to his name. In just 3 years, he has made himself one of the most reliable Mets players. Moreover, his batting skill can be understood by the fact that in his first season itself he earned the nickname "polar bear". He got this nickname for his strength which was visible from his batting and home run hitting ability.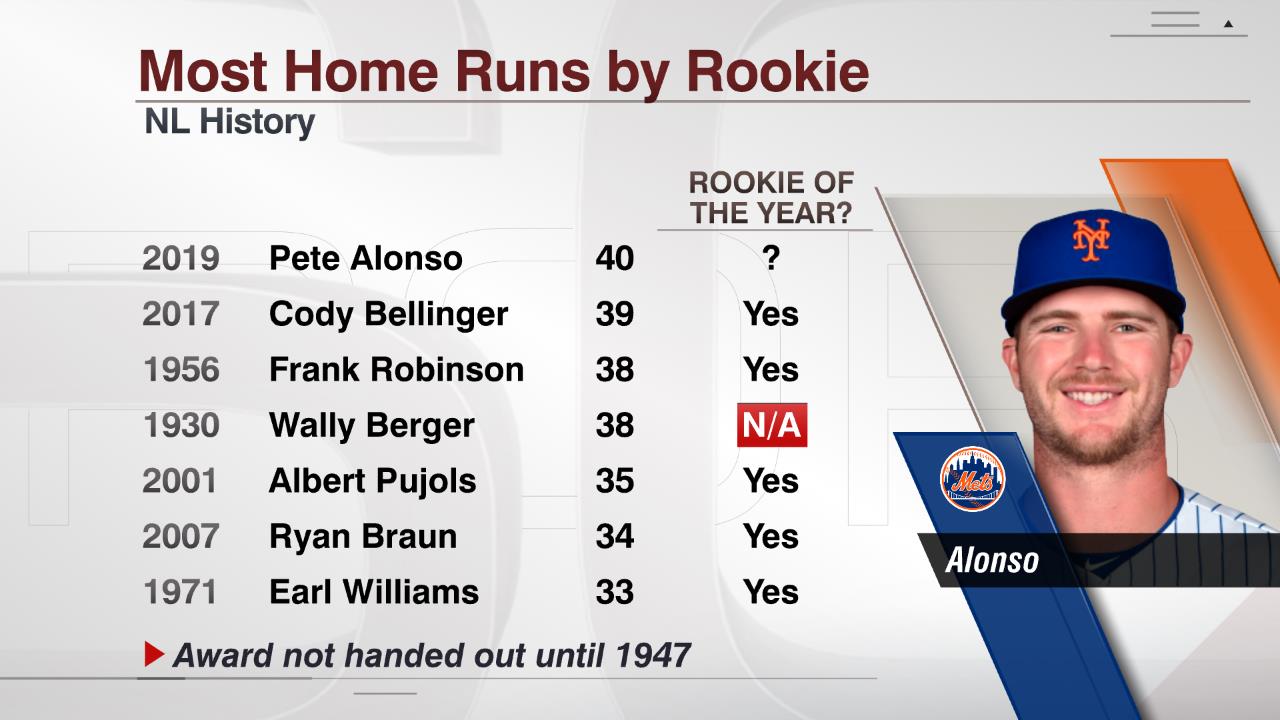 In 2019 when he made his debut, he broke the MLB record for maximum home runs by a rookie. He hit 53 home runs in his debut season. With this, he also became the first Mets player to hit 50 home runs in a single season. Overall, the right-hand batsman has hit 146 home runs in his career to date.
If one sees his batting, he has made 508 hits so far. Moreover, his batting average is 0.260 from the 527 games he has played.
In the year of his debut, Pete showed MLB what he is made of. His debut was nothing less than any aspiring baseball player can dream of. In 2019, Pete Alonso won four major recognitions. Firstly, for his stellar performance as a newcomer, he won the National League (NL) Rookie of the Year award. Then the MLB Home Run Leader for that year for hitting the maximum home runs in that season. He also got a position among the greats of 2019's MLB season by being a part of the All-MLB First Team of 2019. Moreover, he also got to play the MLB All-Star game that year. In 2022, he got to play the All-Star game again for his good performance in the 2022 edition.
New York Mets
The Queens neighbourhood of New York City is home to the New York Mets, an American baseball team. The National League (NL) East division is where the Mets play in Major League Baseball (MLB). They share a stadium with the American League's (AL) New York Yankees as one of two major league teams with New York City as their home base. The Mets are one of the first baseball expansion teams.
The New York Mets' official mascot is named Mr Met. When the Mets still played at the Polo Grounds in northern Manhattan in 1963, he was first featured on the front cover of game programmes. The female counterpart of Mr Met is Mrs Met (formerly Lady Met). Furthermore, the couple occasionally makes an appearance with a few smaller "children."
The Mets' anthem, "Meet the Mets," is a composition by Bill Katz and Ruth Roberts. The song came in 1961. the year before the team's inaugural season. It is broadcast on radio, television, and during Mets home games.
The Mets have had a long list of great players. The list even goes beyond their hall of fame which comprises some of the greatest baseball players. Players like Roberto Alomar, Nolan Ryan, Duke Snider, Edgardo Alfonzo, Trevor Williams, and Pete Alonso were and are associated with the team.
Steve Cohen has been the owner of The Mets since 2020. He is a billionaire hedge fund manager. Cohen paid $2.4 billion for the team. In 2022, the Mets became the sixth most valuable MLB team by Forbes, with a $2.650 billion valuation.
The team's overall win-loss record as of the 2021 season is 4,551-4,927.
Pete Alonso Wife
Baseball players enjoy a very high fan following. And fans want to know as much as possible about their favorite celebrity. So is the case with the baseball player Pete Alonso. Fans were always eager to know who their favourite baseball player loves. In 2021, Pete gave his fans this information himself. He married his girlfriend Haley.
Haley, a former figure skater who interned at NBC News, has been writing for a lifestyle blog lately. Together, Pete Alonso and Haley Alonso work for non-profit organisations. They participate in these activities and direct a group called "Homers for Heroes."
Pete and Haley Alonso, decided to get married in 2021 in November. According to reports, the couple began dating in 2015 and announced their engagement in 2018. After a few years of dating and becoming engaged.
Pete Alonso Instagram
Almost every famous person, including athletes, actors, politicians, and content creators, is active on social media. While some choose to be on only some of these platforms, others are present on all of them.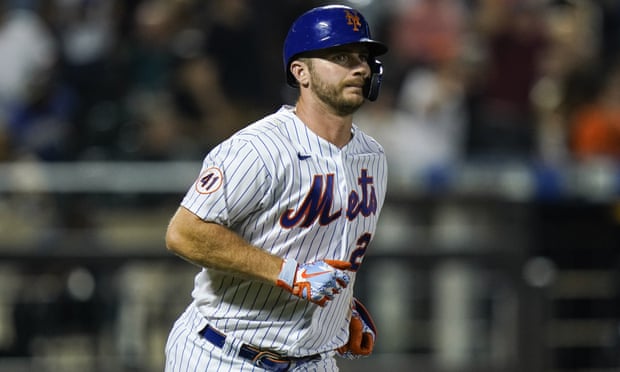 Sports stars typically have a huge social following. Additionally, if they are participating in a well-known or lucrative sport, a sizable fan base can be anticipated. Baseball, basketball, football, and cricket players, for instance, all have sizable social media followings. It is also surprising that baseball, despite being less well-known than the other three sports mentioned above, has very well-known athletes.
One such baseball player is Pete Alonso. Pete is on Instagram. The current home run hero of New York Mets has a good Instagram following. He has 330 thousand followers there. In the 91 posts he has shared so far, he has kept his fans updated with many of his professional personal activities. He shares both family and work-related pictures. His Instagram username is polarpete20.
The "polar" in his username comes from the nickname he got in 2019, his rookie year. He got the nickname "polar bear" for his strength which people saw when he hit the ball, especially through his home runs. In 2019, he hit the most home runs (53) as a rookie in the history of MLB. Moreover, he also became the first Nets player to hit over 50 home runs in a single season.
Major League Baseball
Major League Baseball (MLB) is a professional baseball league and the world's first major professional sports league. There are 30 teams in each of the National League (NL) and American League (AL), 29 of which are in the United States and 1 in Canada.
The Major League Baseball Constitution serves as MLB's governing document. This document has undergone a number of changes since it was first created in 1876. Under the direction of the baseball commissioner, the MLB hires and maintains the umpiring staff for the sport and negotiates labour, marketing, and television contracts.
MLB's commissione is currently Rob Manfred. Currently, Dan Halem holds the positions of deputy commissioner and chief legal officer for baseball administration. Apart from Manfred and Halem's positions, there are seven other high-level posts in the administration.
The first baseball team made up entirely of professionals was the Cincinnati Red Stockings. They were established in 1869. Some teams had previously paid certain players covertly before that. The first few decades of professional baseball were characterised by players who frequently changed teams or leagues and by league rivalries. Since then, MLB and baseball have undergone numerous changes to improve their organisation and stability.
Each team currently plays 162 regular-season games, and six teams from each league make it to the World Series, which began in 1903 and is a best-of-seven championship game between the two league champions.
One can watch baseball matches on television, radio, and the internet in North America and a few other countries. Major League Baseball had the highest overall season attendance of any sports league in the world in 2018 with more than 69.6 million spectators.
Pete Alonso Age
New York Mets first baseman Pete Alonso was born on December 7, 1994. He will turn 28 on December 7, 2022. He made his debut in 2019's March at the age of 25 with the Mets and has been with them since then.
In his rookie season, that is, 2019, he gave an outstanding performance. He immediately set two records in the category of home runs. One came at the team level and one at the league level. Currently, at the age of 27, rather, almost 28, he has played 527 games so far. The "polar bear" of MLB has also hit 146 home runs and he averages at 0.260. 0.260 was also his rookie season average.
Pete Alonso Height & Weight
Pete Alonso is 6 feet 3 inches tall and weigh around 245 lbs.
Pete Alonso Position
Home run expert Pete Alonso is a New York Mets player. He joined them in 2019 as a first baseman and has been there ever since. However, at high school, he played as the third baseman. But after joining the University of Florida, he changed his position to first baseman.
The third baseman or 3B protects the territory closest to third base, the third of the four bases a baserunner must touch consecutively to score a run. The third baseman gets the number 5 in the system that tracks defensive plays.
Because the third baseman is often the infielder closest to the batter, another name for third base is "hot corner." The majority of right-handed hitters favour this direction when striking the ball hard. To catch such balls that can reach speeds of more than 120 mph (190 km/h), a third baseman should have good hand-eye coordination and quick reactions.
The first baseman or 1B fields the area closest to first base, the first of four bases a baserunner must touch in succession to score a run. The majority of plays at first base are the first baseman's responsibility. The first baseman gets number 3 tracking defensive plays.
First basemen should ideally be tall, left-handed throwers with good flexibility and quick reflexes. Moreover, the first baseman must be adaptable also because after fielding ground balls, the pitcher, catcher, and other infielders all throw to him. The first baseman must be able to reach the throw and catch it before the runner reaches first base to declare the runner out. First baseman's quick reflexes are there to field the hardest hit balls down the foul line. For this, first base's another name is "the other hot corner" (the "hot corner" being third base).
Pete Alonso Contract
In 2016, the New York Mets chose Pete Alonso in the second round as their 64th overall pick of the 2016 Major League Baseball draft. He got a signing bonus of $909,200. In 2019's March, Pete debuted with the Mets in the Major League Baseball. He was 25 years old then.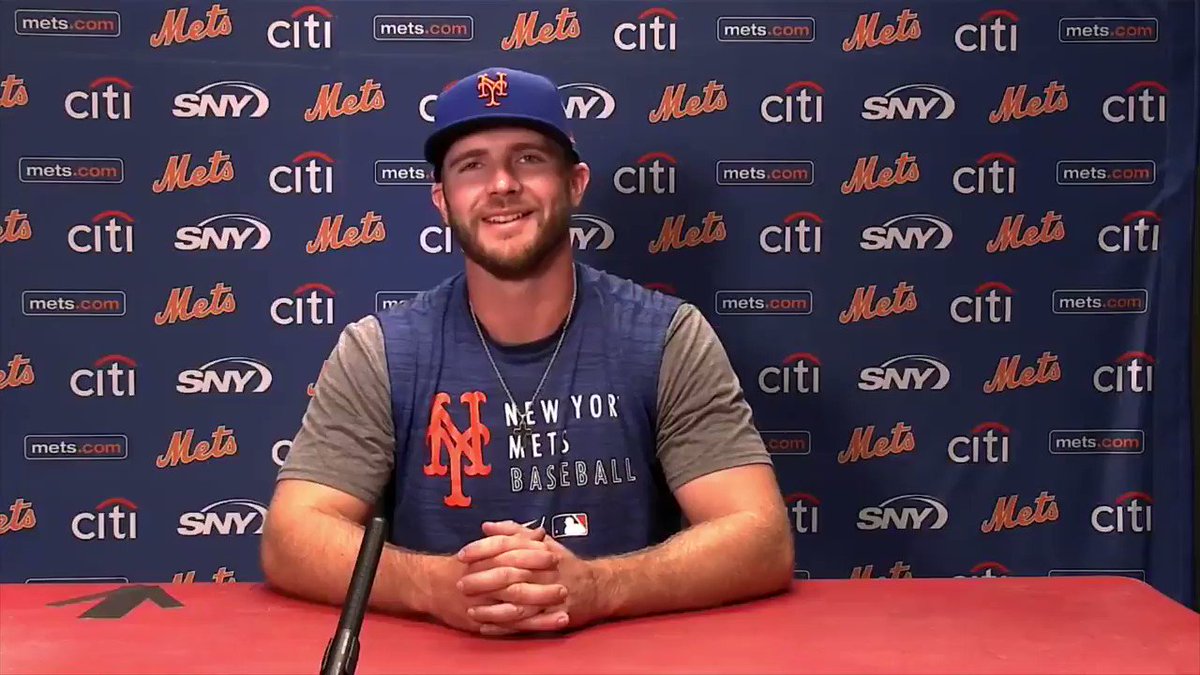 Then, after playing for the Mets in 2020 and 2021, Pete signed another contract with them in 2022. In March 2022, Pete the New York Mets gave pete a contract of $7.4 million. Pete signed this contract in order to avoid salary arbitration.
Pete Alonso FAQs
Why is Pete Alonso a polar bear?
New York Mets team member Pete Alonso has the nickname "polar bear". He got this nickname in his first Major League Baseball season itself, that is, in 2019. It was for the strength that Pete had which he showed through his hits. Alonso was given this nickname by third-base coach Gary DiSarcina.
How much is Pete Alonso rookie card worth?
For Pete Alonso's 2019 Topps Base, the highest price found is $424.99, and the lowest price found is $3.
What is Pete Alonso's walk up song?
Pete Alonso's walk-up song is "Edge of Seventeen". "Edge of Seventeen" is a song by Stevie Nicks. A walk-up song in baseball is a song that plays as the home team's batter approaches home plate.
Who has the most home runs in 2022?
Aaron Judge, an outfielder for the New York Yankees, has hit the most home runs in 2022. He has so far hit 61 home runs in 2022. He has 174 hits overall and a .314 batting average this season.
What's Mike Trout's walk up song?
MLB team Los Angeles Angels Centre fielder Mike Trout chose the song "Super Gremlin" by Kodak Black as his walk-up song in 2022. Mike Trout currently holds the most expensive baseball contract. He is one of the best players currently worldwide.
Who is the home run leader?
Barry Bonds is the Major League Baseball career home run leader currently. In baseball, a home run leader is a person who has the highest number of home runs in the American professional baseball league Major League Baseball. He has hit 762 home runs in the 22 seasons of MLB he played. Considered to be an all-around player, Barry has won a record seven National League Most Valuable Player awards.