AS Roma Players And Logo History
AS Roma: Associazione Sportiva Roma (Rome Sports Association), commonly referred to as Roma, is an Italian professional football club based in Rome. Founded by a merger in 1927, Roma has participated in the top-tier of Italian football for all of their existence except for 1951–52.
In the summer of 1927, to the great pleasure of sports lovers in Rome, Associazione Sportiva Roma was born, following the merger of three Rome-based sports clubs: Fortitudo-ProRoma, Football Club di Roma, and Alba-Audace. As reported via the major daily newspapers of the time – including Il Messaggero and the Rome edition of the Gazzetta Dello Sport – the agreement was reached on the historic night of 7 June 1927.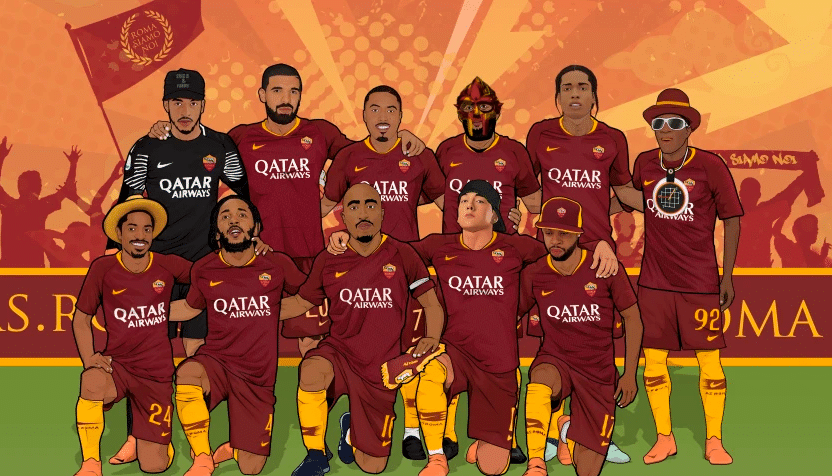 It was decided that Italo Foschi would become the club's first president, with Foschi having already held several meetings in the previous months among the three clubs with the aim of bringing Rome sportsmen together to create a great team capable of beating the northern sides.
Roma has won Serie A three times, in 1941–42, 1982–83 and 2000–01, as well as winning nine Coppa Italia titles and two Supercoppa Italiana titles. In European competitions, Roma won the Inter-Cities Fairs Cup in 1960–61 and were runners-up in the 1983–84 European Cup and the 1990–91 UEFA Cup.
AS Roma Roster
Andrea Romagnoli (G)
Pau (G)
Matteo Cardinali (G)
Daniel Fuzato (G)
Stefano Greco (G)
Antonio Mirante (G)
Moustapha Seck (D)
Davide Zappacosta (D)
Juan Jesus (D)
Chris Smalling (D)
Aleksandar Kolarov (D)
Elio Capradossi (D)
Yildirim Mert Cetin (D)
Davide Santon (D)
Federico Fazio (D)
Gianluca Mancini (D)
Alessandro Florenzi (D)
William Bianda (D)
Leonardo Spinazzola (D)
Francesco Semeraro (D)
Riccardo Cargnelutti (D)
Riccardo Calafiori (D)
Emanuele Spinozzi (M)
Bryan Cristante (M)
Lorenzo Pellegrini (M)
Cengiz Under (M)
Jordan Veretout (M)
Nicolo Zaniolo (M)
Javier Pastore (M)
Amadou Diawara (M)
Mirko Antonucci (M)
Alessio Riccardi (M)
Ebrima Darboe (M)
Salvatore Pezzella (M)
Gennaro Nigro (M)
Henrikh Mkhitaryan (M)
Diego Perotti (F)
Edin Dzeko (F)
Nikola Kalinic (F)
Gianmarco Cangiano (F)
Ludovico D'Orazio (F)
Justin Kluivert (F)
AS Roma Store
An official club store of AS Roma, one of Rome's two top-flight football teams. There's an extensive array of Roma-branded kit, including shirts, caps, T-shirts, scarves, keyrings, and a whole lot more. You can also buy match tickets for Roma's home games – to do this you'll need to show your ID and that of anyone else you're buying for.
AS Roma Jersey
100% polyester VaporKnit. This jersey takes the engineered breathability of Nike VaporKnit technology to the next level with quick-drying, high-stretch yarn designed to combat cling and the weight of moisture. Cooling zones in key areas utilize an open-knit structure to increase airflow where you need it most.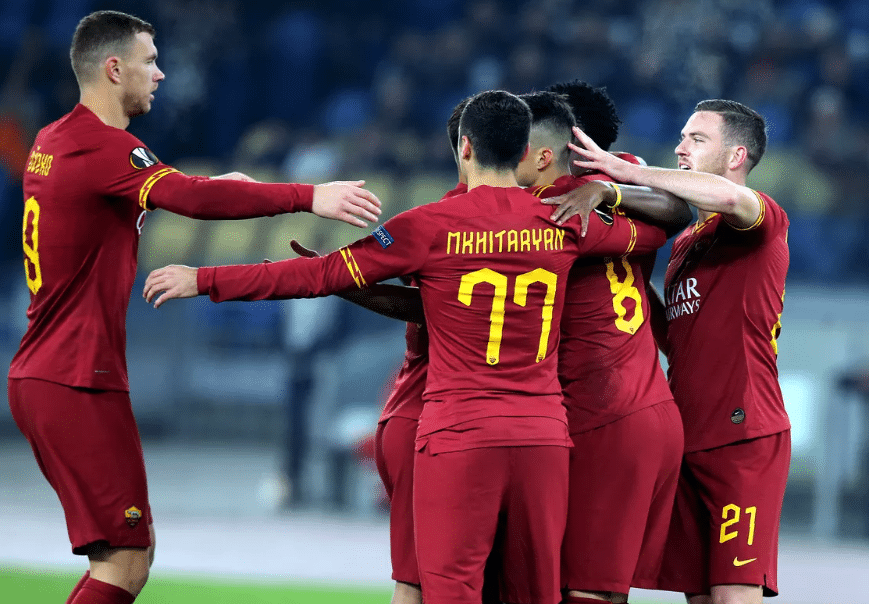 Nike VaporKnit technology combines lightweight cooling, reduced cling, and precision fit. Quick-drying, high-stretch yarn provides flexibility and comfort. Open-knit structure in key areas increases airflow. Raglan sleeves eliminate shoulder seams so your arms move freely. Swoosh to right chest AS Roma and Nike logo.
AS Roma Logo
The logo of AS is the famous Italian Story of Romulus and Remus. This story is about the two boys Romulus and Remus who were kidnapped from their mother after their great uncle Prince Anmonilus vanished her to the temple of Mars and he also vanished his brother Neumatour the rightful king away.
When they were born Prince Ampolius got his servants to kidnap them and drown them in the Title river, but they didn't drown as the Prince wanted instead they floated until they rested on land was a mother wolfs instincts left her and her motherhood kicked in and she took the boys and raised them as her own. The history of logo creating is almost the same. In fact, the managers of the new club took the already existing logo of the Fortitude club. However, the emblem seemed to be the best for the club, and this fact was impossible to ignore.
The Roma logo consists of two parts: the Capitolian wolf is depicted in the upper part, and the ASR logo (Associazione Sportiva Roma – Roma Sports Association) is on the bottom. Capitol wolf is one of the main signs of the Eternal City. According to the legend, Romulus and Remus, the founders of Rome, were brought up by a wolf, which became the sacred animal of the city.
As the months past Romulus and Remus got stronger and healthier as they slowly ventured further away from the cave. One day a Shepherd noticed the boys chasing and playing with each other and followed them to the cave where they live.
Where Does Roma Rank In Italy?
Cuarón's net worth estimated at more than $40 million. Once the receipts for Roma come in, Cuarón's wealth should surpass $45 million. (He also produced, photographed, and edited the film.)
What Is Roma Worth?
Prior to forming Raptor, Pallotta served as Vice Chairman at Tudor Investment Corporation. Additionally, Pallotta is co-owner and the chairman of the Italian football club A.S. Roma; co-owner and executive board member of the National Basketball Association's Boston Celtics, and Co-owner of esports franchise Fnatic.
Who Owns AS Roma?
Rome, Italy
Where Is Roma Soccer Team From?
You're not doing guided tours, you'll be paying full-price entrances to sights and you're organized enough to visit your two most expensive sights as soon as you get the Roma Pass. You're a fan of spending a little bit more money to save time.