Klay Alexander Thompson is an American professional basketball player for the National Basketball Association's Golden State Warriors. He is a four-time NBA champion with the Warriors, a five-time NBA All-Star, and a two-time All-NBA Third Team selection. Additionally, he is also a former NBA All-Defensive Second Team member.
Thompson's father Mychal Thompson was also a professional basketball player. He played for Portland Trail Blazers, Los Angeles Lakers, and San Antonio Spurs in the NBA. Besides them, he has also played in a second-tier Italian basketball league for the team Juvecaserta Basket. Klay Thompson's mother Julie was also a sportsperson. She played volleyball for her universities, the University of Portland and the University of San Francisco.
Klay made his debut in 2011 with the Golden State Warriors as a professional basketball player. He has been playing with them since then. And as a college basketball player, he played for Washington State University.
Besides being a world-class basketball player, Klay Thompson has also starred in a movie. The movie was 2021's Space Jam: A New Legacy. He played the role of himself. He also gave voice to Wet-Fire in that movie.
Klay Thompson Age
Klay Alexander Thompson was born in Los Angeles on February 8, 1990. He is currently 32 years old.
Klay Thompson Stats
Statistics are used to track a player's performance in any sport. They also assist us in understanding a player's skills, flaws, prior records, and how the athlete performs at any position. Good statistics indicate that a player is good and increases their chances of playing at a higher level and earning more money. Therefore, it is crucial for all players to maintain good statistics.
Additionally, it is crucial in basketball too, like any other game. Professional basketball players who compete at the highest levels, such as nationals or in well-known high-paying leagues, have good stats at lower levels. The lower levels include levels like college basketball, lower division leagues, and so on and so forth.
Klay Thompson is one player who has had some amazing records since his college days. He played so well for his college that Washington state University honoured him exceptionally. In 2020, they retired jersey number 1 which Klay wore in college.
In the NBA, he has a fine record too. He has appeared in 665 games. So far, the shooting guard has averaged 33.8 minutes per game and 19.5 points per game. Moreover, he has a 45.6% field goal percentage, a 41.6% 3-point field goal percentage, and an 84.9% free throw percentage. Klay also averages 3.5 rebounds per game overall. Additionally, Thompson has averaged 2.3 assists per game, 0.5 blocks, 0.9 steals, and 1.7 turnovers.
Klay Thompson Contract
Basketball contracts are the agreements that players negotiate with their teams in order to play for them. It is an agreement they reach that outlines how long the player will play for them and how much money he will get playing. Contract size in terms of remuneration is a very excellent indication of a player's skill. Therefore, the better a player performs, the more compensation he earns. Basketball players in the NBA earn far more than most of the players in any league in the world. Therefore, their highest-earning players often become the highest-earning players in the world across all sports because of the wages they get.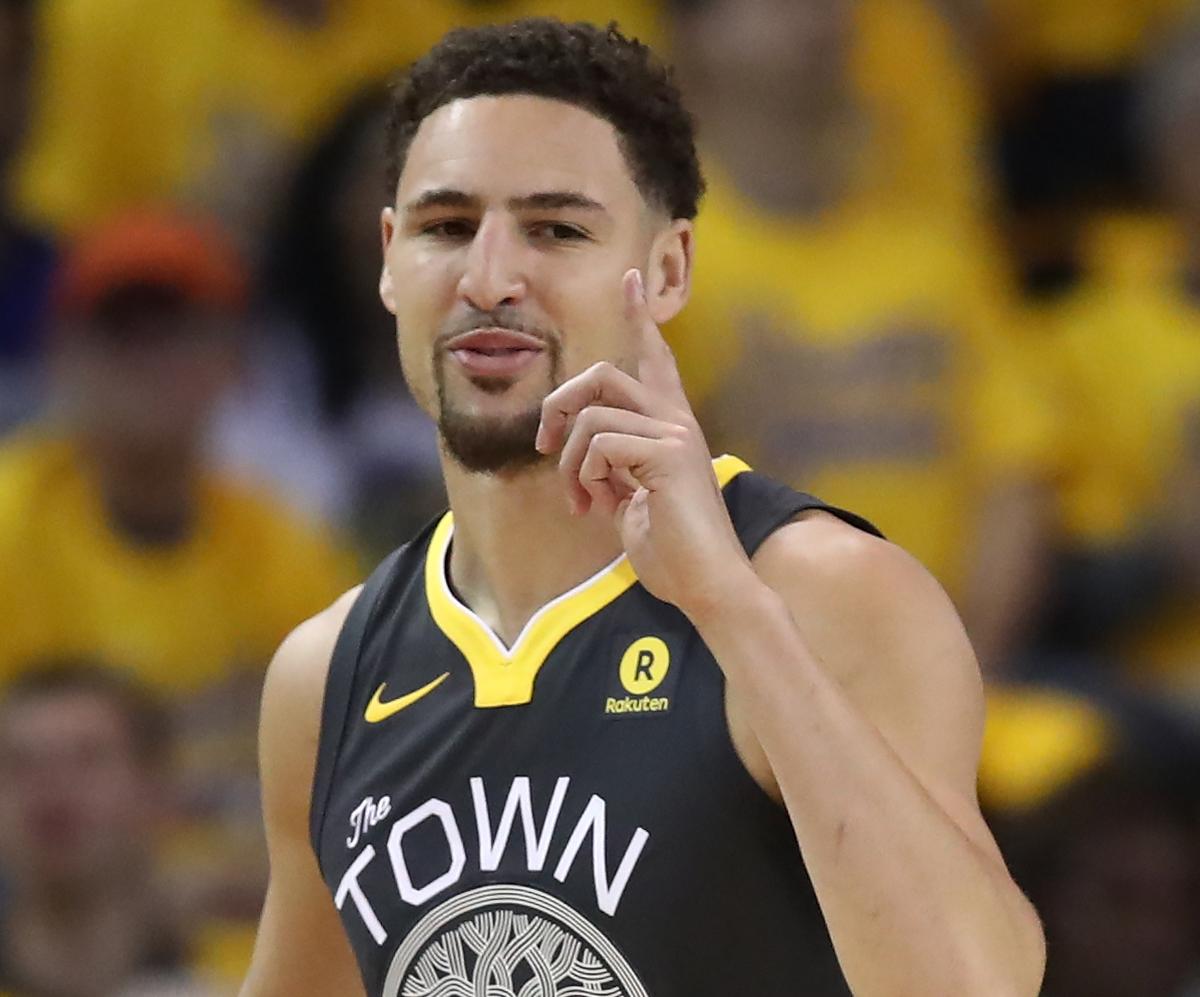 Klay Thompson agreed to terms with the Golden State Warriors on a 5-year, $189,903,600 contract, with $189,903,600 guaranteed and a yearly average salary of $37,980,720. Thompson will make a base salary of $40,600,080 in 2022-23, with a cap hit of $40,600,080 and a dead cap value of $40,600,080.
NBA
The NBA is a North American professional basketball league. The league is one of the major professional sports leagues in the United States and Canada, with 30 clubs. It is the best men's professional basketball league in the world. The NBA's regular season runs from October through April, with each club playing 82 games. The league's postseason round will run through June. As of 2020, NBA players earned one of the highest average yearly earnings in the world.
The NBA features 30 clubs, 29 from the United States and one from Canada too. It is based in New York, and its commissioner is Adam Silver. They have the top basketball players in the world. Furthermore, they serve as role models for future generations of basketball players. The NBA is hugely popular all around the world. Therefore, NBA games from practically every country may be viewed on television or by mobile phone.
It boasts some of the best basketball players in the world, like Stephen Curry, Kevin Durant, LeBron James, Klay Thompson, and Nikola Jokic.
Klay Thompson Net Worth
The amount of money a person makes defines their net worth. Actors, athletes, politicians, and businesspeople typically have a very high net worth. Sportspeople that compete in the top leagues or at the highest levels make a lot of money. So, basketball players in the NBA are among the highest-paid athletes.
Experienced NBA players and often new recruits get a lot of money. Moreover, if you are a very good player, an exceptional talent who always stands out, you get to make multiple sources of income. They get brand endorsements, social media earnings, and other deals. One such player is Klay Thompson. The 32-year-old NBA star has a net worth of $55 million. With an experience of 11 years and a stellar performance, he has made a name for himself and one can see that in his net worth too.
Golden State Warriors
The Golden State Warriors are a professional basketball team competing in the National Basketball Association (NBA). They are a part of the league's Western Conference Pacific Division and are in the San Francisco Bay Area. The Golden State Warriors are inarguably one of the best NBA teams since their founding. The team has consistently played some of the NBA legends and exceptional young talents. For this, the team has 7 championships, 7 conference titles, and 12 division titles under their belt. They hold several NBA records also, like the best regular season, most wins in a season (combining regular and postseason), and best postseason run.
Golden State Warriors have some of the best current and former players in the NBA. Legends and NBA Hall of Famers have regularly made appearances for this team. Among former stars, one can take the names of players like Wilt Chamberlain, Al Attles, Rick Barry, Kevin Durant, and Guy Rodgers. Moreover, current greats include the names of Stephen Curry, Draymond Green, and Klay Thompson.
Klay Thompson Height
Golden State Warriors shooting guard Klay Thompson is 6 ft 6 in tall. He is a basketball player of average height but beyond ordinary calibre. His average height does not deter him from performing well regularly. Excellent skills, experience, and most importantly, a champion team, all support him in his game.

His current teammate and already a legend in the game Stephen Curry is quite short for a basketball player on average. However, one cannot ignore his name as a great. All that is for his skills, dedication, and hard work. These players show that the common notion that height is an extremely crucial factor is quite wrong. Height is certainly important, but if one lacks skills, his height won't help him. At the same time, even if you are short, if you know how to play and have the right skills, you will do well, especially if your team is as good as Golden State Warriors.
Klay Thompson Girlfriend
Klay is currently in relationship with actress Laura Harrier. Laura is recognized for her role as Liz Allan in Spider-Man: Homecoming.
Klay Thompson FAQs
How many 3s has Klay Thompson made in his career?
Klay Thompson has made 1950 3-pointers in his career. The number is very high and thus shows how good a player Klay is. It is a shot made successfully from anywhere outside the 3-point line. The distance is quite big and it is very difficult to achieve points from there. It needs a lot of practice to make such a shot.
How many PPG does Klay Thompson have?
On average, Klay has 19.5 PPG or points per game. In the 2022 season, Klay has 17 PPG. He plays for the Golden State Warriors as a shooting guard and is one of their best players.
How many 50 point games does Klay Thompson have?
Scoring 50 points or more in a game is uncommon. A player must be at his best to achieve this feat. Thus, he should outperform everyone and play amazingly well. Golden State Warriors shooting guard Klay Thompson has played 3 50-point games.
How many 50 pt games has Steph Curry had?
Golden State Warriors legend Stephen Curry has played 11 50-point in games.
How many 60 point games did Michael Jordan have in his career?
Michael Jordan has 5 60-point games in his career.
Who has the most 60 point games in NBA history?
Wilt Chamberlain has the most 60-point games in NBA history, with 32 such games.