Iga Natalia Świątek, born 31 May 2001, reigns as the world No. 1 in singles, a designation by the Women's Tennis Association (WTA). Boasting four major singles titles, Świątek made history as the first Pole to clinch a major singles championship. Her accolades include three French Open titles (2020, 2022, 2023) and a US Open win in 2022. In total, she's secured 15 WTA Tour-level titles.
Daughter of retired Olympic rower, Tomasz, Świątek's junior accolades highlight a 2018 French Open girls' doubles victory and a Wimbledon girls' singles title. By 2019, at 18, she stormed the WTA Tour, reaching the top 50, following a standout fourth-round appearance at the 2019 French Open.
A striking achievement was during her 2020 French Open triumph, where she never conceded over five games in any singles encounter. By May 2021, post her Italian Open victory, she graced the top ten WTA rankings. 2022 saw her capture back-to-back WTA 1000 titles in Qatar and Indian Wells, propelling her to a No. 2 ranking. With Ashleigh Barty's retirement, Świątek became the premier Polish singles world No. 1 on 4 April 2022. Her feats include another WTA 1000 title in Miami and an impressive 37-match winning spree, unparalleled in the 21st century WTA Tour.
Distinguished by an all-court style, Świątek's 2019 drop shot from the baseline clinched the WTA Fan Favorite Shot, and she was 2020's WTA Fan Favorite Singles Player. In 2023, accolades like L'Équipe Champion of Champions, Polish Sports Personality of the Year, and a spot in Time's Top 100 influential figures solidified her iconic status.
Iga Świątek Bio/Wiki Table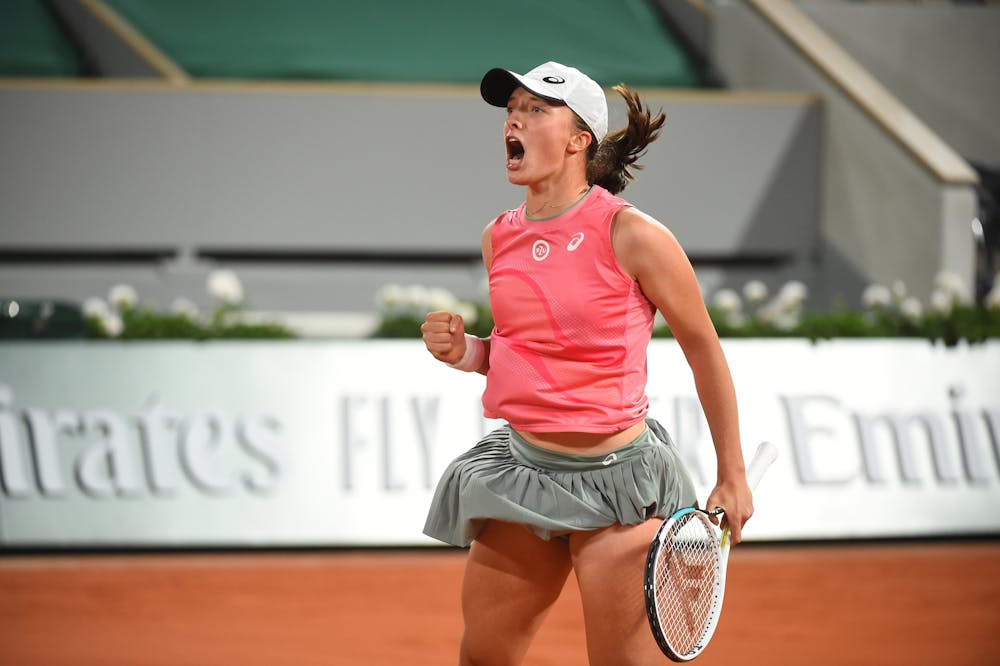 | Full Name | Iga Swiatek |
| --- | --- |
| Date of Birth | May 31, 2001 |
| Nationality | Polish |
| Birth Place | Warsaw, Poland |
| Height | 1.76 m |
| Weight | 65 kg |
| Net Worth | $10 million USD |
| Rank | 1 |
| Coach | Tomasz Wiktorowski |
Early Life and Background of Iga Świątek
Iga Świątek, born on May 31, 2001, in Warsaw, Poland, is a talented tennis player with a remarkable background. Her parents, Dorota and Tomasz Świątek, have played significant roles in shaping her journey. Her father, a former rower and Olympian, competed in the men's quadruple sculls event during the 1988 Seoul Olympics, while her mother is an orthodontist.
Having a vision for their daughters to excel in competitive sports, Iga's father encouraged them to pursue individual sports for greater control over their chances of success. Initially, her sister, Agata, ventured into swimming, but eventually switched to tennis after facing some difficulties. Iga, inspired by her sister's achievements, decided to follow her footsteps into tennis, fueled by a desire to both surpass her sister and to emulate her accomplishments.
At the age of 14, Iga began her training at Mera Warsaw, later transitioning to Legia Warsaw. Her sister, Agata, had a brief stint on the ITF Junior Circuit in 2013 at the age of about 15; however, she had to halt her career due to injury troubles.
With a supportive family and her determination to succeed, Iga Świątek embarked on a path that would eventually lead her to great heights in the world of tennis.
Iga Świątek's Family Background
Iga Świątek, the tennis sensation from Poland, was born on 31st May 2001 in Warsaw. She hails from a family with a rich sports background.
Her father, Tomasz Świątek, is not just an ordinary sports enthusiast but an Olympian who represented Poland in the men's quadruple sculls during the 1988 Seoul Olympics.
On the other hand, her mother, Dorota Świątek, is a highly educated individual, specializing in medicine as an Orthodontist. The family's passion for sports is evident as they were present at the 2022 French Open to witness Iga's triumphant victory against Coco Gauff.
Iga also has an elder sister, Agata Świątek, who initially ventured into swimming, later shifted to tennis, and eventually chose a career in dentistry at the Medical University of Lublin.
Educational Pursuits of Iga Świątek
While Iga Świątek's prowess on the tennis court is well-known, her educational journey is equally commendable.
Raised in a family that values education, Iga's mother, Dorota, always emphasized the significance of academics. This influence is evident as Iga's sister, Agata, pursued medicine, aiming to become a full-time dentist.
Specific details about Iga's educational qualifications are not mentioned, but given her family's emphasis on education, it's evident that she has balanced both her tennis career and academics efficiently.
Nationality and Ethnic Roots
Iga Świątek proudly represents Poland, both on and off the tennis court. Born and raised in Warsaw, Poland, she holds Polish nationality. Both her parents, Tomasz and Dorota Świątek, are of Polish descent, deeply rooted in the country's traditions and culture. This Polish lineage not only defines her nationality but also shapes her ethnic identity.
Iga Świątek Age
Born on May 31, 2001, Iga Świątek is a young tennis sensation who has taken the sports world by storm. As of now, she is 22 years old and has already achieved significant milestones in her tennis career.
Iga Świątek Height
Standing tall with an impressive height, Iga Świątek is 5 feet 9 inches (175 cm) tall. Her height gives her an advantage on the tennis court, allowing her to cover the ground efficiently and deliver powerful serves.
Iga Świątek Weight
Iga Świątek maintains a fit and athletic physique, crucial for her performance on the tennis court. She weighs approximately 62 kg (137 lbs), which complements her height and playing style.
Iga Świątek Physical Appearance & Body Stats
Iga Świątek is not only known for her exceptional tennis skills but also for her athletic build. With a height of 5 feet 9 inches and weighing around 62 kg, she has a well-toned body that is a result of rigorous training and a disciplined lifestyle. Her physical stats are a testament to her dedication to fitness and the sport of tennis.
Junior Career
Iga Świątek, a tennis prodigy, achieved a junior career-high ranking of No. 5. Starting her journey in the ITF Junior Circuit in 2015, she clinched two Grade 4 titles by age 13. That same year, she showcased her prowess at the Czech Junior Open, securing runner-up positions in both singles and doubles.
In 2016, Świątek made her mark in the junior Grand Slam, debuting at the French Open and reaching the quarterfinals in both categories. Her momentum continued as she clinched the Grade 1 Canadian Open Junior Championships title, besting Olga Danilović.
2017 saw Świątek's dominance in the Grade 1 Traralgon Junior International, where she won both singles and doubles titles. Partnering with Maja Chwalińska at the Australian Open, the duo reached the doubles final. Later that year, she made it to the Grade A singles final at the Trofeo Bonfiglio but faced a setback with a right ankle surgery sidelining her for seven months.
Returning stronger in 2018, Świątek's limited participation didn't deter her spirit. At the French Open, she reached the singles semifinals and clinched her first junior Grand Slam doubles title alongside Caty McNally, defeating the Japanese duo of Yuki Naito and Naho Sato.
Wimbledon 2018 was a testament to Świątek's resilience. Entering unseeded, she overcame top seed Whitney Osuigwe and went on to win the championship without dropping a set, defeating Leonie Küng. Later, partnering with Kaja Juvan at the 2018 Summer Youth Olympics, the pair clinched gold against Naito and Sato, marking a fitting end to Świątek's illustrious junior career.
Professional Career
2016–18: Iga Świątek's Remarkable Rise in the ITF Women's Circuit
Iga Świątek made her debut on the ITF Women's Circuit in 2016, continuing her participation until the close of 2018.
Impressively, she clinched victory in all seven ITF singles finals she participated in. Her wins spanned from four titles in the $10K to $15K bracket, a single victory at the $25k mark, and two notable triumphs at the $60K tier. At just 15, Świątek already had three titles to her name.
After a seven-month hiatus due to an injury, she made a triumphant return in February 2018, securing her fourth title. April saw her clinch a $25k title, post which she ventured into more prestigious ITF events.
Opting to remain in Europe after her junior Wimbledon victory in July, she bypassed the junior US Open. Instead, during the US Open fortnight, Świątek dominated two consecutive $60k tournaments – the NEK Ladies Open in Hungary and the Montreux Ladies Open in Switzerland.
In the latter, she outplayed top seed and world No. 120, Mariana Duque-Mariño. These victories marked her last ITF appearances for the year. Thanks to these accomplishments, a 17-year-old Świątek made her debut in the top 200, leaping from No. 298 to a commendable No. 180 within a fortnight.
Iga Świątek's Stellar Rise in the 2019 WTA Tour
2019 marked Iga Świątek's remarkable debut on the WTA Tour. Even without prior experience on this platform, Świątek exclusively participated in tour-level events throughout the year. Although she faced an initial setback at the Auckland Open, her resilience led her to qualify for the main draw at the Australian Open. Here, she showcased her prowess by defeating the 82nd ranked Ana Bogdan, marking her first major win.
Her momentum continued at the Ladies Open Lugano in April. Entering the main draw directly, Świątek reached her inaugural WTA final. A significant highlight was her victory over the third-seeded Viktória Kužmová, marking her first triumph over a top 50 player. However, she narrowly missed the title, finishing as a runner-up to Polona Hercog. A particular shot she played against Kristýna Plíšková during the semifinals was recognized as the 2019 WTA Shot of the Year. This performance propelled her into the top 100, a commendable feat at just 17.
The French Open saw Świątek reach the fourth round, where she defeated the 16th ranked Wang Qiang, marking her first top 20 win. However, she was halted by the defending champion, Simona Halep. The subsequent Grand Slams, Wimbledon and the US Open, didn't mirror her French Open success. Yet, at the Canadian Open, she stunned the tennis world by defeating the 18th ranked Caroline Wozniacki, only to face defeat against the second-ranked Naomi Osaka. This performance ushered her into the top 50. Post-US Open, Świątek took a break for foot surgery, concluding the year ranked 61st globally.
2020: Iga Świątek's Meteoric Rise and Historic Win at the French Open
Iga Świątek marked her comeback to the WTA Tour with a commendable performance at the Australian Open, reaching the fourth round. This journey was punctuated by a significant win over the 20th ranked Donna Vekić. Their rivalry continued at the Qatar Open, where Świątek clinched another victory before the WTA Tour faced a six-month hiatus due to the COVID-19 pandemic. Upon resumption, Świątek's prowess was evident at the US Open, where she progressed to the third round, only to be halted by the eventual finalist, Victoria Azarenka.
However, the rescheduled French Open in September witnessed Świątek's crowning moment. Entering the tournament ranked 54th globally, she stunned the tennis world by clinching her first-ever WTA title. Her journey to the title saw her defeat 2019's finalist, Markéta Vondroušová, in the initial round. The highlight was her triumph over the top-seeded Simona Halep, ending Halep's impressive 17-match winning streak.
In the final, Świątek overcame Sofia Kenin, marking her as the first Polish player to win a Grand Slam singles title. Her victory also set records as she became the youngest French Open champion since Rafael Nadal in 2005 and Monica Seles in 1992. Remarkably, she secured the title without losing a set, and her total game losses were among the fewest in the Open Era. This victory catapulted her to the 17th rank globally.
Additionally, in the doubles category, partnering with Nicole Melichar, the duo reached the semifinals, showcasing their dominance till the very end.
Iga Świątek's Stellar 2021: A Year of Triumphs and Milestones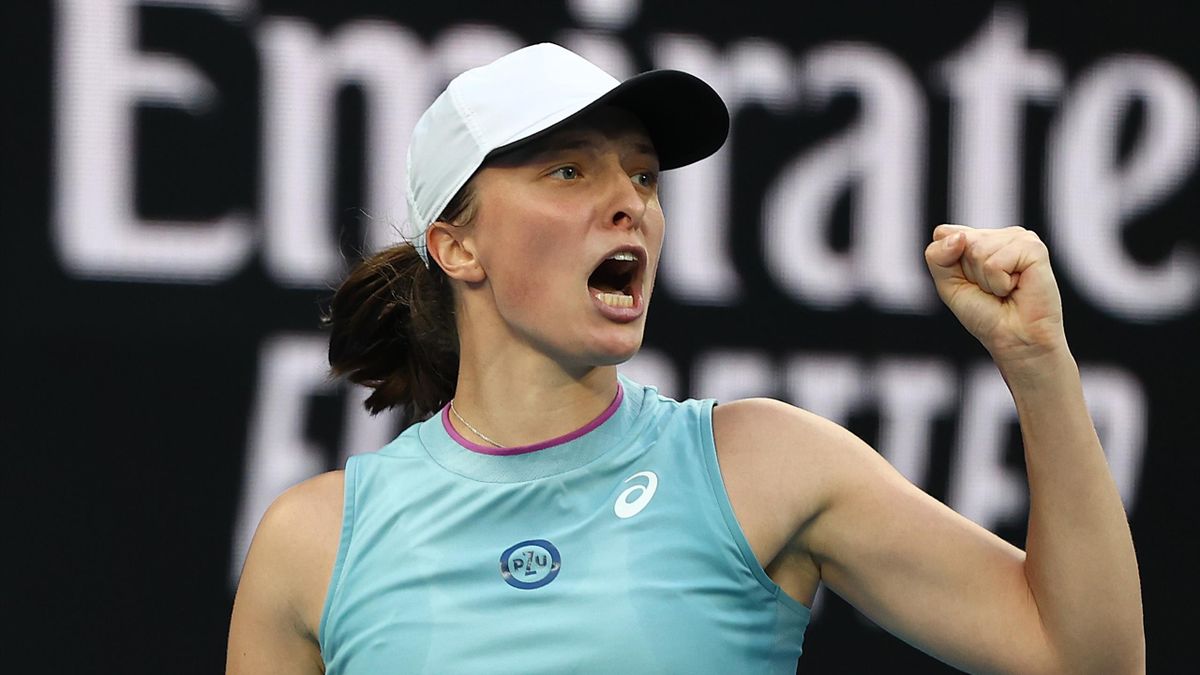 In 2021, Iga Świątek showcased her tennis prowess at the Australian Open, securing the 15th seed. She registered commendable victories against Arantxa Rus, Camila Giorgi, and Fiona Ferro, reaching the fourth round. However, her journey was halted by Simona Halep. Shortly after, Świątek clinched her maiden WTA Tour title at Adelaide, defeating Belinda Bencic without dropping a set, propelling her into the top 15 in March 2021.
Her winning streak continued at the Italian Open, where she secured her first WTA 1000-title. Remarkably, she defeated former champion Karolína Plíšková in under an hour without losing a game. En route to the final, she overcame challenges from world No. 5 Elina Svitolina and rising star Coco Gauff. This victory marked her as the fourth teenager to win a WTA 1000 event, pushing her to world No. 9 in May 2021.
The French Open saw Świątek, the 8th seed, defending her title with impressive wins. However, her 22-set winning streak at the French Open ended in the quarterfinals against Maria Sakkari. In doubles, partnering with Bethanie Mattek-Sands, the duo reached the final, elevating Świątek to a career-high doubles ranking of No. 42.
Świątek's grass-court season began at the Eastbourne International. Seeded fourth, she defeated Heather Watson but faced defeat against Daria Kasatkina. At Wimbledon, as the seventh seed, she showcased her skills with straight-set victories but was defeated by Ons Jabeur in the fourth round. Her consistent performance in 2021 made her the only player to reach the second week of all Grand Slams that year. This remarkable year culminated with her debut at the WTA Finals.
Iga Świątek's Dominant 2022: Ascending to World No. 1 and Setting Records
2022 was a defining year for Iga Świątek, marking her ascent to the World No. 1 rank, clinching two major titles, and boasting an impressive 37-match winning streak. The year commenced with Świątek reaching the semifinals at both the Adelaide International and the Australian Open. Despite a brief setback against Jeļena Ostapenko, she rebounded by clinching six consecutive titles, including the Qatar Open, Indian Wells Open, Miami Open, Stuttgart Open, Italian Open, and her second French Open title. However, her winning streak was interrupted by Alizé Cornet at Wimbledon.
Achieving the World No. 1 rank, Świątek also became the youngest woman to complete the Sunshine Double. Her 37-match streak set a record for the longest in the 21st century. The summer saw a few hiccups, with losses in Warsaw, Toronto, and Cincinnati. Yet, she bounced back at the US Open, securing her third major title against Ons Jabeur.
The Ostrava Open saw Świątek in the final, but she faced a grueling defeat against Barbora Krejčíková in the longest match of her career. She reclaimed her form at the San Diego Open, defeating Donna Vekić for her eighth title. At the 2022 WTA Finals, she dominated the group stage but was bested by Aryna Sabalenka in the semifinals. Closing the year as the top-ranked player, Świątek's 67–9 win-loss record was unparalleled since Serena Williams in 2013. She also became the first since Williams to amass over 11,000 ranking points in a season.
Iga Świątek's Remarkable 2023: Dominance, Milestones, and Challenges
2023 was a year of triumph and tenacity for Iga Świątek. Starting the year as one of the few women to hold the world No. 1 rank for over 40 consecutive weeks, Świątek showcased her prowess at the United Cup in Brisbane, reaching the semifinals. However, the Australian Open saw her journey end in the fourth round against Wimbledon champion Elena Rybakina.
February brought redemption as Świątek clinched her first title of the year at the WTA 500 Qatar Open, defeating Jessica Pegula without dropping a set. Her impressive form continued at the Dubai Tennis Championships, where she reached the final, only to be halted by Barbora Krejčíková. By March, she celebrated her 50th consecutive week as world No. 1. At the Indian Wells Open, she showcased stellar performances but faced defeat against Rybakina in the semifinals. An unfortunate rib injury forced her withdrawal from the Miami Open.
April saw Świątek defend her title at the Stuttgart Open, defeating world No. 2 Aryna Sabalenka. At the Mutua Madrid Open, she reached the quarterfinals but faced defeat in the finals against Sabalenka. The Italian Open brought challenges as a thigh injury forced her retirement against Rybakina. However, the French Open was a testament to her resilience, where she clinched her third title, becoming the first woman to defend it since 2007. Wimbledon marked her first quarterfinal appearance, ending with a loss to Elina Svitolina.
July was another highlight, with Świątek winning the 2023 WTA Poland Open, marking her 15th career title.
Iga Świątek's National Career: A Pillar of Polish Tennis Representation
Iga Świątek has been a beacon for Polish tennis, representing her nation with distinction across various stages. As a junior, Świątek twice represented Poland at the ITF World Junior Tennis Finals for the 14-and-under category in 2014 and 2015. In 2014, her undefeated streak propelled Poland to a commendable ninth position among 16 teams. The subsequent year saw her guiding Poland to the semifinals after an unbeaten run in the round robin stage.
In 2016, Świątek's prowess was evident at the 16-and-under Junior Fed Cup. Alongside Maja Chwalińska and Stefania Rogozińska-Dzik, Poland clinched the title, overcoming the United States in the final. Świątek's last junior event was the 2018 Summer Youth Olympic Games, where she clinched a gold medal in doubles, partnering with Slovenia's Kaja Juvan.
Transitioning to senior competitions, Świątek debuted in the Billie Jean King Cup in 2018. Although Poland couldn't progress beyond their round-robin group in 2018 and 2019, Świątek's contributions were significant. In 2019, she secured victories in both her doubles matches, partnering with Alicja Rosolska. The 2020 format changes favored Poland, with Świątek's flawless singles performance guiding them to the promotional play-off. However, she opted out of the Play-offs.
In 2022, facing Romania in the qualifying round, Świątek's twin victories ensured Poland's progression to the Finals. Yet, she missed the finals due to the proximity to the 2022 WTA Finals. An unfortunate rib injury in 2023 sidelined her from Poland's qualifier against Kazakhstan. To date, Świątek boasts a 9–3 record in the Fed Cup, reflecting her dedication and prowess in representing Poland.
Iga Świątek's

Playing Style

: A Blend of Power, Precision, and Popularity on the Tennis Court
Iga Świątek, with her aggressive all-court approach, brings a unique blend of power and finesse to tennis. Her game, characterized by a high count of both winners and unforced errors, is built on offense. On clay, she relies on a potent combination of a strong serve, topspin, and a precise backhand down the line. While her style is assertive, Świątek plays with a calculated margin, meticulously building points until she spots a chance to unleash a winner. This strategy was evident during her 2020 French Open victory, where she registered more winners than errors.
Central to Świątek's gameplay is her ability to slide, reminiscent of tennis greats like Kim Clijsters and Novak Djokovic. Her power-packed shots, comparable to Rafael Nadal's, combined with a mental fortitude honed through sports psychology, make her a formidable opponent. Her forehand, delivered with an extreme western grip, boasts speeds rivalling male counterparts. Similarly, her backhand speed at the French Open matched that of Dominic Thiem, a leading male player.
Świątek's doubles experience has refined her net approach and volleying skills. Her serves, both first and second, are strategic weapons, often setting the tone of the rally. Her drop shots are masterful, earning her accolades like the 2019 WTA Shot of the Year. With exceptional court movement, detailed footwork, and a knack for constructing intelligent points, Świątek remains calm under pressure, a trait attributed to her collaboration with sports psychologist Daria Abramowicz.
Her rallying cry, "Jazda!" meaning "Let's go!", encapsulates her positive mindset. While clay is her preferred surface, Świątek's adaptability has seen her excel across terrains. Beyond her skills, she's a fan favorite, securing the WTA Fan Favorite Singles Player of the Year title in 2020.
Evolution of Iga Świątek's Coaching Team
Throughout her budding tennis career, Iga Świątek has been guided by a series of dedicated professionals. In her formative junior years, Michał Kaznowski was her primary coach, guiding her journey up to the 2016 French Open. For physical preparation, she relied on Jolanta Rusin-Krzepota's expertise for nearly four years, culminating at the end of the 2019 US Open.
From 2016, Piotr Sierzputowski took the reins as Świątek's coach. During this period, Nick Brown, a former British tennis pro and ex-coach for the Polish Davis Cup, occasionally stepped in as a chief consultant. Complementing her training, Świątek sought the expertise of sports psychologist Daria Abramowicz and fitness specialist Maciej Ryszczuk, ensuring a holistic approach to her game.
However, by December 2021, a significant shift occurred in Świątek's coaching team. After a collaboration spanning nearly six years, she announced her split from Sierzputowski, describing the decision as challenging. Their partnership had begun when Świątek was just 15, navigating the world of junior tournaments. As she moved forward, Świątek chose Tomasz Wiktorowski, known for his work with tennis star Agnieszka Radwańska, as her current coach.
Iga Świątek's Brand Partnerships and Endorsement Evolution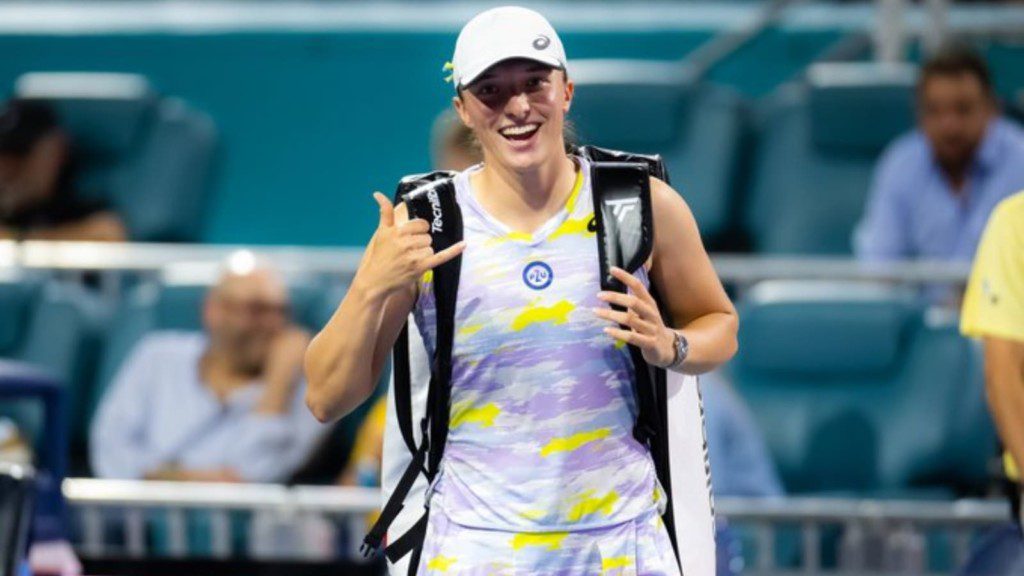 Iga Świątek, a rising tennis sensation, has garnered significant attention from global brands. As of March 20, 2023, she partnered with the Swiss company 'On', co-backed by tennis legend Roger Federer, for her apparel and footwear. This collaboration marked her as the first female tennis player to be endorsed by 'On'. Prior to this, Świątek was associated with Asics since 2020 and had earlier ties with Nike.
Her endorsement portfolio is diverse. She's been backed by Red Bull, tech behemoth Xiaomi, and Lexus, a division of Toyota. Notably, Lexus had also sponsored another Polish tennis star, Agnieszka Radwańska. In the racquet domain, 2021 saw Świątek signing with Tecnifibre. Before this, she played with a Prince Textreme 100 Tour racquet without a formal contract. Celebrating her 2022 French Open win with a Tecnifibre racquet, the company momentarily rebranded to "Swiateknifibre" and adopted white and red as its trademark colors for a week, marking its first women's Grand Slam title.
Additionally, in 2021, Świątek entered into a partnership with luxury watchmaker Rolex. By February of the same year, she was also aligned with Poland's leading insurance firm, PZU. Post her 2022 US Open triumph, she transitioned her representation to IMG, parting from her long-standing manager. In 2023, Świątek took on the role of global ambassador for the Polish sports beverage, Oshee. This collaboration is set to feature a special drink flavor and bottle design, showcasing Świątek's influence in the brand's offerings.
Iga Świątek's Stellar Tennis Ranking
Iga Świątek, the tennis sensation from Poland, has made significant strides in the world of professional tennis. As of now, she holds the prestigious position of World No. 1 in singles, a testament to her consistent performance and dedication to the sport. This ranking is not a fleeting moment of glory for Świątek; she achieved her career-high singles ranking on April 4, 2022.
Her journey in the rankings is a story of steady ascent. In 2022, she not only touched the pinnacle of the singles ranking but also finished the year holding onto that top spot. Rewinding a bit, she ended 2021 at the 9th position, a significant jump from her 17th position finish in 2020. Her progress is evident when we look further back, with her finishing 2019 at 61st and 2018 at 175th.
While singles remain her stronghold, Świątek has also made her presence felt in doubles. Her career-best doubles ranking was achieved on February 14, 2022, when she reached the 29th position.
Her current coaching guidance comes from Tomasz Wiktorowski, who has previously mentored another Polish tennis star, Agnieszka Radwańska. With her current form and the team she has backing her, the tennis world can only expect more achievements and higher rankings for Świątek in the future.
Iga Swiątek Boyfriend & Relationship Status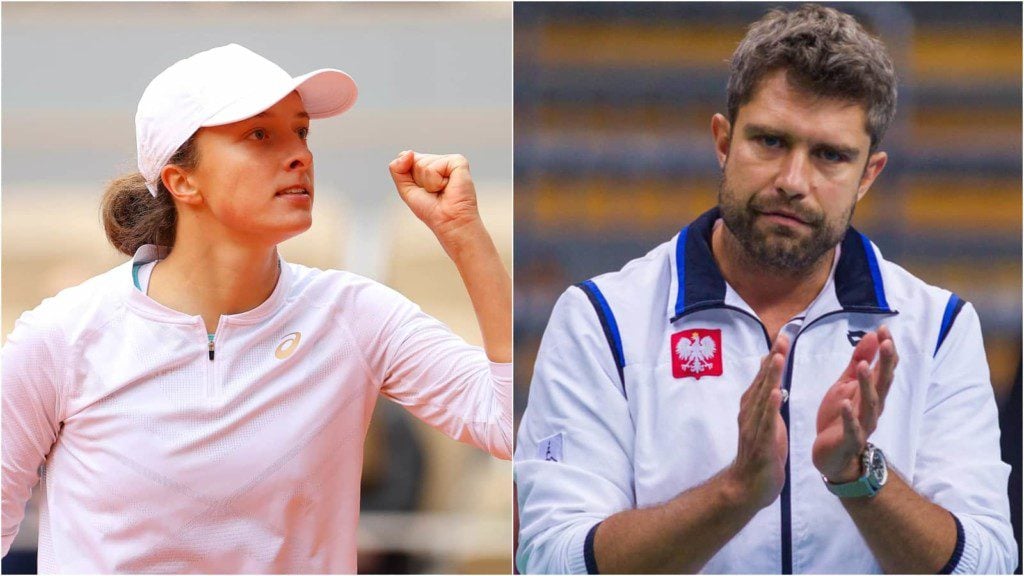 Iga Świątek, a dominant figure in the tennis world, has captured the attention of many with her outstanding performances, especially after her victory at the French Open in 2020 and her rise to World No.1 in 2022. With her increasing prominence in the sport, there's been growing curiosity about her personal life, particularly her relationship status.
Iga Świątek is quite active on social media platforms, but she has not publicly disclosed any details about her relationship status. There hasn't been any indication or mention of a boyfriend on her profiles, nor has she been spotted with a potential partner by the media. As of now, it appears that Iga Świątek might be single.
While her personal life remains a mystery to many, her professional achievements are well-known and celebrated. From her debut at the Australian Open in 2019 to her historic win streak in 2022, Świątek has solidified her position as one of the top tennis players of her generation.
Iga Swiątek Husband
Iga Świątek, the tennis sensation from Poland, has been in the limelight not just for her exceptional skills on the court but also for her personal life. As of now, there isn't any confirmed information about Iga Świątek having a husband or being married.
This young tennis sensation, born on May 31, 2001, has been solely focused on her tennis career, which has earned her significant accolades and recognition in the sports world. The Polish Tennis star's dedication to her game is evident, and she seems to prioritize her professional aspirations over personal commitments at this stage of her life.
Iga Swiatek Net Worth 2023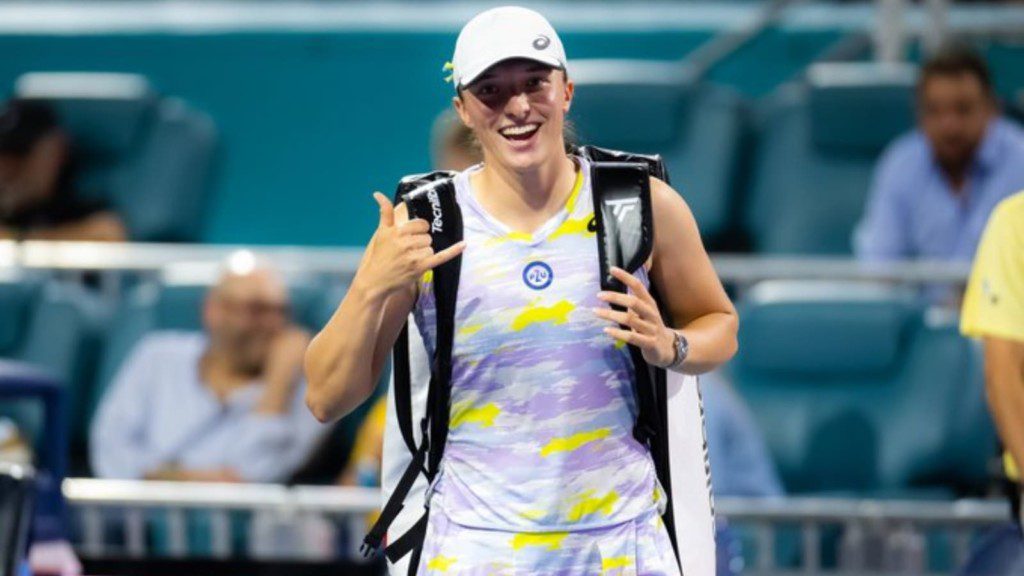 Iga Świątek, the WTA world number 1, has been making waves in the tennis world with her remarkable achievements. Born on May 31, 2001, this Polish professional tennis player has been in the sport since 2016 and has already etched her name in history by becoming the youngest singles champion since Rafael Nadal in 2005. Her journey, from her junior career where she reached a rank of no.5 to her professional career where she won all seven ITF singles titles finals she participated in, showcases her dedication and skill.
By 2023, Świątek's net worth is estimated to be a whopping $20 million. This significant increase in her net worth can be attributed to her outstanding performances, especially her French Open victories in 2020, 2022, and 2023. In terms of prize money in 2023 alone, Świątek has amassed approximately $19,154,913, with €2,300,000 coming from her French Open 2023 win. Moreover, she also received a substantial $3.6 million in the first five months of 2022.
Apart from her earnings from tennis, Świątek has endorsement deals with renowned brands. She is currently endorsing brands like Tecnifibre for racquet sponsorship, Asics for shoes and apparel, and other prominent names like Red Bull, Rolex, and Toyota. Although the exact figures from these endorsements are not disclosed, they undoubtedly contribute a significant amount to her net worth.
On a philanthropic note, Świątek has shown her support for mental health causes, notably donating her Indian Wells tournament winnings to a mental health organization.
Iga Świątek: Beyond the Court
Iga Świątek, beyond her tennis prowess, is a multifaceted individual with diverse interests. A fervent cat enthusiast, she shares her home with a black feline named Grappa. Her love for music is eclectic, ranging from rock anthems by Pearl Jam, Pink Floyd, and AC/DC to mellower tunes from genres like jazz, soul, and pop. Taylor Swift holds a special place in her playlist, and she's also expressed admiration for actress Sandra Bullock.
Not just limited to entertainment, Świątek draws inspiration from other sports personalities, notably skier Mikaela Shiffrin, whom she regards as an exemplary role model. Her commitment isn't just limited to tennis; she's been an outstanding student throughout her academic journey.
Balancing her rigorous tour schedules with studies, she's managed to excel in her high-school leaving examination, the Egzamin Maturalny, scoring impressively in subjects like Polish, English, and Mathematics. With a penchant for numbers, she aspires to delve into higher studies related to mathematics in the future.
A notable bibliophile, Świątek's travel essentials invariably include books. They serve as her companions during tournaments, aiding her focus and reducing screen time. Her reading choices have varied from classics like "Murder on the Orient Express" during the 2022 French Open to the epic "Gone with the Wind" at the 2021 US Open. This tennis star's life off the court is as intriguing as her performances on it, reflecting her depth and diverse passions.
Iga Świątek's Remarkable Achievements and Recognitions
Iga Świątek, the tennis sensation from Poland, has been a force to be reckoned with on the international tennis circuit. Her prowess on the court has not only earned her numerous titles but also recognition from various prestigious platforms. Here's a closer look at her accolades and mentions:
Awards
2019:

Iga made a mark by winning the WTA Fan Favorite Shot of the Year.

2020:

Her outstanding performance was recognized as she was awarded the WTA Most Improved Player.
Tennis fans showed their love by voting her as the WTA Fan Favorite Singles Player.
For her exceptional contribution to sports, she was honored with the Gold Cross of Merit.
The European Sportswoman of the Year – Evgen Bergant Trophy was another feather in her cap.

2022:

Iga's dominance was evident as she received the Chris Evert WTA World No.1 Trophy.
Her consistent performances earned her the titles of WTA Player of the Year, ITF World Champion, and WTA Fan Favourite Shot of the Year.
She was also crowned the European Sportsperson of the Year.

2023:

Back in her homeland, she was celebrated as the Polish Sports Personality of the Year.
Her global impact was recognized with the L'Équipe Champion of Champions award.
Mentions
Forbes:

In 2022, Iga Świątek was featured in the Forbes 30 Under 30-Europe list, marking her as one of the promising young talents.
The same year, she secured the 5th position in the World's Highest-Paid Female Athletes list by Forbes.
Her consistent performance ensured her place in the Forbes 30 Under 30-Europe list again in 2023.

TIME:

In 2023, TIME magazine recognized her influence by including her in the 100 Most Influential People list.
Iga Świątek's journey is a testament to her dedication, skill, and the love she has garnered from fans and critics alike. Her achievements serve as an inspiration for many budding athletes worldwide.
Iga Świątek Instagram
Iga Świątek, the tennis sensation from Poland, has not only made a mark with her exceptional skills on the court but also with her engaging presence on social media platforms. One of her most active platforms is Instagram, where she connects with her fans and shares glimpses of her life, both on and off the court.
As of now, Iga Świątek boasts a following of over 1 million on her official Instagram account. Through her posts, which total up to 649, fans can witness her journey, training sessions, behind-the-scenes moments, and personal milestones. Her Instagram handle is @iga.swiatek, and it serves as a testament to her rising popularity and the love she receives from her admirers worldwide.
FAQs
How tall is Iga Świątek?
Iga Świątek is 5 feet 9 inches (175 cm) tall.
How much does Iga Świątek weigh?
Iga Świątek weighs 62 kg (137 lbs).
When was Iga Świątek born?
Iga Świątek was born on May 31, 2001.
What is Iga Świątek's zodiac sign?
Iga Świątek's zodiac sign is Gemini.
Where was Iga Świątek born?
Iga Świątek was born in Warsaw, Poland.
What are Iga Świątek's family connections to sports?
Iga comes from an athletic family. Her father, Tomasz Swiatek, was a competitive rower who won gold at the 1987 World University Games in Zagreb in the quadruple sculls. He also represented Poland at the Olympic Games Seoul 1988.
What are Iga Świątek's music tastes?
Iga Świątek's love of music is well-documented. She confessed to singing a Dua Lipa song during a tournament. However, rock is her favorite genre of music. She listens to a playlist that includes songs from Led Zeppelin, AC/DC, Gorillaz, and Pearl Jam to get pumped up for her matches.
Why did Iga Świątek wave her hand during the San Diego final?
During the San Diego final in October 2022 against Donna Vekic, Świątek waved her hands at the net as Vekic was about to hit a shot. This was an involuntary reaction due to stress. She later apologized to Vekic and mentioned that she's working on controlling such reactions.
What did Iga Świątek achieve in Miami in 2022?
Iga Świątek became the youngest woman to ever win the prestigious "Sunshine Double" at the Miami Open in 2022. She defeated Naomi Osaka in the final, 6-4, 6-0.
How is Iga Świątek's name pronounced?
With the specific characters of the Polish alphabet, her name is written as Świątek. The "Ś" is pronounced "ch" and the "ą" corresponds to the sound "on". Therefore, it is pronounced as "Shviontek".
Who is Iga Świątek's coach?
Iga Świątek worked with Piotr Sierzputowski from 2016 to December 2021. She is now coached by Tomasz Wiktorowski. Additionally, she works with Daria Abramowicz, a sports psychologist.
Who is Iga Świątek's current partner?
As of 2023, there is no public information available regarding Iga Świątek's relationship status.