Victoria Azarenka is a professional tennis player from Belarus. She became the world No. 1 in singles on January 30, 2012, after winning the title for the first time. Additionally, she was the year-end No. 1 in 2012. Moreover, she has held the top spot for 51 weeks in total. Victoria has 21 WTA singles wins to her credit. Those include two Grand Slam singles titles at the 2012 and 2013 Australian Opens. Thus, she became the first player from Belarus to win a Grand Slam event singles title, male or female. Likewise, she has also reached the final of the US Open three times. Between 2009 and 2013, she finished in the top 10 singles rankings for 5 years in a row.
Victoria is a tough baseline player who enjoys stepping onto the court and moving her opponents. While she rarely goes for big wins, she always smashes with spin, pace, and depth to widen the court. When she has the upper hand in a rally, she is ready to approach the net to finish points. She doesn't vary the pace of her drop shots much though. However, when pushed wide on that wing, she hits the backhand slice.
If you would like to know more about this bold baseliner, you are welcome here. We shall cover the life of Victoria Azarenka in detail. Scroll over and reapd along to know more.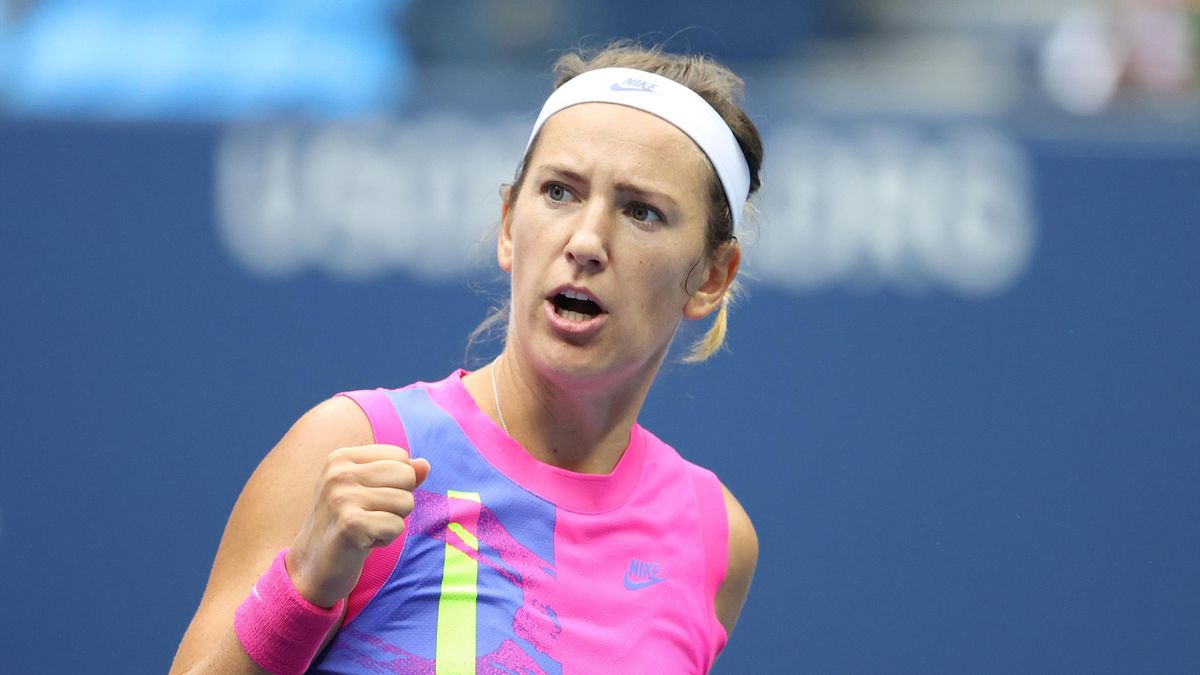 Birth and Family
Victoria's birth took place on July 31, 1989, in Minsk, Byelorussian SSR, Soviet Union. She came from a middle-class family. While Alla Azarenka was her mother, Fyodor Azarenka was her father. On the other hand, she has an elder brother, Max.
Although born in Minsk, Belarus, Victoria, and her family later moved to Scottsdale, Arizona in 2002. However, she eventually settled in Monaco in 2012. She began playing tennis at the tender age of seven. Actually, her mother Alla introduced her to the sport. Victoria's tennis idol was former tennis star Steffi Graf though. Her major drive was Graf's calendar Golden Slam in 1988.
Victoria got a job at the Marbella Tennis Academy in Spain when she was 15 years old. Klaus, the well-known former coach of Steffi Graf, trained her. As stated earlier, she moved to Scottsdale at the age of 16. She received help from the NHL goalkeeper Nikolai and his wife Victoria. She worked with Antonio, a coach from Portugal, in the US. They made great progress over the next four years of labor and joint training.
Professional Career
In the same vein, Victoria's backhand is usually her best shot. She can hit it hard both cross court as well as down the line. In addition, she defends off the ball pretty well.
Another vital portion of Victoria's game is her mobility. She has great footwork and forecast ability. Likewise, she uses it to chase down most of the balls. She also makes strong use of her feet, often winning the battle of court positions.
Her serve is not the biggest, but it is reliable though. Furthermore, her forehand does leak mistakes at times. However, it is a weapon that puts pressure on her opponents with its depth and spin.
Victoria has 21 WTA singles titles to her credit. Those include 2 Grand Slam titles, 6 Premier Mandatory singles titles, and 4 WTA Premier 5 singles titles. Additionally, she finished No. 2 in the 2011 WTA Tour Championships, as well as the 2012 and 2013 US Opens. At the 2012 London Olympics, she won the bronze medal in women's singles. Moreover, she won the gold medal in mixed doubles with Max, among other awards.
Victoria Azarenka & Her Debut
Victoria made her debut on the ITF Junior Circuit in Israel. Likewise, she won one doubles title. She continued playing in the ITF. Victoria ranked 508 in the WTA singles tour at the end of 2004.
Next, she played in the first two WTA main events. She thus dropped in qualifying twice; won one singles and one doubles title on the ITF Circuit. 2005 proved to be a lucky year for Victoria, as she won 2 junior grand slams. Additionally, she became the world's No. 1 player and the first one from Belarus to reach a Grand Slam final.
Victoria Azarenka in Mixed Doubles
Victoria, ranked world No. 96, began 2007 by competing in two events in Australia. She reached the third round of a Grand Slam title. And it was for the second time in a row at the Australian Open. In addition, she beat former world No. 1 Martina in the third round of the US Open. Victoria and her countryman Max won the Mixed Doubles title. There, they defeated Meghann and Paes.
She ended 2007 in the Tier I Kremlin Cup in Moscow. Likewise, she beat world No. 4 Maria in the second round for the first time in their careers.
Victoria Azarenka & WTA Title

Victoria earned her maiden WTA career title at Brisbane International to start the 2009 season. Furthermore, her winning streak extended when she took home the Cellular South Cup title. Moreover, she beat Williams at the Sony Ericsson Open in Key Biscayne. This, she won her first Tier I event title. Likewise, she was the first female teen singles champion in the title's history. By the end of the 2009 season, Victoria ranked 7 in the world.
Victoria Azarenka in Kremlin Cup
At the Bank of the West Classic, Victoria won for the first time in 2010. At the Western and Southern Financial Group Masters and Women's Open, she won the doubles title. With the Kremlin Cup, she won her 5th career title. Subsequently, she competed in a charity exhibition match and won. At the end of the 2010 season, she ranked in the Top 10 once again.
Victoria Azarenka in Fed Cup
In 2011, Victoria won the Fed Cup as a member of the Belarus team. Hence, the squad qualified for the World Group II play-offs. Subsequently, she rose to a No. 5 ranking. Likewise, at the Andalucia Tennis Experience too, she was unbeaten. At the 2011 Wimbledon, she made it to her first Grand Slam semi final. Moreover, at the 2011 BGL Open, she won her third title of the year.
Victoria Azarenka in Summer Olympics
The 2012 Apia International Sydney was Victoria's first win of the season. After winning her maiden Grand Slam singles at the 2012 Australian Open, she became the world No. 1. Likewise, her winning streak continued with victories at the Qatar Total Open and the BNP Paribas Open. At the 2012 Summer Olympics, Victoria won a bronze medal – Belarus' first in tennis. Her win in the China Open gave her her year's second Premier Mandatory title. Further, she went on to become the Generali Ladies Linz champion. In addition, she had single-season prize money of $7.9 million at the end of the 2012 season.
Victoria Azarenka in French Open
For the first time in 2013, Victoria reached the semi finals of the French Open. She won her titles at the Australian Open and the Qatar Total Open. In addition, she won her third title of the season in Cincinnati, defeating Williams.
Victoria Azarenka & Her Injury
Victoria's 2014 season had to be cut short after a foot injury; it kept her out for 5 months. Thus, this forced her to retire early in September. She had to miss 7 of her first 16 events of the season due to injuries, including the French Open. Victoria only made it to one final that season at Brisbane. However, she lost to Williams in straight sets in her first title of the year. Victoria reached the quarter finals of 3 other titles. Nonetheless, she was unable to advance any further. Due to injuries, Victoria's 2014 season ended in September. Further, she ended the year at No. 32 in the world, her lowest ranking since 2006.
Although she had many match scopes, she lost in 3 sets at the Brisbane International in 2015. She slid out of the top 40 after coming second last year. Further, she made it to the Wimbledon quarter finals with 4 straight set wins. However, a foot injury resulted in her exit from the second round match in Birmingham. Nevertheless, she fell to Serena Williams after claiming the first set. In Toronto, she resumed her action.
Victoria Azarenka For Indian Wells
Victoria began her season in Australia at Brisbane International. She serially defeated many notable players and thus, edged to the final. In the final, she faced Kerber and won the title without dropping a set. This was her 18th WTA title and the first since the Western and Southern Open in 2013.
Victoria competed in her first 250-point global event in Acapulco, Mexico in 2011. Victoria further went on to win at Indian Wells. Her victory in the final made her the first woman to defeat Williams four times in a final. After Indian Wells, she climbed to No. 8 in the world rankings.
Victoria Azarenka in Wimbledon
Subsequently, Victoria beat Svetlana in the Miami final two weeks later. Hence, she became only the third player to win both Indian Wells and Miami in the same year. After that, she ranked No. 5 in the world.
However, due to a back injury, she had to withdraw from her clay-court season, though unwilling. Likewise, due to a knee injury again, she had to quit from her first-round match at the French Open too. Further, Victoria withdrew from Wimbledon due to the same issue.
Victoria Azarenka in Grampians Trophy
In 2021, Victoria competed in her maiden event, the Grampians Trophy. This was hosted for players under strict isolation during the pandemic. Also, the people who flew on aircraft had to have positive COVID-19 results. She won the second round over Yulia. Further, she played no more and quit before her quarter final match against Anett.
Victoria Azarenka Net Worth
Over her career, Victoria has earned a total of $32,347,288 as prize money. Her probable net worth is around $20 million. As per Forbes, she was the 4th highest-paid female athlete in August 2013. Between 2012 and 2013, she earned a total of $15.7 million.
Victoria earns a great sum by endorsing brands. To name a few – Nike, Wilson, American Express, Citizen Watch, Six Star Pro Nutrition, Red Bull, and Insta Forex.
Charity Work
Victoria, like most of her friends, opponents, and colleagues, has actively taken part in charity exhibition matches. Moreover, she strongly advocates for the fight against gender violence.
Personal Life
Between late 2012 and early 2014, Victoria dated American musician Redfoo. During her absence from tennis in 2014 due to injuries, she has spoken frankly about her depression.
Later, she began an affair with Billy McKeague. She, however, had to take nearly a year off during pregnancy from tennis. Further, Victoria gave birth to their son on December 19, 2016, named Leo. However, the couple split up soon after the 2017 Wimbledon. Subsequently, they started a custody battle for Leo in LA, which began in August 2017. Henceforth, Victoria pulled out of the rest of the 2017 titles. This case is still pending though. Moreover, it prevents Victoria's travel to tennis tournaments all over the world.

Billy Mckeague
Billy McKeague is 27 years old as in 2017 though his exact date of birth is not known. He probably is born in 1990. Billy is a native of St. Louis. His father Chase McKeague leads the investment group called Chase and Company. His mother's name is Lynn McKeague. Lynn is the marketing executive at her husband's company. Billy's parents now reside in Hawaii.
Billy McKeague's exact birthdate is unknown but our investigations reveal he is a St. Louis, Missouri native who was born in 1989.  As one of the three children born to Chase and Lynn McKeage who currently live in Hawaii, Billy has a sister named Lisa and a brother called Charlie. A speech and dramatic art graduate from the University of Missouri-Columbia, his father Chase McKeague once served as an executive at NSI Marketing Services/Ansira.
Before their relationship went sour, Billy Mckeague seemed like every girl's dream as he was of great support to his ex-girlfriend. After their son was born, McKeague reportedly put his career on hold in order to help Azarenka raise their son.
Does Victoria Azarenka Have A Baby?
Azarenka and former boyfriend Billy McKeague, have one son, Leo, born 19 December 2016. Following his split from her immediately after 2017 Wimbledon, they became involved in a complicated legal child custody case for their son in Los Angeles in August 2017.
Victoria Azarenka & Custody of Her Son Leo
In an interview with ABC, the two-time Grand Slam winner Victoria Azarenka commented on her motherhood. The Belarusian player became the mother of a son called Leo in December 2016 and she has been dealing with the kid's custody for a while.
"What I try is to get everything together and start my career again. I do as best as I can but I do not always find the answer", said Azarenka during the Mexican Open in Acapulco. How is the situation involving the son's custody? "A long conversation should happen and we do not have too much time, only ten minutes.
The decision also reverses an order by Los Angeles Superior Court Judge Mark H. Epstein, who ruled in favor of Azarenka. The earlier court in Belarus found that the legal residence of the child was Azarenka's apartment in Minsk. Shortly afterward McKeague appealed the ruling. Azarenka's team of lawyers were confident of victory but didn't take into account that McKeague was not provided with a notice of proceedings ongoing in Belarus.
Additional Facts about Victoria Azarenka
Therefore, we bring you the most common searches on the web regarding the tennis player, Victoria Azarenka.
Victoria Azarenka Birthday
Her birthday falls on July 31 every year.
Victoria Azarenka Age
The famed baseline player is 33 years old currently.
Victoria Azarenka Zodiac
Leo is her sun sign.
Victoria Azarenka Height
She is 6′ or 1.83 m tall.
Victoria Azarenka Weight
She weighs 67 kg or 148 lbs.
Victoria Azarenka Physical Stats
Body Type – Average
Cup size – 36A
Breasts – 37″
Waist – 27″
Hips – 38″
Hair color – Blonde
Eye color – Blue
Victoria Azarenka Boyfriend
She has had a few affairs in the past. However, the most serious one was with the golf pro, Billy McKeague with whom she has a son, Leo. They parted ways in 2016.