Stephen A. Smith, a renowned American sports journalist, is widely recognized for his contributions as a sports television personality and radio host. He began his career at ESPN as a sports commentator, co-hosting their inaugural show alongside fellow commentator Molly Qerim. With a prominent presence, he frequently appears on the popular 'SportsCenter television show, where he serves as an NBA analyst. Although Stephen A. Smith's birth name is Stephen Anthony Smith, he is widely known by his full name. Beyond his role on 'SportsCenter,' he also holds the position of an NBA analyst on ESPN's NBA Countdown and NBA broadcasts.
Moreover, Smith extends his reach to the airwaves, hosting his own show, "The Stephen A. Smith Show," on ESPN Radio. In addition to his broadcasting endeavors, he showcases his writing talent through contributions to various esteemed news websites, including ESPNNY.com, ESPN.com, and The Philadelphia Inquirer.
In this article, we delve into the fascinating journey of this talented journalist, shedding light on his achievements and multifaceted career.
Birth, Family & Parents

Stephen A. Smith was born on October 14th, 1967, in the Bronx, New York. His mother, Janet Smith, played a significant role in raising him in the Holis section of Queens. He also had four older sisters who were part of his family.
Tragically, Stephen A. Smith experienced the loss of his younger brother, Basil, who passed away in a car accident in 1992. Despite this heartbreaking event, Smith persevered and continued to make strides in his career.
While there is limited information available about his father, it is known that he owned a hardware shop. Stephen A. Smith's parents hailed from Saint Thomas, US Virgin Islands, adding a cultural and familial connection to the Caribbean.
In terms of his ancestry, Stephen A. Smith's maternal grandmother was white, while the rest of his grandparents were African-American. This diverse heritage has likely influenced his perspectives and understanding of various societal issues.
Education
Stephen A. Smith's educational background includes significant experiences and achievements. After completing one year at the Fashion Institute of Technology, he received a basketball scholarship to attend Winston-Salem State University in Winston-Salem, North Carolina. This university is recognized as a historically black institution.
During his college years, Smith played basketball under the mentorship of Hall of Fame coach Clarence Gaines. Notably, while still a member of the basketball team, he demonstrated his strong opinions and writing skills by publishing an editorial in the campus newspaper, The News Argus. In the article, he advocated for Gaines to resign due to health difficulties, showcasing his willingness to speak out on important matters.
As an active participant in campus life, Smith also became a member of the fraternity Omega Psi Phi, which further enriched his collegiate experience.
In 1991, Stephen A. Smith successfully earned a Bachelor of Arts degree in public communication, solidifying his academic achievements and paving the way for his future endeavors in the field of sports journalism and broadcasting.
Stephen A. Smith Biography
| | |
| --- | --- |
| Real Name | Stephen Anthony Smith |
| Date of Birth | 14th October, 1967 |
| Place of Birth | Bronx, New York |
| Profession | American sports Journalist, sports television personality and sports radio host |
| Zodiac sign | Libra |
| Nationality | American |
| Net Worth | 16 million dollars |
| Education | Winston-Salem State University |
| Age | 55 years old |
| Wife | NA |
Stephen A. Smith Career
Print Media
However, Smith began his print journalism career with the Winston-Salem Journal, Greensboro News & Record, and New York Daily News.
Moreover, Smith worked as a journalist for The Philadelphia Inquirer beginning in 1994. He began his career as an NBA journalist for the Philadelphia 76ers, and then as a general sports columnist. On August 23, 2007, the Philadelphia Inquirer stated that Smith would no longer be writing articles and would be relegated to the job of general assignment reporter. Next, the Inquirer discontinued its partnership with Smith in 2008, just as Smith launched his own site, stephena.com.
Smith returned to the Philadelphia Inquirer in February 2010 after winning an arbitrator's finding that he would be reinstated, but only if he agreed to remove all of his political opinions from his website and cable news broadcasts.
Radio
However, Smith began hosting a weekday noon to 2 p.m. radio show on WEPN in New York City with his "right-hand man B.T. (Brandon Tierney)" on April 11, 2005. Then, on September 20, 2007, the show was moved to the 2–4 p.m. time slot, with the second hour being broadcast nationwide on ESPN Radio, replacing The Dan Patrick Show's third hour (Mike Tirico took over the first two hours). Next, Smith's show ended in April 2008 as he wished to broaden his television career. Then, on May 1, Scott Van Pelt took over the 3–4 p.m. hour that Smith had previously hosted.
Next, Smith joined Fox Sports Radio as an on-air contributor in November 2009, breaking the news of Allen Iverson's retirement on the Chris Myers–Steve Hartman afternoon broadcast on November 25. Then, on December 2, Iverson concluded his brief retirement and rejoined the Philadelphia 76ers. Next, Smith took over as host of Fox Sports Radio's morning programme on January 4, 2010, after the departure of Washington, D.C.-based presenter Steve Czaban. Moreover, Smith correctly predicted on his radio show that LeBron James, Dwyane Wade, and Chris Bosh would all join with the Miami Heat during free agency in 2010. Then, Smith's morning programme was cancelled in early 2011 when he became a resident FSR NBA insider.
2011
However, Smith returned to ESPN on February 1, 2011, as a columnist for ESPN.com and host for daily local radio shows on 1050 ESPN Radio New York (WEPN-AM) at 7–9 p.m. ET and 710 ESPN Radio Los Angeles (KSPN-AM) at 6–8 p.m. PT. Smith's final broadcast on LA 710 ESPN aired on April 24, 2012.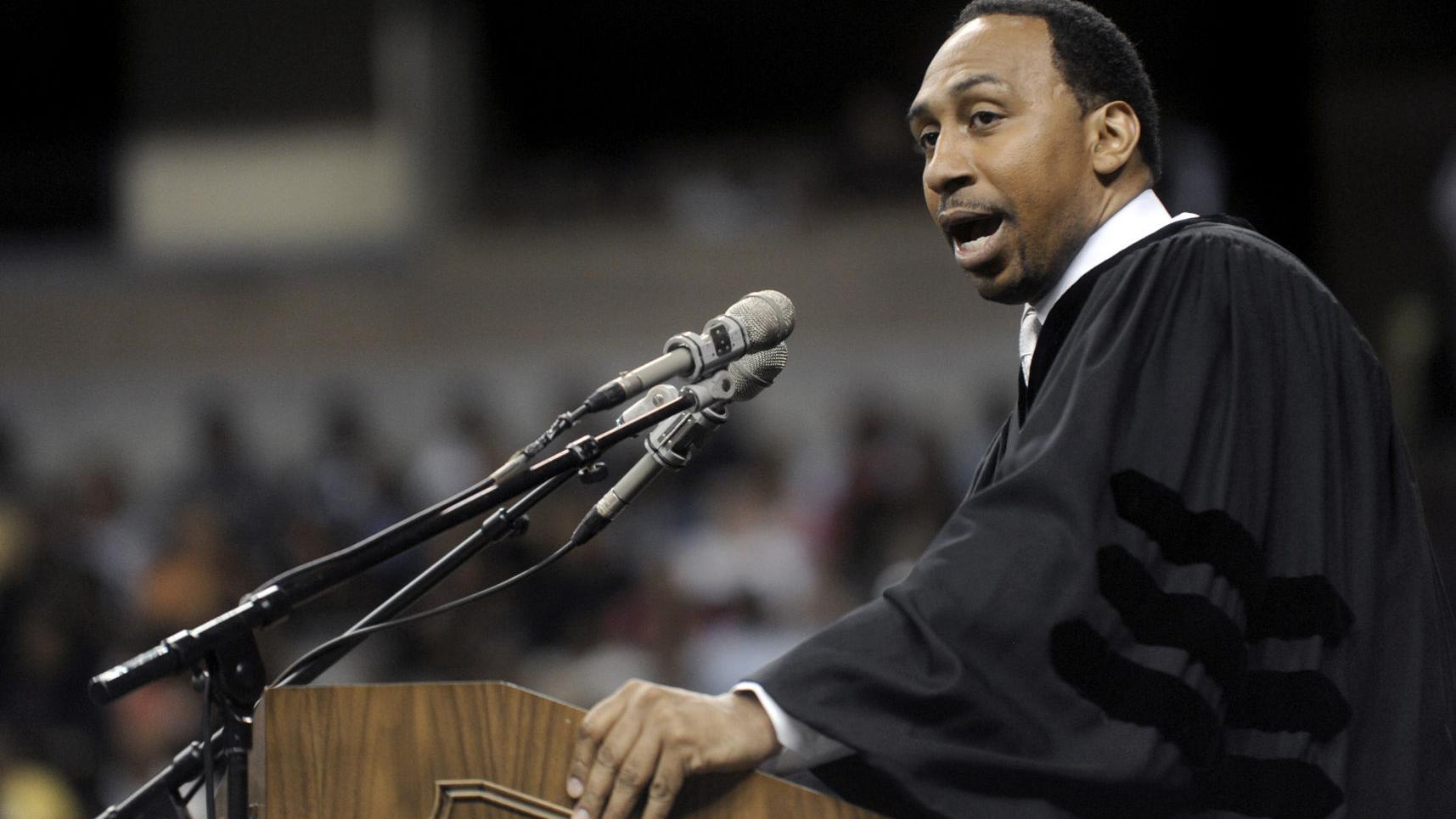 Next, Smith departed ESPN in 2013 to join Chris Russo's Mad Dog Sports Channel on Sirius XM Radio. Then, Smith's departure was revealed just one day after he made some contentious remarks about Ray Rice on ESPN's First Take show.
Moreover, Smith returned to ESPN from Sirius XM's Mad Dog Sports station on January 17, 2017. Next, his two-hour daily show may be heard on WEPN in New York, KSPN in Los Angeles, Sirius XM's ESPN channel, and through syndication.
Television
However, Smith is presently one of the anchors of ESPN's First Take. Next, he also appears as an analyst on a number of ESPN shows. Next, he is well-known for his controversial analyses and gloomy delivery. Then, Smith began his television career in 1999 on the now-defunct cable network CNN/SI.
Moreover, Smith began presenting a daily hour-long show on ESPN. So, this show's name is Quite Frankly with Stephen A. Smith in August 2005. Then, after the show was cancelled in January 2007, he shifted his focus to basketball, working as an NBA commentator. Next, he has featured on other ESPN programming, such as the reality series Dream Job, and was a frequent guest (and guest host) on Pardon the Interruption, Jim Rome Is Burning, and 1st and 10.
Then, on the Sunday morning broadcast of SportsCenter, he was an anchor. Then, Smith revealed on his website on April 17, 2009, that he will be departing ESPN on May 1, 2009. According to the Los Angeles Times, ESPN stated, "We opted to proceed in separate paths". According to Big Lead Sports, a source claims that ESPN and Smith met at the negotiation table but were unable to strike a deal.
2012-2014
However, Smith eventually returned to ESPN. Then it was revealed on air on April 30, 2012, that he would be joining First Take on a regular, five-days-a-week basis under a new format for the show dubbed "Embrace Debate". So, he would face off against long standing First Take commentator Skip Bayless.
Then, Smith made contentious statements on First Take on July 25, 2014, in reference to the domestic violence crisis involving Baltimore Ravens running back Ray Rice and his wife.
Next, Smith apologised for his statements during a taped appearance on ESPN after receiving criticism for them, including comments on Twitter from ESPN reporter Michelle Beadle.
Acting Career
However, on February 2, 2007, Smith made his acting debut as a television reporter in a cameo role on the ABC soap opera General Hospital. Next, he has stated that he has been a fan of the show for a long time. Then, Smith first appeared as Brick on General Hospital on March 31, 2016. Next, he has reprised the role every year since.
However, he appeared in Chris Rock's 2007 film I Think I Love My Wife.
Beginning in 2014, he has appeared as "The Little Voice in Your Stomach" in a series of Oberto all-natural beef jerky commercials, each time alongside athletes such as Seattle Seahawks cornerback Richard Sherman and pro snowboarder Louie Vito, as well as notable basketball sportscaster Dick "Dickie V" Vitale.
Stephen A. Smith Wife
Stephen A. Smith's personal life is characterized by his unmarried status. Throughout his life, he has never been married. However, Smith has mentioned in interviews that he was engaged at one point in the past. Unfortunately, the engagement did not lead to a successful marriage.
Stephen A. Smith's personal and family life is relatively private, and detailed information about his wife is not publicly disclosed as he prefers to keep his personal affairs out of the media spotlight.
In the past, Smith mentioned being engaged to be married, but the engagement did not lead to marriage. When asked about the reasons for the failed engagement, he has chosen not to elaborate, simply stating that things did not work out between them.
Stephen A. Smith Daughter
The passing of Stephen A. Smith's daughter has become a highly searched topic on the internet. Stephen A. Smith is a widely recognized and successful sports analyst known for his expertise in analyzing sports events and engaging in sports-related discussions.
Recently, Smith shared the heartbreaking news of his daughter's untimely demise, causing immense sorrow and grief for him and his family. Despite being a dedicated family man and a loving father, he chose to keep his daughter away from the public eye, prioritizing her privacy and safety.
Stephen A. Smith's humility and personal choice prevented him from exposing his daughter to the media and the world. He valued her privacy and shielded her from the limelight.
Netizens have been inquisitive about the topic of Stephen A. Smith's daughter's passing, reflecting their concern and interest in the personal life of this accomplished sports analyst. The recent announcement of his daughter's death has left him devastated, emotionally unstable, and unable to focus on his work.
While the specific cause of her passing remains unknown to the public, Stephen A. Smith has expressed that his children hold a significant place in his life, and the loss of his daughter has deeply impacted him. He now remains focused on taking care of his surviving daughter and keeping his son safe and away from public attention during this difficult time.
Stephen A. Smith's daughter, who was a young person, tragically passed away, leaving behind a void in his life. As he mourns this loss, he is currently maintaining a low profile to prioritize his family's well-being and heal from this profound loss.
Stephen A. Smith Molly Querim
In ESPN's first show, he worked as a commentator of sports. He worked with another commentator in this show. Her name is Molly Qerim.
Stephen A. Smith Facts
Stephen A. Smith Birthday
Stephen A. Smith's birthday is on October 14th. As a widely recognized sports analyst and television personality, his birthdate has become a topic of interest among his fans and followers. October 14th marks the special day when Stephen A. Smith came into this world, and it is often celebrated by his admirers.
Stephen A. Smith Age
Stephen A. Smith was born on October 14, 1967. Based on this information, his age would be 55 years old.
Stephen A. Smith Net Worth
Stephen A. Smith is a sports media personality in the United States with a net worth of 16 million dollars. Stephen A. Smith is most known for his appearances on ESPN shows. He is also a writer, contributing to ESPN.com and The Philadelphia Inquirer. Stephen A. Smith has also had tremendous success in the field of talk radio. In addition, Smith has appeared in a number of films as an actor, generally in a cameo role in which he portrays himself.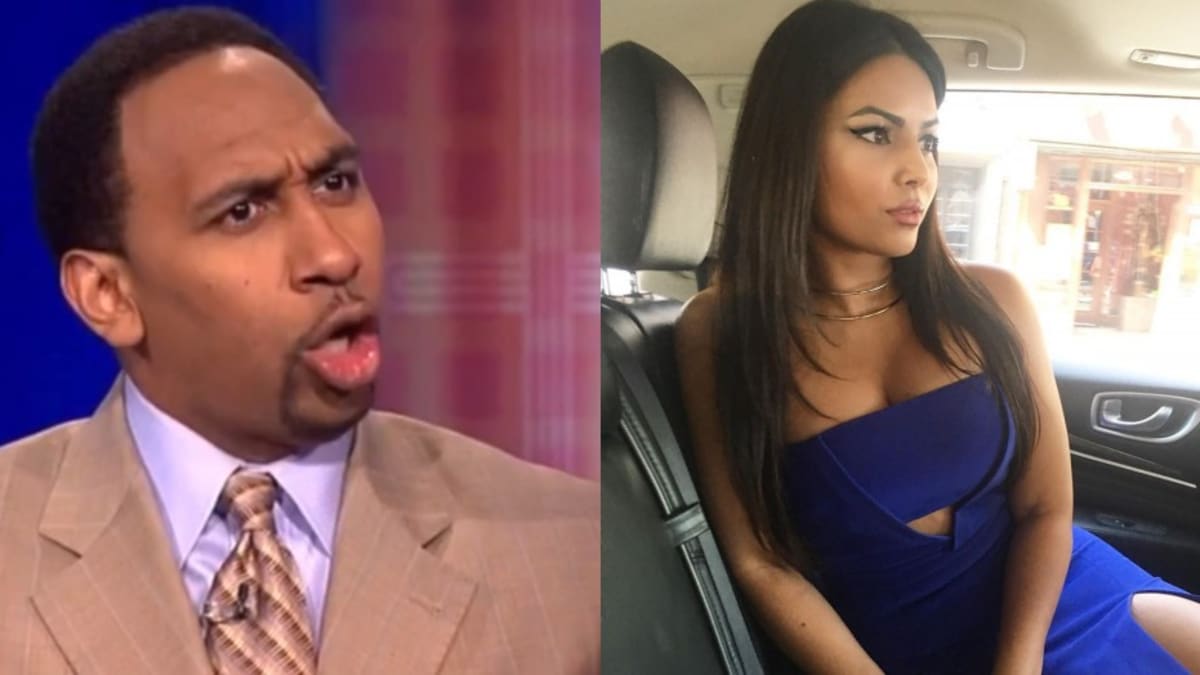 Stephen A. Smith's pay was 5 million dollars per year for several years prior to April 2019. He got a new contract with ESPN in mid-April 2019 that pays him $8 million per year, making him the highest-paid ESPN personality. That agreement made him the highest-paid sportscaster in the world for a little less than a year, until he was surpassed by Tony Romo's mammoth $17 million per year CBS deal, which was inked in March 2020.
Stephen A. Smith Zodiac sign
Besides, his zodiac sign is the Libra.
Stephen A. Smith Nationality
However, His nationality is American.
Stephen A. Smith Height
However, he is 6 ft 1 inch tall (185 cm) tall.
Stephen A. Smith Weight
Besides, his weight is 70kg (125 lbs).
Stephen A. Smith Eye Colour
Moreover, his eye colour is black.
Stephen A. Smith Hair Colour
Smith's hair colour is black.
Smith A. Smith Personal Life
Stephen A Smith is not married, and he has never been married. Next, Smith also said that he has been engaged before. But the marriage did not work out.
Some Frequently asked questions
Is Stephen A. Smith a billionaire?
Smith is estimated to be worth $16 million. His compensation at ESPN was $5 million until 2019, when he resigned for a new deal for $8 million, making him the network's highest-paid personality at the time.
Is Stephen A Smith married?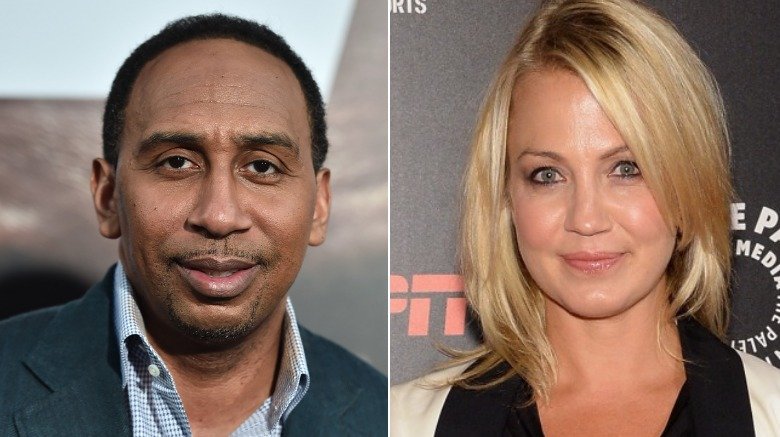 Stephen A. Smith's marital status is not publicly disclosed, and detailed information about his wife or current marriage status is not available in the public domain. He has not made his personal affairs and relationships a topic of public discussion, preferring to keep them private. Therefore, without any recent updates, it is difficult to provide an accurate answer about his current marital status.
How can I ask Stephen A. Smith a question?
We need answers to all of your queries about sports and entertainment! Submit video questions for GET@Me at 3815Media.com/SAW. If chosen, your films will appear on my number one new programme on ESPN+, "Stephen A's World," which airs everyday at 5:30 p.m. ET.
What show is Stephen A Smith famous for?
Stephen A Smith is well-known for co-hosting First Take on ESPN with Max Kellerman, a show that has been airing for almost 14 years.
How can I meet Stephen A. Smith?
Contact Information for Smith's Booking Agent. To hire Stephen A. Smith for a keynote speech, virtual meetings, corporate presentation, grand opening, product release, moderated Q&A, or special meet and greet, call AthleteSpeakers at 800-916-6008.
What makes Stephen A. Smith Famous?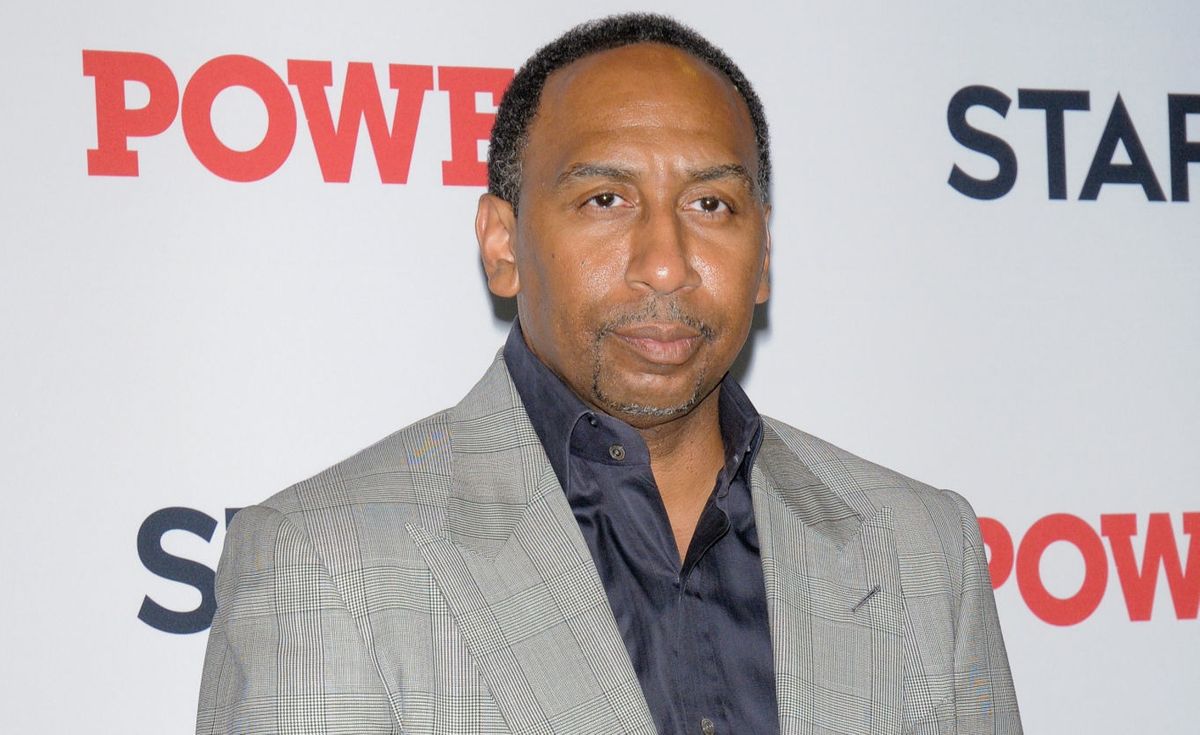 However, Stephen A. Smith is a famous American sports Journalist, sports television personality and sports radio host. Then, in ESPN's first show, he worked as a commentator of sports. Next, he worked with another commentator in this show. Next, her name is Molly Qerim. However, you can see him frequently on the 'SportsCenter' television show. Then, in the Sportscenter show, he worked as a NBA analyst. Moreover, Stephen A. Smith's real name is Stephen Anthony Smith. However, Smith also works for ESPN as an NBA analyst on NBA Countdown and NBA broadcasts. Next, on ESPN Radio, he broadcasts The Stephen A. Smith Show. Next, he also writes for some news websites.
How tall is Stephen A?
However, he is 1.85 m tall.
Is Molly still married to Jalen?
Jalen Rose and Molly Qerim, both ESPN personalities, are divorcing after three years of marriage. "After over a year apart, Molly and I have officially chosen to part ways," Rose, a former NBA player and current ESPN analyst, posted on his Instagram Story on Wednesday.
What does Max Kellerman make?
Skip Bayless left for FS1 and was replaced by Kellerman. Kellerman's departure from First Take, along with the lack of a permanent successor, will cast a stronger spotlight on Smith. His influence on ESPN and Disney has already grown recently, as would be expected given his stated yearly salary of $12 million.
Who raised Stephen A. Smith in his childhood?
However, his birthplace was in the Bronx, New York. However, his mother's name is Janet Smith. Next, Janet raised him in the Holis section of Queens. Moreover, he has four older sisters. Also he had a younger brother named Basil. But, his brother died in a car accident in 1992. Next, he also has a half brother.