John Edward "Skip" Bayless, famous as Skip Bayless, took birth on 4th December 1951. He is a leading American Sports columnist, commentator as well as a television personality. So, his show First Take along with Stephen A. Smith on ESPN2 contributed mostly to his popularity. However, Skip Bayless left the job in 2016. On the other hand, he started his new show Skip and Shannon: Undisputed in the same year on 26th September. So for this, he collaborated with Shannon Sharpe. The show, moreover, streams on Fox Sports. However, this is not just it. Such a person with such fame and a long career has so much more that we must know. So, we will come across his early life, career, and current presence in the ensuing sections.
Skip Bayless Age, Biography/Wiki
| | |
| --- | --- |
| Full name | John Edward "Skip" Bayless |
| Nickname | Skip Bayless |
| Date of Birth | 4th December, 1951 |
| Age | 71 years |
| Birthplace | Oklahoma City, Oklahoma, United States of America |
| Nationality | American |
| Profession | Sports columnist, sports commentator, tv star |
| Wife | Ernestine Sclafani |
| Religion | Christianity |
| Zodiac sign | Sagittarius |
Skip Bayless Family, Early life & Personal Life
So, Skip Bayless took birth in Oklahoma City, Oklahoma. It was his father, John Sr., who started to call him Skip right after his birth. Moreover, he also called his wife, Skip's mother Skip because she was the "skipper of the ship". This name became popular with the family. So, his parents never called him John. Therefore, he identified with the name so much that he finally changed his legal name to Skip Bayless. His parents ran and owned the Hickory House restaurant in Oklahoma city. Hickory House was famous for its barbecue. So, Bayless did work there as a youngster. However, he never considered it to be a career option. On the other hand, his brother, Rick Bayless took up the business and carried on the family tradition. So he became a chef, and eventually a restaurateur and TV personality. Skip Bayless also has a younger sister.
Skip Bayless Career Beginnings
So, Skip Bayless grew an interest in sports at a very tender age. He played both baseball and basketball in his student days. Bayless was the salutatorian of Northwest Classen's graduating class of 1970. Moreover, he became a member of the National Honor Society for 2 years. He also presided over the chapter of the Fellowship of Christian Athletes of the school. Along with this, the letterman's club also had him as an officer. During his junior and senior years, one of his English teachers had urged him to be the primary sports columnist for the school newspaper. So, that was how things began to take shape. Before he graduated to his senior state, Skip Bayless represented Northwest Classen at Oklahoma Boys State.
Moreover, after his graduation, he received the Grantland Rice Scholarship to attend Vanderbilt University. So, this was a scholarship named after Grantland Rice, the sportswriter to attend his alma mater. At Vanderbilt, he graduated cum laude in 1974. His majors, however, were in English and History. He was a member of the Phi Kappa Sigma fraternity. So, he had served as the chapter's "rho" or sports director for two years. Moreover, Skip Bayless was also the editor of The Hustler. It was the student newspaper of the university. Moreover, he also interned under the sports editor Frank Boggs at the Daily Oklahoman in the summer of 1969.
Skip Bayless Wife
So, Skip Bayless married his wife Ernestine Sclafani (Bayless) in 2016. She was born on Long Island and is a New York native. Bayless and Sclafani had dated for 11 years. Moreover, they had also been engaged for six years before they tied the knot. Professionally, she is a media relations specialist and also an advisor on public relations. Moreover, her net worth is around a million dollars. The two had presumably met on the set of Bayless' show.
Skip Bayless Age
As we already know, Skip Bayless took birth on 4th December 1951. He is just 71 years old. However, age is just a matter of digits. He is still going strong with his shows!
Skip Bayless Net Worth
As per the latest records, Skip Bayless has a net worth of around 17 million dollars. A major part of this comes from his salary at Fox Sports. This is a whopping 5 million dollars. So, his contract with ESPN had expired in 2016 and he chose to leave it. Fans were genuinely sad over the departure owing to his long term over there. However, rumors soon turned up that the split occurred mainly due to money. As per reports, ESPN had agreed to pay him as much as 4 million dollars to let him stay. However, controlling the tether, Fox was ready to pay even more.
So, as Skip Bayless considered the odds of his choice, reports notified that Fox was ready to give him a signing bonus of 4 million dollars. Moreover, this would include a 4-year contract by which he will receive a payment of 5.5 million dollars per year.
Skip Bayless Twitter
So, Skip Bayless is there on Twitter. Moreover, he is quite active with his tweets. His Twitter username is @RealSkipBayless. He has 176 original tweets, 422 retweets, and around 4226 likes as of 24th January 2022, as per Twitter stats.
Skip Bayless Tweets
Skip Bayless is active on Twitter and he is a columnist. So, you can guess that he definitely uses his Twitter to give opinions or react to all or most of the major sports events across the USA or the world for that matter. You can visit his profile to check out more about it. Moreover, he also reacts to the decisions or actions of individual players and often ends up getting considerable media attention. Recently, an issue with Tom Brady brought him to the forefront. Let us check out what that was about in the next section.
Skip Bayless Tom Brady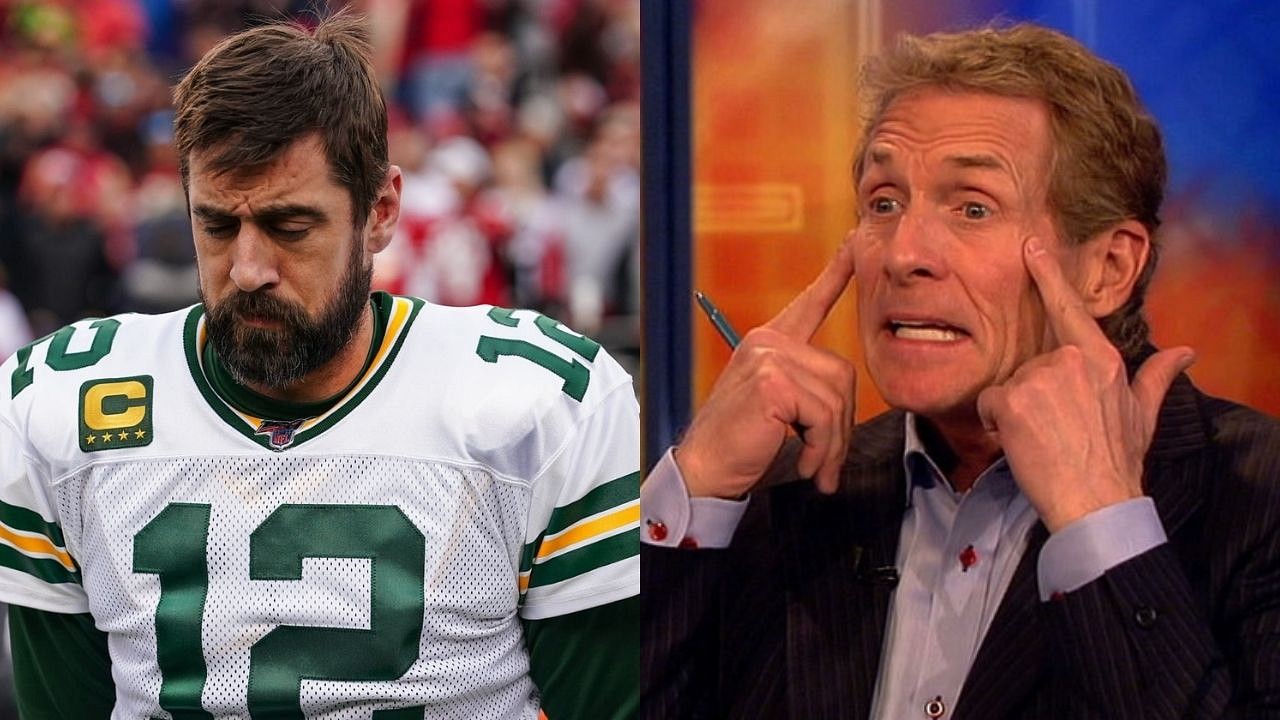 When reports of Tom Brady's retirement came up on Saturday, Skip Bayless had quite a hysterical outcome on Twitter. His initial reaction was a big NO (with a series of O to put emphasis on the statement) after Brady's official name. Moreover, he said it felt like a death in his family. Clearly, the stalwart commentator is quite upset with Brady's decision to retire. Moreover, he also said that if he was Kyle Shanahan or John Lynch, he would have personally called up Tom Brady and asked him to reconsider his decisions. He went on telling that Brady is always bent on proving people wrong. So, he might take up the challenge this time as well and show some of his desperation.
Skip Bayless Aaron Rodgers
Skip Bayless went on telling that Aaron Rodgers is not even the MVP of the league. Moreover, he reflects on another postseason disappointment for him. Bayless does not stop there. He retaliates against Aaron Rodgers' retirement quote by telling him that he is the ultimate blame deflector. However, Bayless evidently detests him and does not think twice before telling hurtful comments. So, he told Rodgers that the latter is a choke artist last January.
Skip Bayless LeBron James
Skip Bayless had backed up the 37-year-old LeBron James quite a lot to win the MVP this season. So, he had said that he wanted from his heart James to give a good shot at the MVP this year because of the narrative. But, he had criticized him nevertheless.
Skip Bayless Height
Skip Bayless has a height of 1.78 m or 5 feet 8 inches. Hence, he is an adequately tall man as we must have realized from his gait in the studio. So, he has an average height, if you may say. Let us take a quick look at the other physical dimension of your favorite sports columnist and commentator.
Skip Bayless Figure Measurements, Size & Weight
Hair Color
Mostly blonde-brown but he dyes regularly
Eye Color
Black
Height
Feet – 5 feet 8 inches

Meters – 1. 78 m

Centimeters – 178 cm

Weight
In kilogram- 82
Skip Bayless Career
So, in a career expanding over decades, Skip Bayless has had some illustrious involvements. Therefore, he invested himself in print journalism, radio, television as well as in films.
Print
So, right after university, he started working at the Miami Herald where he worked for around 2 years. He then moved to the Los Angeles Times. During his stint as a journalist there, he gained considerable fame for his investigative stories. So, one of the most striking ones was the Los Angeles Dodgers' clubhouse resentment of "golden boy" Steve Garvey and his celebrity wife Cyndy. And, the other one was on Rams owner Carroll Rosenbloom's behind-the-scenes decisions to start different quarterbacks each week. At only 26 years, he joined the Dallas Morning News to become the head columnist for sports there. Later, he has worked for several others like Dallas Times Herald, Wall Street Journal, Chicago Tribune, and Sports Illustrated either for guest articles or for regular columns. Moreover, Skip Bayless had worked with the Dallas Times Herald for 17 long years.
During this time, he has also received several honors and awards for his journalism.
In 1989, Bayless wrote his first book, God's Coach: The Hymns, Hype, and Hypocrisy of Tom Landry's Cowboys. So, this was about the rise and fall of Tom Landry's Dallas Cowboys. Now, after the Cowboys won the Super Bowl in 1993, Bayless again wrote The Boys: The Untold Story of the Dallas Cowboys Season on the Edge. However, that was not the end. So when the Cowboys won the Super Bowl for the third time in four seasons, Skip Bayless wrote a third book- Hell-Bent: The Crazy Truth About the "Win or Else" Dallas Cowboys. However, Hell-Bent created controversies for two reasons. The conflict between Cowboys coach Barry Switzer and star quarterback Troy Aikman. And the second was speculation by Switzer and people close to him within the Dallas organization that Aikman was gay.
Radio
So, radio is not a formidable part of the career of Skip Bayless. In 1991, he engaged himself in a brief stint on the radio. He used to host a two-hour-long sports talk that ran from 6-8 pm. So, he worked from Monday to Friday for the Dallas Radio Station KILF. In 1994, he became one of the first investors in the Fort Worth radio station KTCK, also known as "the Ticket". Moreover, he hosted the Skip Bayless Show for two years every day of the week from 6 to 9 in the morning.
But, in 1996, as the original owners sold it to Cumulus Media, Bayless' contract automatically terminated. In the mid-90s, he had various appearances on radio shows like in ESPN Radio's first national weekday show, The Fabulous Sports Babe. In 2001, he again brought another turn. So, now he became the main host of the Jim Rome Show, a syndicated radio program. Moreover, he also started co-hosting a weekend show on ESPN Radio along with Larry Beil. So, this continued to air till 2004. After this, he became a full-time sports commentator on television.
Television
So, Skip Bayless started his stint on television back in 1989 when he joined the host Dick Schapp as a panelist on ESPN's The Sports Reporters. Following this, he made regular appearances on the Sunday Morning Show for about a decade. Moreover, in 1992, he became a member of the original debate team on NFL Prime Monday's "Knights of the Roundtable" segments with Mitch Albom and Michael Wilbon.
Over the course of years, he has had numerous guests as well as full-time appearances. So, he had worked for the Golf Channel, Jim Rome's show on Fox Sports Net- the Last Word, the Best Damn Sports Show Period, etc. So, following this in 2004, he joined ESPN full-time in 2004 to host the daily debate segments- "1st and 10" on the channel's Cold Pizza along with Woody Paige of The Denver Post. Moreover, he also had to write regular columns for ESPN.com.
In 2016, however, he moved with Fox Sports. So now he started the new show with Shannon Sharpe. During his stint there, he has gathered considerable attention for his staunch criticisms of many sports stars.
Film
So, Skip Bayless played a cameo in the 2006 film Rocky Balboa. However, he did this along with his ESPN colleagues Jay Crawford and Woody Paige. Moreover, he also made an appearance in the 2010 ESPN 30 for 30 film. It was called Pony Excess. Along with these, he also appeared in the 2011 ESPNU documentary, Herschel.
Skip Bayless FAQs
Did Skip Bayless play sports?
Yes, he did. He was actively involved in playing sports from childhood till he graduated from university. However, post-graduation, he did not play sports actively. Since then, he has been an avid columnist and commentator.
Does Skip Bayless like the Dallas Cowboys?
Of course! He has been a fan of the Dallas Cowboys for decades. Moreover, he wrote books on them. So, he is fairly acquainted with postseason heartbreaks.
Did Skip Bayless play football?
Skip Bayless had been popular for playing baseball and basketball in his student days. Therefore, even if he played football, it is not something we know well about.
How did Skip Bayless get famous?
So, Skip Bayless has had an illustrious career. However, his career turned to a more popular outlook only when he paired up with Stephen A. Smith to host ESPN's First Take.
Where did Skip Bayless go to high school?
So, for high school, Skip Bayless went to Northwest Classen High School. So, after this, he went on to graduate from Vanderbilt University with a scholarship.
What is Skip Bayless' Salary?
Currently, Skip Bayless gets a salary of around 5 million dollars from FOX.
What is Skip Bayless' real name?
So, Skip Bayless itself is his legal name. But the name that his parents gave him at birth was different. It was John Edward Bayless II. Moreover, the name of his father was also John.
Why did Skip Bayless leave ESPN?
According to Sports Illustrated media reporter Richard Deitsch, Bayless left ESPN for financial debates. FOX was willing to give him a 5.5 million dollar annual contract with a 4 million signing bonus over ESPN's 4 million dollars annual contract.
Where did Skip Bayless go for college?
So, Skip Bayless went to Vanderbilt University for college. Moreover, he went there on a full scholarship. His major subjects were English as well as History. Therefore, he graduated cum laude in 1974 there. To know more about his college, check out the career beginnings section.
Are Stephen A. Smith and Skip Bayless still friends?
Yes, both of them have certified that they are still good friends. Moreover, in a light-hearted way, they have also told about their secret desire to work together, again, someday. However, whether ESPN will be ready to pay millions to both for them to return to First Take is questionable.