Anfernee Tyrik Simons is an American professional basketball player for the Portland Trail Blazers of the National Basketball Association (NBA). He played prep basketball for IMG Academy in Bradenton, Florida and became the first American to enter and be selected in an NBA draft directly after graduating from high school since the league first implemented age restriction rules in 2005.
Anfernee was selected as 24th overall pick in the 2018 NBA Draft by the Portland Trail Blazers. Further, he was highly touted as a prospect and decided to forego college and declare for the 2018 NBA draft, where he was selected in the first round by the Portland Trail Blazers. During the 2019 season, he came off the bench scoring 8.3 points per game as a rotation player.
Discover all you need to know about Anfernee Simons, including his age, height, family, girlfriend, NBA career, stats, contract, salary, net worth, social media presence, and frequently asked questions. Get comprehensive information and stay updated on this talented basketball player.
Anfernee Simons Bio/Wiki Table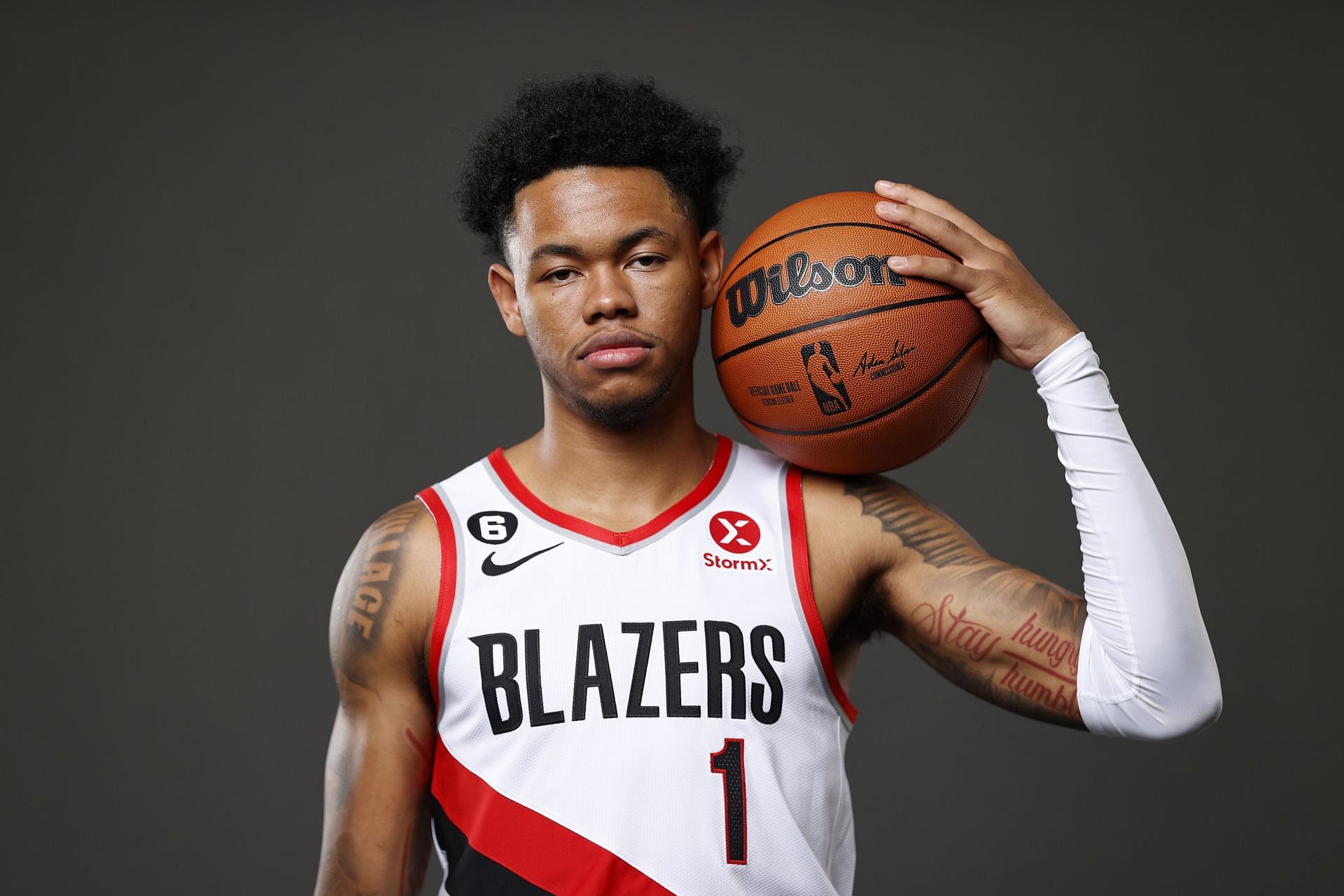 | Name | Anfernee Tyrik Simons |
| --- | --- |
| Born | June 8, 1999 |
| Birth Place | Altamonte Springs, Florida, United States |
| Height | 6 feet 3 inches (1.91 meters) |
| Weight | 185 pounds (84 kg) |
| High School | Edgewater High School (Orlando, Florida); IMG Academy (Bradenton, Florida) |
| College | None (Declared for 2018 NBA Draft after postgraduate year at IMG Academy) |
| NBA Draft | 2018 / Round: 1 / Pick: 24th overall, Selected by the Portland Trail Blazers |
| Position | Point guard / Shooting guard |
| Professional Career | Portland Trail Blazers (2018–present) |
Early Life
Anfernee Tyrik Simons was born on 8th June 1999 in Altamonte Springs, Florida. Charles and Tameka are the proud parents of Simons. As per his nationality, indeed he is a 21-year-old American, and belongs to a mixed ethnic group. Moreover, he is well famed for his as a shooting guard and for being nominated in the first round of the 2018 draft. Basketball has always been his dream profession, which evidently turned out to be true.
Simons studied at Edgewater High School, Orlando, Florida. For his junior year, he transferred to Montverde Academy in Montverde but eventually returned to Edgewater as he was a bench player and had an intention to hold his name back from the college consideration for a year. Firstly, he graduated from Edgewater in the year 2017 and secondly, he attended the IMG Academy in Bradenton for his post graduation in the year 2018.
Family
He is the son of Charles and Tameka, and his parents are huge supporters of basketball. Anfernee Simons' father, Charles, was also known as a rough coach. Charles, who was a star in high school, often coached his son during a summer training camp at a young age, and he was drafted first overall by the Portland Timbers in 2011. However, Anfernee says that his rough nature helped him mentally prepare for games. His parents were both basketball fans and for the same reason, named him after former player Penny Hardaway.
Despite the harsh nature of his father, Charles Simons, Anfernee's father, encouraged him to pursue a career in basketball. Tameka Simons, Anfernee's mother, also encouraged him to pursue basketball. The family has since moved to Lake Oswego, and their son's NBA career has been a great success. However, Simons' parents are now supportive of his NBA career, and the couple is often seen in the stands cheering their son on.
Girlfriend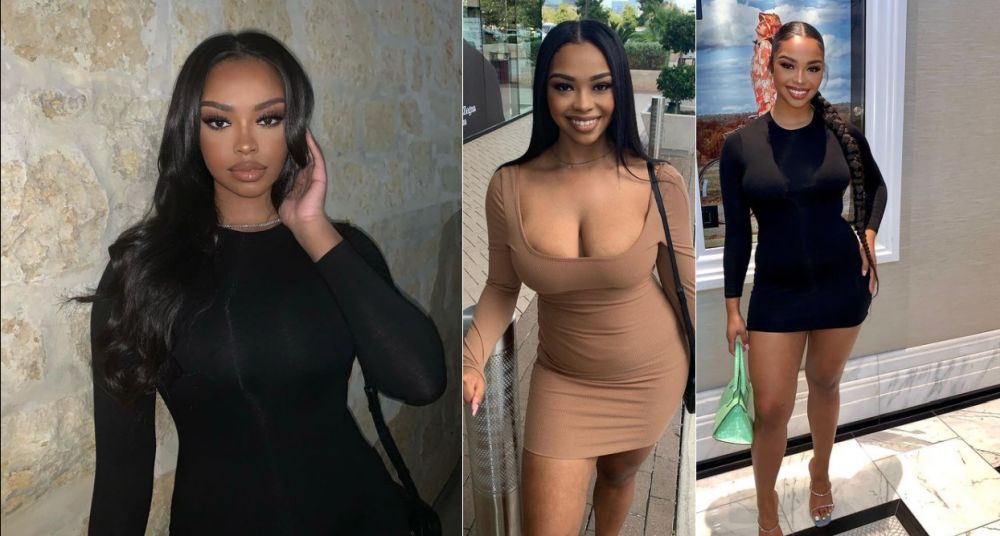 Anfernee Simons is in a relationship with Bre Hudson, who hails from Houston. Bre is currently pursuing a career as an actress and made her film debut in the movie "Old Man Jackson" portraying the character of Chey. Their relationship has stood the test of time, as they have been together for a significant period.
Bre Hudson, has amassed over 87 thousand Instagram followers. Although the couple seems to maintain a relatively private social media presence, this is not uncommon among NBA players, as they often face unnecessary comments from trolls. While Bre Hudson is making her own mark, she undoubtedly appreciates the remarkable performances her boyfriend has displayed over the past few seasons.
Anfernee Simons Career
Anfernee had his fortunate career start on April 10th, 2019 competing against Sacramento Kings meanwhile the Trail Blazers rested Damian Lillard and CJ McCollum for the final game of the regular season. Although, he put his career at the peak by raising the board high across with a score of 37 points, 6 rebounds, and 9 assists. Through these scores, he was honored to become the first Trail Blazers rookie to score 30+ points since Damian Lillard. Whereas, there is no such mention regarding the upcoming events of Anfernee Simons, as per sources. However, if there might be any fluctuations, we will update you as fast as possible regarding the same.
High School Career
Simons first attended Edgewater High School in Orlando, Florida. During his High School years, he got recognized for playing basketball for Edgewater High School. However, Simons started playing for the United States men's national under 19 teams in 2017 and circumvented college to enter in the 2018 NBA Draft. During the 2018 NBA Draft, Simons got picked by the Portland Blazers and on 2nd July 2018, Blazers announced the signing of Simons. Although The Blazers allotted Simons to the Agua Caliente Clippers for an NBA G League assignment on 21st January 2019. While he was in his sophomore year he averaged 17.8 points, 4.6 assists, 2.4 rebounds, and 1 steal per game in 30 games.
During his junior year he transferred to Montverde Academy in Montverde, but after being a bench player, he returned to Edgewater with the intention of holding his name back from college consideration for a year. He graduated from Edgewater in 2017, averaging 23.8 points, 7.2 rebounds, 4.2 assists, 1.8 steals, and 0.5 blocks per game in 20 games played in his last year there. Then, because of his reclassification in the Class of 2018, he attended the IMG Academy in Bradenton for a postgraduate year, although he had previously expressed interest in spending that year at the West Oaks Academy in Orlando instead. During the summer of 2017, he also played for the United States men's national under-19 basketball team.
College Career
Simons was rated as a five-star recruit and was ranked as the 7th best player in the 2018 class by 247Sports.com. Originally, he planned to enter the University of Louisville, but as a result of the basketball sex scandal of 2015 at the university and its involvement in the 2017–18 NCAA Division I men's basketball corruption scandal, he ultimately decommitted from Louisville, saying that he was most interested in the University of South Carolina, North Carolina State University, the University of Tennessee, and the University of Florida.
In January 2018, he then said that he was "most likely" going to bypass college and enter the 2018 NBA Draft, albeit without hiring an agent. In March 2018 he confirmed his decision, and later removed his name from the 2018 Nike Hoop Summit and Jordan Brand Classic. On March 20, 2018, ESPN ranked him as the 19th best prospect in the draft.Simons was later named one of the 69 players invited to the 2018 NBA Draft Combine that year.
Professional Career:

Portland Trail Blazers (2018–present)
Simons was selected 24th overall by the Portland Trail Blazers in the 2018 NBA draft. Behind Thon Maker and Satnam Singh Bhamara, He would be the third high school player since 2015 to be drafted in the NBA. As a result, the Trail Blazers announced that they had signed Simons on 2 July 2018.
Firstly, in the year 2019, on 21 January, he was assigned to the Agua Caliente Clippers for an NBA G League assignment. On 10 April, 2019, Simons made his first career start against the Sacramento Kings while the Trail Blazers rested Damian Lillard and CJ McCollum for the final game of the regular season. Simons put up career highs across the board with 37 points, 6 rebounds and 9 assists, becoming the first Trail Blazers rookie to score 30+ points since Damian Lillard. Lastly, on 7 March 2021, Simons won the Dunk contest in the 2021 NBA All-Star Game by a 3-2 judges decision.
On January 3, 2022, Simons scored a then career-high 43 points behind nine three-pointers, along with seven assists, in a 136–131 win over the Atlanta Hawks. During a postgame interview, he dedicated the game to his grandfather who died of cancer the previous night. After that, he was ruled out for the remainder of the season with patellar tendinopathy in his left knee on 28 March.
In addition, on July 6, 2022, Simons re-signed with the Trail Blazers on a four-year, $100 million contract. However, on October 21, Simons hit a game-winning floater in a 113–111 overtime win over the Phoenix Suns. Further, Simons scored a career-high 45 points in a 116–111 win over the Utah Jazz on 3 December and again in the year 2023, on 3 February Simons scored 33 points in a 124–116 comeback win over the Washington Wizards.
Anfernee Simons Dunk Contest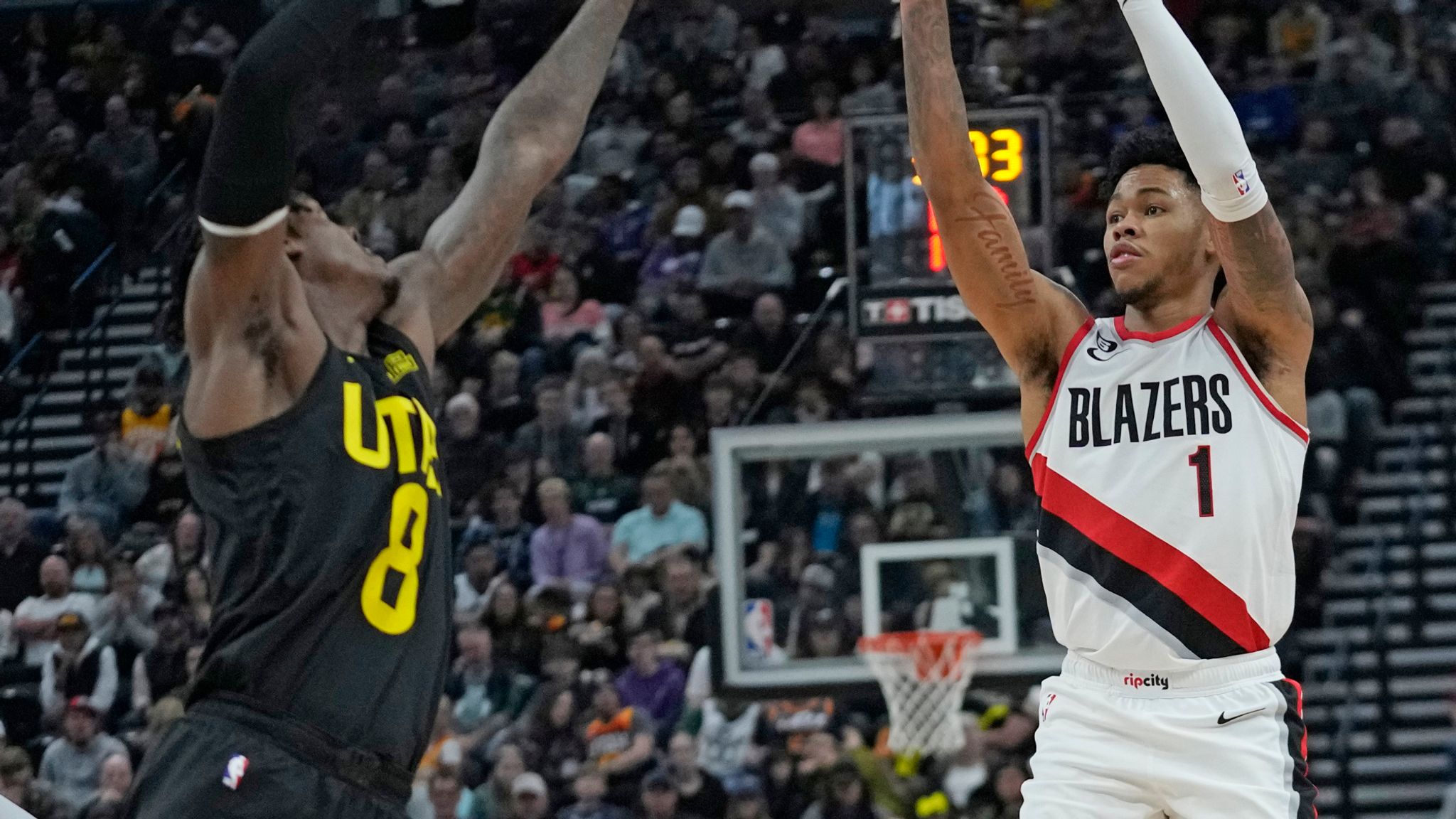 In the championship round of the Slam Dunk Contest during halftime of the 2021 NBA All-Star Game, Simons attempted to kiss the rim, but failed and still completed the dunk. Despite his failed attempt, he was named the 2021 Slam Dunk Champion in a 3-2 decision. Without a crowd because of the pandemic, an all-star headliner showcased the time slot. Furthermore, this turned the dunk contest into a cringeworthy disaster.
Even so, Anfernee Simons, Obi Toppin and Cassius Stanley, the trio put on a tight, clean show that didn't drag with missed dunks or unnecessary gimmicks.Then, Simons, a backup guard for the Portland Trail Blazers, emerged as the champion with a clever set. The skinny 6-foot-3 guard then sprang high in the air to retrieve the ball and flush it through the normal hoop. However, for his second dunk, Simons donned a Tracy McGrady jersey and uncorked a 360-degree, double-clutch dunk like the one the former Raptors forward pulled off in the 2000 contest.
Overall, Simons delivered a competent performance, having to settle for high fives from all-stars sitting courtside rather than taking comfort in the applause of the crowd of 1,500. Simons lacked the natural flair and authority of prior elite contest winners, however, he had concepts and impressive leaping ability.
Although, Stanley was irritated after his first dunk, a through-the-legs, left-handed finish, received only a 44 from a judging panel that included Dominique Wilkins, Spud Webb, Jason Richardson, Josh Smith, and Dee Brown. Indeed, the NBA's dream contestant, Memphis Grizzlies guard Ja Morant, stated on Twitter that inconsistent judging is "the reason I'm not doing it.".
Anfernee Simons Stats
2018-2019 NBA Season: The Beginning
In his debut season (2018-19), Anfernee Simons played 20 games for the Trail Blazers, averaging 7.0 minutes and scoring 3.8 points per game. His field goal percentage stood at 44.4% and he averaged 0.7 rebounds and 0.7 assists per game.
2019-2020 NBA Season: Gaining Momentum
The following season, 2019-20, Simons saw increased game time, playing 70 games with an average of 20.7 minutes. His scoring improved to 8.3 points per game, with a field goal percentage of 39.9% and a 3pt percentage of 33.2%.
2020-2021 NBA Season: Steady Improvement
In the 2020-21 season, Simons' performance showed steady improvement. He played 64 games and increased his scoring to 7.8 points per game, boasting an impressive 42.6% 3pt percentage.
2021-2022 NBA Season: A Big Leap
The 2021-22 season was a breakthrough for Simons. Playing 57 games, his playing time increased to 29.5 minutes per game, and his scoring jumped to 17.3 points per game. His three-point shooting was notably efficient at 40.5%.
2022-2023 NBA Season: Solidifying Status
Most recently, in the 2022-23 season, Simons has further solidified his status on the Trail Blazers' roster. In 62 games, he averaged 21.1 points and 4.1 assists per game, showcasing his growth as a key player for the team.
Career Stats
| Year | Team | GP | Min | Pts | FG% | 3pt% | Reb | Ast | Stl |
| --- | --- | --- | --- | --- | --- | --- | --- | --- | --- |
| 2018-19 | Trail Blazers | 20 | 7.0 | 3.8 | 44.4 | 34.5 | 0.7 | 0.7 | 0.1 |
| 2019-20 | Trail Blazers | 70 | 20.7 | 8.3 | 39.9 | 33.2 | 2.2 | 1.4 | 0.4 |
| 2020-21 | Trail Blazers | 64 | 17.2 | 7.8 | 41.9 | 42.6 | 2.2 | 1.4 | 0.3 |
| 2021-22 | Trail Blazers | 57 | 29.5 | 17.3 | 44.3 | 40.5 | 2.6 | 3.9 | 0.5 |
| 2022-23 | Trail Blazers | 62 | 35.0 | 21.1 | 44.7 | 37.7 | 2.6 | 4.1 | 0.7 |
| Career | – | 273 | 24.0 | 12.6 | 43.3 | 38.7 | 2.3 | 2.5 | 0.4 |
Anfernee Simons Contract
Anfernee Simons, the talented guard for the Portland Trail Blazers, inked a staggering four-year, $100 million contract with the franchise. This impressive deal includes $100 million guaranteed, setting an annual average salary at $25 million. The Trail Blazers formally announced this contractual agreement on July 6, 2022.
For the 2022-23 season, Simons stands to earn a base salary of $22,321,429. Interestingly, this figure also represents both his cap hit and his dead cap value for the year.
Simons, one of the youngest players in the 2018 NBA draft, has rapidly progressed from being a rookie to securing a prominent role within the Trail Blazers. With this new deal, he is now one of the foundational building blocks for Portland's future. As he steps into McCollum's role alongside Lillard, fans and critics alike anticipate an explosive offensive backcourt in the coming NBA season.
Anfernee Simons 3 pointers Last Game
Anfernee Simons has officially withdrawn from the upcoming NBA 3-Point Contest at All-Star Weekend as a result of an ankle injury. According to Shams Charania, Simons' ankle will need further evaluation, forcing him to the sidelines for All-Star weekend.
As a result, New York Knicks All-Star Julius Randle has been tapped to replace Simons. Randle, who will also be participating in Sunday night's All-Star game, will now step in on short notice to make a run at the three-point title.
Anfernee Simons Salary
To clarify he earns an estimated annual salary of $2,252,040. He's making 466.7 percent more than in 2021/22. Correspondingly, he's the 58th best-paid NBA player this year. He was the 257th best-paid NBA player last year. At the same time, he's the 28th best-paid guard this year. He was the 120th best-paid guard last year.
Anfernee Simons Net Worth
Anfernee Simons, the rising star of the NBA, has been gaining widespread popularity and success in recent years. A substantial number of fans and followers are curious about Anfernee Simons' net worth, a reflection of his thriving professional basketball career. As per recent estimates, Simons' net worth stands impressively at around $3 million, a figure that mirrors his skill, dedication, and hard work in the sport.
Simons, so far has earned good earnings from his entire NBA career. However, apart from his financial earnings, he owns a house and a car. He also earns a good sum of money from various sponsorships. As far as he has got such a wonderful-skills and has great determination towards his game, he has more worth than his actual net worth.
Anfernee Simons Height
Anfernee Simons is a basketball player born on June 08, 1999 in Longwood, Florida. He is measured at a height of 6 feet 1.5 inches barefoot. However, he has a height of 6 feet 3.5 inches in shoes. Although, he is a shooting guard who most recently played for Portland Trail Blazers in the NBA.
Anfernee Simons Age
Evidently, Anfernee Simons is well known as an American Professional Basketball Player. He was born on 8 June 1999. Therefore his age is 24 years.
Anfernee Simons Ethnicity
Anfernee Simons, a professional basketball player born in Florida, has a mixed-race background. His mixed-race background likely incorporates various cultural heritages and traditions, shaping his personal identity and upbringing.
Anfernee Simons Nationality
Anfernee Simons proudly represents the United States as an American citizen in international basketball competitions. As a member of the Portland Trail Blazers, he has showcased his skills against top players worldwide, contributing to the prominence of American basketball.
Anfernee Simons Social Media
Simons isn't just a world-class athlete but also very attractive as an individual. Other than being well famed as an NBA Shooting Guard, he has a huge fanbase on social media. Moreover, he has 69.4k followers, but follows back only 1111 people on his Instagram account and 10.6k followers, but follows back only 632 peopleon his Twitter account. In addition, at every post, he gets no less than a thousand likes, which means he has got some die heart fans too.
FAQs
How much does Anfernee Simons weigh?
82 kg
What team is Simons?
Portland Trail Blazers
When was Simons drafted?
2018
What happened to Anfernee Simons?
Impact Simons was diagnosed with a Grade 2 ankle sprain right before the All-Star break, and it's unclear when he'll return. At this point, updates should arrive as he makes tangible progress. During his absence, more minutes should be available for Shaedon Sharpe, Matisse Thybulle and Cam Reddish.
Is Anfernee Simons named after Penny?
Simons was given the name Anfernee due to his parents, Charles and Tameka, being fans of the Orlando Magic and naming him after former player Penny Hardaway. Hardaway coached Simons during a Team USA Basketball training camp.