Franz Wagner Or Franz Jacob Wagner, born on August 27, 2001, a German professional basketball player currently representing the Orlando Magic in the National Basketball Association (NBA). Prior to his NBA journey, Wagner showcased his skills as a college basketball player for the Michigan Wolverines.
Hailing from Berlin, Wagner embarked on his career with Alba Berlin, a Basketball Bundesliga (BBL) club. In recognition of his talent, he was honored with the title of BBL Best German Young Player in 2019. Wagner's dedication to the sport led him to represent Germany in various youth national teams, where he achieved a significant milestone by securing a gold medal at the 2018 Albert Schweitzer Tournament.
Notably, Wagner shares his basketball prowess with his older brother, Moritz Wagner, who is also part of the Orlando Magic and has made a name for himself during his time at Michigan. Together, the Wagner brothers contribute to the strength of the team and showcase their basketball excellence in the NBA.
Discover key details about Franz Wagner, including his age, height, weight, parents, brother, college basketball career, NBA journey, stats, contract, net worth, girlfriend, and more. Get all your questions answered and find intriguing information about this talented basketball player. Explore his remarkable achievements and learn more about his personal and professional life.
Bio/Wiki Table | Known Name | Franz Wagner |
| --- | --- |
| Real Name | Franz Jacob Wagner |
| Nickname | Franz Wagner |
| Date of Birth | August 27, 2001 |
| Age | 21 Years Old |
| Home Town | Berlin, Germany |
| Current Residence | Orlando, USA and Germany |
| Profession | Basketball player |
| Team | Orlando Magic (NBA) |
| College | Michigan Wolverines |
| Girlfriend/Affairs | Single |
| Nationality | German |
| Religion | Unknown |
| Ethnicity | Likely Caucasian |
| Zodiac Sign | Virgo |
Franz Wagner Early Life
Franz Wagner, born on August 27, 2001, in Berlin, Germany, had a formative early life that shaped his basketball journey. Growing up in a city known for its basketball culture, Franz developed a deep passion for the sport from an early age. Inspired by his older brother, Moritz Wagner, who also excelled in basketball, Franz set his sights on a future in the game.
Supported by his family and coaches, Franz dedicated himself to training and refining his basketball skills. He spent countless hours on the court, constantly seeking ways to improve and learn from experienced mentors. This commitment and hard work paid off as Franz quickly emerged as a promising talent within the German basketball community.
During his school years in Berlin, Franz balanced his academic studies with his intense basketball training. He embraced the sport wholeheartedly, seeking every opportunity to enhance his game and soak up knowledge from seasoned coaches and players.
Franz's talent did not go unnoticed, and he began to catch the attention of scouts and recruiters. This eventually led to an opportunity to join Alba Berlin, a renowned club in the Basketball Bundesliga (BBL). Joining the professional ranks marked a significant milestone in Franz's basketball journey, providing him with a platform to further develop his skills and gain invaluable experience.
In addition to his domestic career, Franz had the privilege of representing Germany in various youth national teams. Competing in international tournaments allowed him to showcase his abilities on a global stage and gain exposure to different styles of play.
Franz Wagner Parents and Family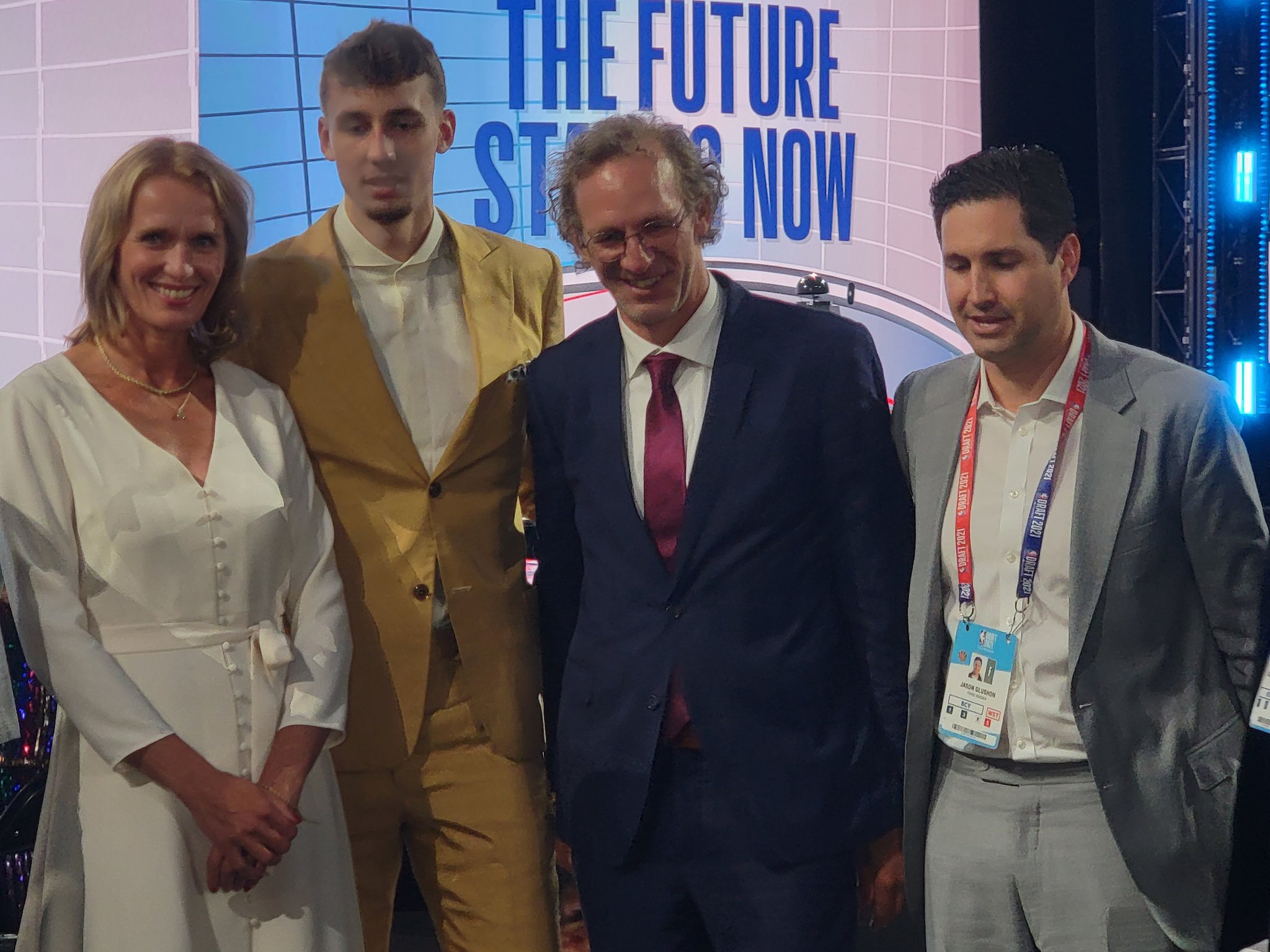 Franz Wagner, born on August 27, 2001, in Berlin, Germany, has a loving and supportive family. His parents, Beate Wagner and Axel Schulz, have been instrumental in his basketball journey, offering unwavering support and encouragement at every step. They have been avid spectators, attending his matches to cheer him on and celebrate his achievements.
Notably, Franz's older brother, Moritz Wagner, shares the same passion for basketball. Moritz is an NBA player who also plays for the Orlando Magic, making them teammates on the court. Prior to his NBA career, Moritz represented the University of Michigan in collegiate basketball for three seasons and was selected in the first round of the 2018 NBA Draft.
Franz Wagner Brother: Moritz Wagner
Franz Wagner's elder brother, Moritz Wagner, is a prominent figure in the basketball world. Born on April 26, 1997, Moritz, also known as "Mo" Wagner, has made his mark in professional basketball. At 25 years old, he has already established himself as a skilled center or power forward for the Orlando Magic in the NBA.
Prior to his NBA career, Moritz played college basketball for the Michigan Wolverines, starting with the 2015-2016 season. His impressive performance earned him recognition, including being selected as part of the All-Big Ten second team by both media and coaches in 2018. He continued to excel, becoming the MVP of the 2018 Big Ten Conference men's basketball tournament and helping his team secure consecutive Big Ten tournament championships.
In the 2018 NBA draft, Moritz was selected as the 25th overall pick by the Los Angeles Lakers. Throughout his career, he has showcased his skills on various stages, receiving accolades such as being named to the West Region All-Tournament Team and Final Four All-Tournament Team during the 2018 NCAA basketball tournament.
Notably, Moritz Wagner has also represented the national team of Germany, further contributing to his basketball journey. His achievements and success serve as an inspiration for his younger brother, Franz Wagner, who has followed in his footsteps and carved his own path in the sport. Together, the Wagner brothers continue to make waves in the basketball world.
Franz Wagner Age
Franz Wagner, born on August 27, 2001, in Berlin, Germany, is currently 21 years old. Despite his young age, Wagner has already achieved remarkable success in his basketball career, making a name for himself in both Germany and the United States.
In just 21 years, Wagner has made significant strides, traveling between continents and gaining recognition in two distinct countries. His journey serves as an inspiration, demonstrating the possibilities that can be achieved with dedication and talent. He has been a part of multiple teams, showcasing his versatility and contributing to his teams' success, while also earning numerous accolades and titles along the way.
Looking at his recruiting history, Wagner was highly regarded as a 4-star recruit by both 247Sports and Rivals. Several NCAA Division I teams, including Butler, Michigan, and Stanford, expressed interest in recruiting him. Ultimately, Wagner made the decision to commit to the University of Michigan on July 6, 2019, under the guidance of head coach Juwan Howard. This commitment meant turning down a contract with Alba Berlin, the team he was already playing for as a professional player.
Franz Wagner Height
Franz Wagner stands tall with an impressive height of 6 feet 8 inches (2.08 meters or 208 centimeters). His towering stature provides him with a significant advantage on the basketball court, allowing him to excel in various aspects of the game.
With his height, he possesses the ability to dominate in rebounding, contest shots effectively, and contribute to his team's defensive presence.
Franz Wagner Weight
Franz Wagner maintains a solid physique with a weight of 99.8 kilograms (220 pounds). This robust weight adds to his physical presence and enhances his ability to compete against opponents in the highly competitive world of basketball.
With his strength and size, Wagner is capable of holding his ground in the paint, battling for rebounds, and displaying a formidable presence on both ends of the court.
Physical Stats
Franz Wagner possesses impressive physical attributes that contribute to his success on the basketball court. Standing at a height of 6 feet 8 inches (2.08 meters or 208 centimeters), he commands attention with his towering presence, allowing him to excel in various aspects of the game. This height advantage enables him to dominate the boards, contest shots, and contribute to his team's defensive efforts.
In addition to his height, Wagner maintains a weight of 99.8 kilograms (220 pounds). This solid physique adds to his strength and physicality, allowing him to hold his ground against opponents and thrive in the physicality of the game. With his combination of height and weight, Wagner presents a formidable challenge for opponents and brings a unique skill set to the court.
Furthermore, in terms of his appearance, Wagner has brown hair as his base color. However, as a young celebrity, he may experiment with different hairstyles, including dyeing or highlighting his hair for various projects or brand endorsements. Additionally, he has captivating blue eyes, which complement his handsome looks.
High School Career
During his high school career, Franz Wagner showcased exceptional talent and potential in the game of basketball. He attended the John F. Kennedy School in Berlin, Germany, where he played for the school's basketball team.
Wagner's skills quickly caught the attention of coaches and scouts, and he began to make a name for himself in the German basketball scene. He displayed versatility on the court, with his ability to play multiple positions and contribute both offensively and defensively.
As a standout player, Wagner also had the opportunity to compete in various youth tournaments and showcases, representing both his school and regional teams. His performances garnered praise and recognition, solidifying his status as a rising star in German basketball.
Wagner's success at the high school level paved the way for his transition to higher levels of competition. It set the foundation for his future endeavors, including his college basketball career at the University of Michigan and eventually his professional journey in the NBA with the Orlando Magic.
College Career
Franz Wagner's college career at the University of Michigan showcased his exceptional skills and contributions to the Wolverines' basketball program. Despite facing a setback due to a fractured right wrist in October 2019, he made a strong comeback, displaying his determination and talent on the court.
After missing several weeks, Wagner returned to action on November 27, 2019, recording six points, three rebounds, and one block in a victory over Iowa State. He continued to make an impact, achieving a career-high 18 points in a win against Iowa on December 6, 2019. Throughout the season, Wagner consistently showcased his scoring ability and versatility, earning him recognition as one of Michigan's key contributors.
In his sophomore season, Wagner further solidified his presence as a valuable player for the Wolverines. He posted impressive numbers, with 14 double-figure games and four games exceeding 20 points. Averaging 13.0 points per game, 6.3 rebounds, and displaying a strong defensive presence with 30 steals and 23 blocks, Wagner played a crucial role in Michigan's success.
Following his impactful sophomore season, Wagner decided to declare for the 2021 NBA draft, forgoing his remaining college eligibility. His contributions to the Wolverines earned him accolades, including being named second-team All-Big Ten by the coaches and third-team by the media.
Professional Career
Alba Berlin (2017–2019)
During the 2018-19 basketball season, Franz Wagner showcased his talents in both the top German league, the Basketball Bundesliga (BBL), and the third-tier ProB league while playing for Alba Berlin and SSV Lokomotive Bernau.
His remarkable performances earned him the prestigious BBL Best Young Player Award in May 2019. In Game 2 of the BBL Finals against Bayern Munich, Wagner impressed by scoring a team-leading 14 points, shooting a perfect six for six from the field.
Throughout the season, he maintained an average of 4.6 points in 12.4 minutes per game in the BBL, while also contributing in limited minutes during the EuroCup competition.
Orlando Magic (2021–present)
After being selected as the eighth overall pick in the 2021 NBA draft by the Orlando Magic, Franz Wagner joined the team alongside fellow lottery pick Jalen Suggs on August 3, 2021. Wagner made an immediate impact, recording his first NBA double-double on December 18, 2021, with a career-high 11 rebounds, 14 points, and 6 assists in a game against the Brooklyn Nets.
A highlight of Wagner's rookie season came on December 27, 2021, when he exploded for a career-high 38 points in a game against the Milwaukee Bucks, despite a loss. This outstanding performance earned him recognition and accolades, including being named the NBA Eastern Conference Rookie of the Month for December.
Continuing to make strides, Wagner achieved his second NBA double-double on January 12, 2022, against the Washington Wizards, recording a career-high 10 assists along with 14 points. This remarkable feat established him as the first Magic rookie forward to achieve 10 or more assists in a game.
At the conclusion of the 2021-22 NBA season, Wagner's exceptional contributions led to his inclusion in the NBA All-Rookie First Team. Throughout his sophomore season, he displayed consistent scoring ability and playmaking skills, evidenced by his season-high 31 points and six assists in a game against the Sacramento Kings on November 5, 2022.
However, Wagner also faced a setback when he received a one-game suspension without pay from the NBA on December 29, 2022, due to an altercation that occurred during a game against the Detroit Pistons.
In his sophomore season, Wagner maintained impressive statistics, averaging 18.6 points, 4.1 rebounds, and 3.5 assists per game, further solidifying his status as a key player for the Orlando Magic.
Stats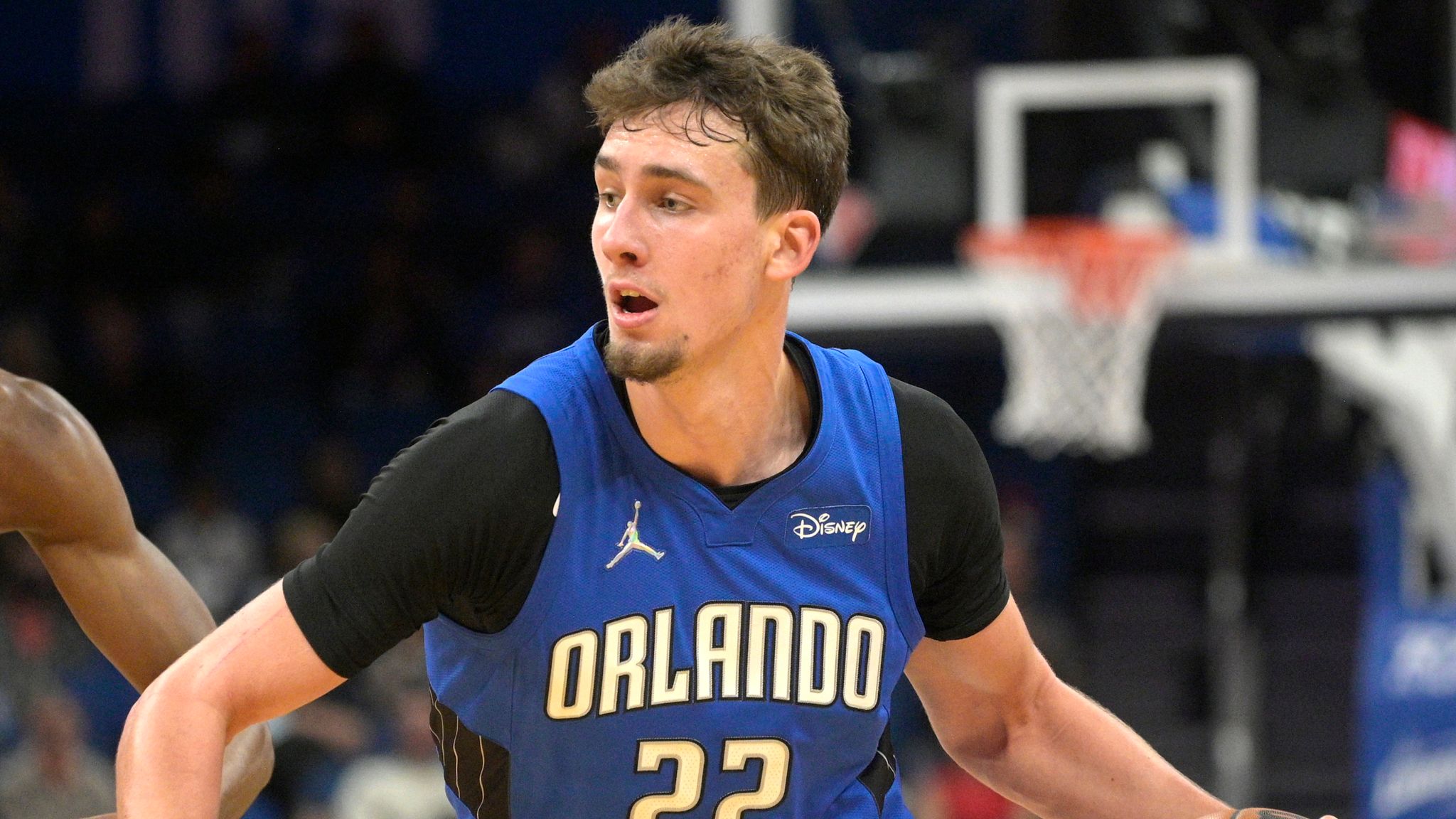 Franz Wagner's career statistics showcase his consistent growth and contributions to the Orlando Magic. Let's take a look at his stats year by year:
2021-22 Season
During his rookie season in 2021-22, Wagner played in 79 games, averaging 30.7 minutes per game. He demonstrated his scoring ability by contributing 15.2 points per game, shooting 46.8% from the field. Wagner also showcased his three-point shooting skills, shooting 35.4% from downtown. Additionally, he grabbed an average of 4.5 rebounds and dished out 2.9 assists per game. Defensively, he averaged 0.9 steals per game.
2022-23 Season
In the 2022-23 season, Wagner played in 80 games, averaging 32.6 minutes per game. He displayed impressive scoring ability, contributing 18.6 points per game while shooting 48.5% from the field. Beyond his scoring prowess, Wagner showcased his three-point shooting skills, shooting 36.1% from beyond the arc. He also proved to be a versatile player, grabbing 4.1 rebounds and dishing out 3.5 assists per game. Defensively, he averaged 1.0 steal per game.
Career Totals
Over the course of his career, encompassing both the 2021-22 and 2022-23 seasons, Wagner has played a total of 159 games, averaging 31.7 minutes per game. He maintains a career scoring average of 16.9 points per game, shooting an impressive 47.7% from the field. Wagner's three-point shooting stands out with a career average of 35.8%. He has consistently contributed 4.3 rebounds and 3.2 assists per game. Defensively, he maintains an average of 0.9 steals per game.
| Year | Team | GP | Min | Pts | FG% | 3pt% | Reb | Ast | Stl |
| --- | --- | --- | --- | --- | --- | --- | --- | --- | --- |
| 2022-23 | Magic | 80 | 32.6 | 18.6 | 48.5 | 36.1 | 4.1 | 3.5 | 1.0 |
| 2021-22 | Magic | 79 | 30.7 | 15.2 | 46.8 | 35.4 | 4.5 | 2.9 | 0.9 |
| Career | – | 159 | 31.7 | 16.9 | 47.7 | 35.8 | 4.3 | 3.2 | 0.9 |
Note: GP = Games Played, Min = Minutes per Game, Pts = Points per Game, FG% = Field Goal Percentage, 3pt% = Three-Point Percentage, Reb = Rebounds per Game, Ast = Assists per Game, Stl = Steals per Game
Franz Wagner Current Contract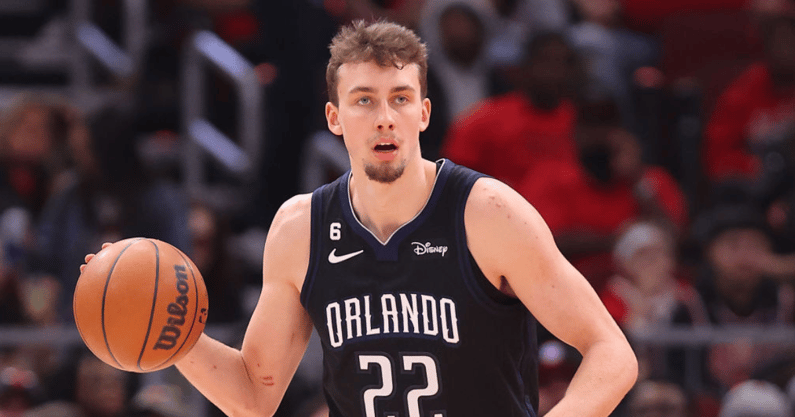 Franz Wagner's contract with the Orlando Magic signifies the team's confidence in his abilities and potential. He signed a lucrative 4-year deal worth $22,781,932, with the entirety of the amount guaranteed. This contract translates to an average annual salary of $5,695,483, highlighting the value that the Magic sees in Wagner's contributions to the team.
Looking specifically at the 2023-24 season, Wagner is set to earn a base salary of $5,508,720. This salary not only reflects his skill level but also recognizes his growing impact on the team. In terms of financial implications, his salary carries a cap hit of $5,508,720, which is the amount that counts towards the team's salary cap. Additionally, the dead cap value of $5,508,720 signifies the financial commitment the team has made to Wagner for that season.
Franz Wagner Salary & Net Worth
Franz Wagner's salary with the Orlando Magic demonstrates his growing value and potential in the NBA. For the 2022-23 season, his salary is set at $5,258,280. Looking ahead, his salary increases over the next three seasons, with figures of $5,508,720, $7,007,092, and $9,445,560 for the subsequent years. These escalating salaries reflect the team's confidence in Wagner's abilities and his potential to make significant contributions on the court.
In terms of Franz Wagner's net worth, it is estimated to be within the range of $1 million to $5 million. As a young player in the NBA, Wagner's net worth is likely to evolve and increase as he continues to develop his skills, establish himself in the league, and potentially secure additional contracts and endorsement deals.
Franz Wagner Girlfriend
Franz Wagner, the talented player of the Orlando Magic, is currently not known to be in a relationship. As per available information from various sources and his social media presence, he is not dating or seeing anyone at the moment. His Instagram account also does not provide any hints of a romantic partner.
Franz appears to be focused on his career and is dedicating his time and energy to his passion for basketball. He is committed to honing his skills and giving his best on the court. While he openly shares details about his family and parents, information about his dating life remains private.
Franz Wagner Jersey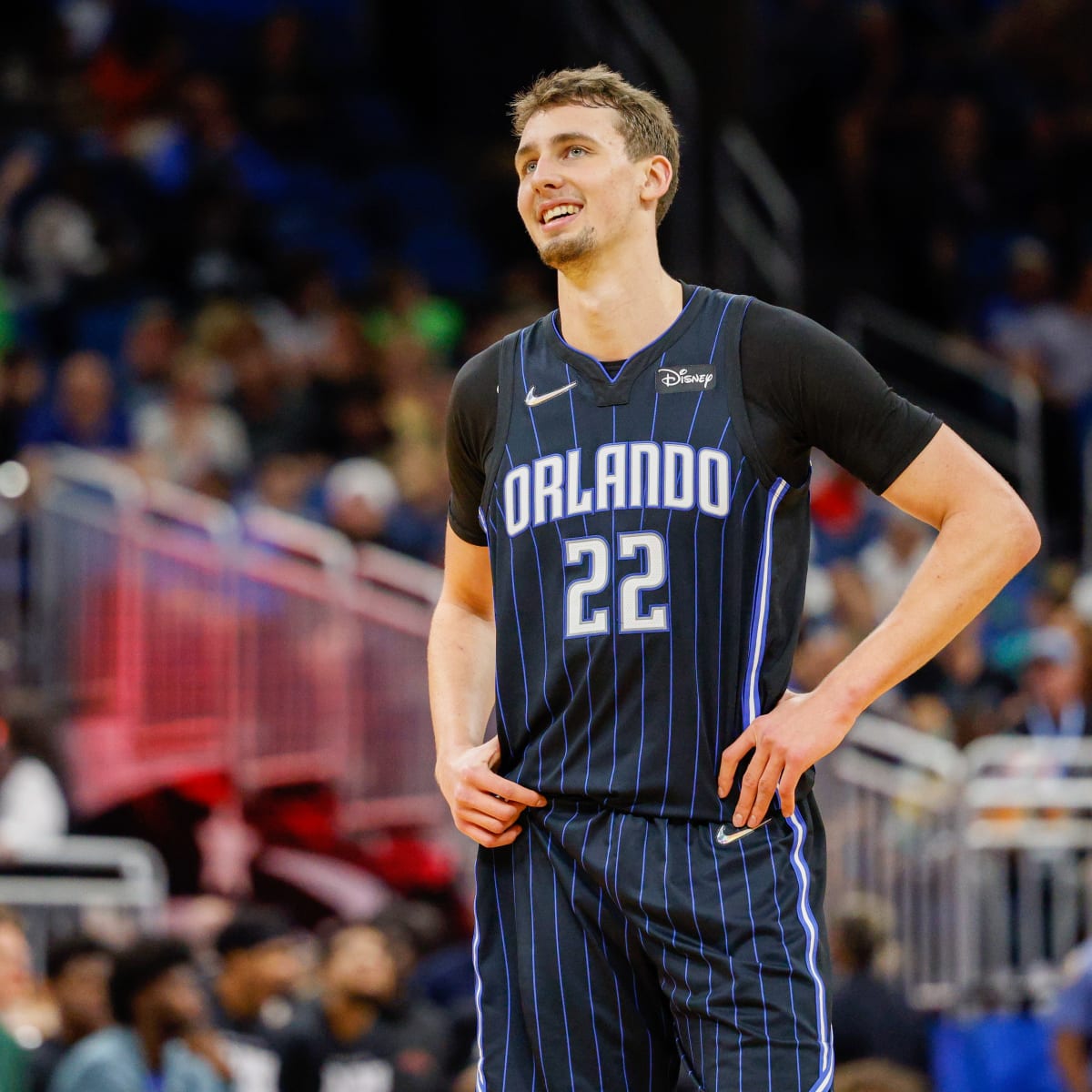 If you're a fan of Franz Wagner and the Orlando Magic, showing your support by wearing his jersey is a great way to demonstrate your fandom. Fortunately, there are multiple options available for purchasing authentic jerseys online.
One reliable source for official NBA merchandise is the NBA Store. You can visit their official website to explore the range of Orlando Magic jerseys, including those featuring Franz Wagner's name and number. Another option is to visit the official online shop of the Orlando Magic, where you can find a selection of team merchandise, including jerseys.
To access these online stores, simply click on the respective store names mentioned above, which will direct you to their official websites. From there, you can browse and choose the Franz Wagner jersey that best suits your preference and proudly wear it during matches to show your support for both the player and the team.
Injury
Franz Wagner, the standout small forward for the Orlando Magic, sustained a right ankle injury during the fourth quarter of the game against the Miami Heat. As a result, he was unable to return to the game and will undergo further evaluation to determine the extent of the injury.
Prior to the injury, Wagner had been a key player for the Magic this season, averaging 18.9 points, 3.8 rebounds, and 3.4 assists per game. He has showcased impressive shooting percentages, hitting 48.6 percent from the field and 37.3 percent from beyond the three-point line.
Known for his competitive spirit and basketball IQ, Wagner has been a valuable asset to the team. Throughout his two-year career, he has maintained good health, missing only a few games last season due to injury and one game this season due to suspension.
The timeline for Wagner's return remains uncertain, and it is unclear if he will miss any games. In the event of his absence, players such as Jalen Suggs and Bol Bol are potential candidates to fill his spot in the starting lineup.
Franz Wagner Social Media
Franz Wagner maintains an active presence on social media platforms, allowing fans to connect with him and stay updated on his basketball journey. Here are the links to his official social media accounts:
Instagram: https://www.instagram.com/franz_weasley/
Twitter: https://twitter.com/franzboogie
By following these accounts, fans can access exclusive content, updates on games, personal insights, and interact with Franz Wagner through comments and messages. It's a great way to stay connected and show support for the talented Orlando Magic player.
Franz Wagner FAQs
Are the Wagner brothers twins?
No, the Wagner brothers, Moritz Wagner and Franz Wagner, are not twins. They share a strong basketball background, having both played for the Michigan Wolverines in college basketball and currently representing the Orlando Magic in the NBA. However, there is an age difference of 4 years between them.
Moritz Wagner, who primarily plays as a center or power forward, is the older brother. On the other hand, Franz Wagner, who plays as a small forward, is the younger brother. Despite the age difference, their basketball journeys have followed remarkably similar paths, showcasing their shared passion for the sport and their respective successes.
How much does Franz Wagner make?
Franz Wagner currently has a contract with the Orlando Magic that spans 4 years. The total value of his contract is $22,781,932, which means he is guaranteed to earn this amount over the course of the agreement. In terms of his average salary, he receives approximately $595,483 per year.
How old is Franz Wagner?
So, Franz Wagner took birth on 27 August 2001 in Berlin, Germany. Therefore, as of 2023, he is 21 years old.
How tall is Franz Wagner?
Franz Wagner stands at a height of 6 feet 9 inches (2.06 meters) tall. His impressive stature provides him with an advantage on the basketball court, allowing him to excel in various aspects of the game, such as rebounding, defending, and shooting.
How Much Does Franz Wagner Weigh?
Franz Wagner weighs approximately 220 pounds (99.8 kilograms). His weight adds to his physical presence on the basketball court and contributes to his ability to compete and excel in different areas of the game.
Are Franz and Moe brothers?
Yes, Franz Wagner and Mortiz "Moe" Wagner, both of whom are current NBA players with Orlando Magic are brothers. They have, however, an age difference of four years between them. Scroll up to know more.
Is Moe or Franz Wagner better?
So, Wagner's older brother, Moe Wagner, is a much bigger shot compared to him. This is because of various reasons. First, Moe has played much more basketball than his younger brother has. He has more experience. Secondly, he shows more prowess when he is on the court. He plays as a center or power forward. What that means is he smoothly handles very strong opponents. On the other hand, Franz is tall and has a great gait. However, he is not physically as dominating as his elder brother. He plays as a small forward for the Orlando Magic. So, he generally plays smaller grounds around the perimeter. Moreover, he is also not scared to hold his own inside.
However, that hardly defines anything. Franz is also a really good player. In fact, this season, he is probably the best Orlando Magic has right now.
Is Franz Wagner an All-Star?
Yes, he was selected to play at NBA All-Star weekend last February along with fellow forward from Orlando Magic, Pablo Bancherro.