Mookie Betts was born on October 7, 1992, in Nashville, Tennessee. His full name is Markus Lynn "Mookie" Betts. He is a Major League Baseball right fielder for the Los Angeles Dodgers in the United States (MLB). Mookie used to be a member of the Boston Red Sox. He became the first player in MLB history to win the Most Valuable Player, Silver Slugger, Gold Glove, batting crown, and World Series in the same season in 2018, while playing for the Red Sox.
Betts debuted in the major leagues with the Boston Red Sox on June 29, 2014. He was 21 at that time. He switched between playing second base and outfield. Betts joined the Red Sox in 2014 as a centre fielder before switching to right field in 2016. Betts has been compared to former Red Sox player Dustin Pedroia. It was because he is also a very small natural second baseman with a good contact rate. He also has a high level of productivity while pulling the ball.
Betts also bowls professionally for the Professional Bowlers Association (PBA). In 2017, he bowled a perfect game in the World Series of Bowling.
Biography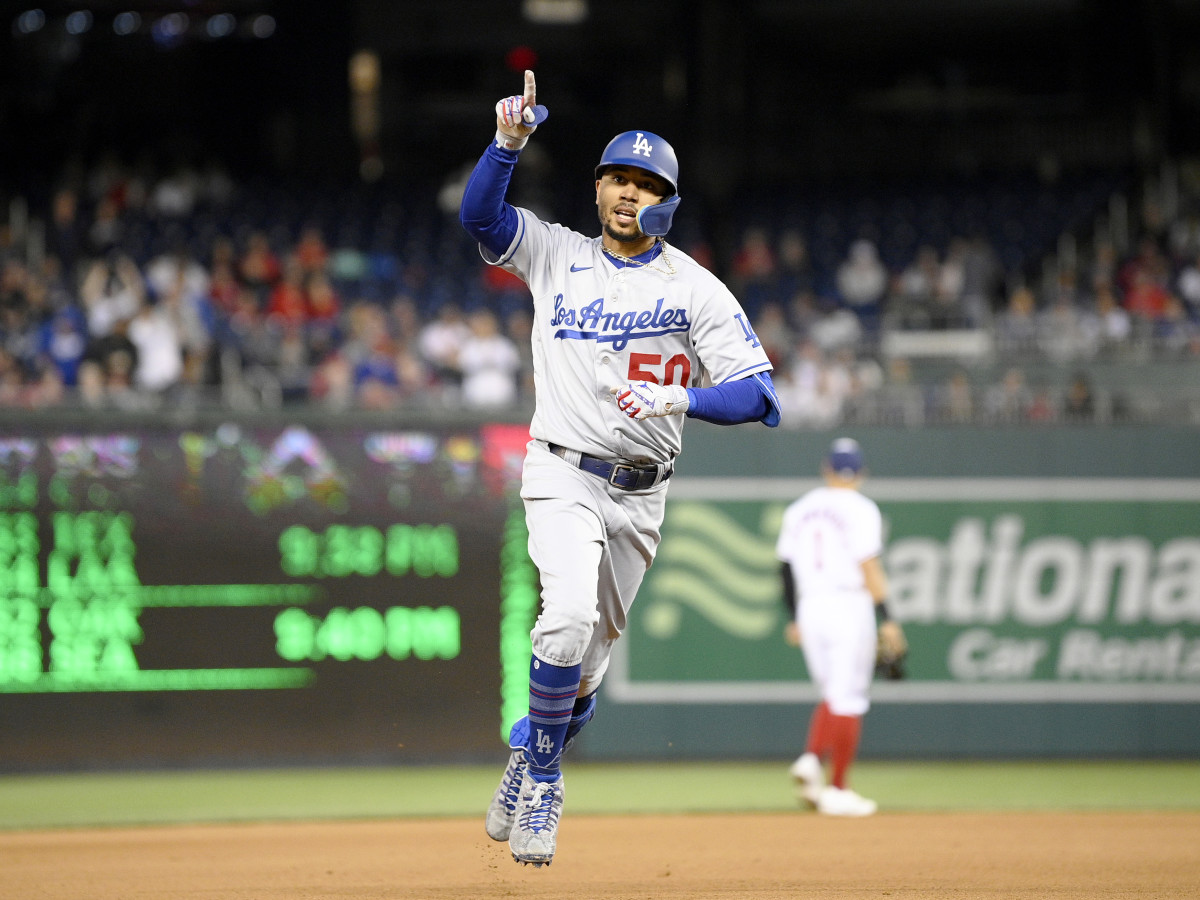 Mookie Betts Age
Mookie Betts was born on 7 October 1992 and is currently 30 years old.
Mookie Betts Height & Weight
He stands 5 feet 9 inches tall or 175 in centimeters. He weighs around 180 pounds or 81 kilograms.
Mookie Betts Parents
Betts was born in Nashville, Tennessee on Wednesday, October 7, 1992. He was born to Willie Betts and Diana Benedict. During the Vietnam War, his father served in the Air Force. His father also worked as a mechanical superintendent for the railroad. His mother worked for the Tennessee Department of Transportation. When Betts was in elementary school, his parents split.
Diana Betts was Betts' first Little League baseball coach.
Mookie Betts Family
Betts and Terry Shumpert are first cousins once removed since Shumpert is a first cousin of Betts' mother, Diana. Terry Shumpert played parts of 14 seasons with multiple MLB clubs, and Betts has been referred to as his nephew. Shumpert finished his professional baseball career with the Triple-A Nashville Sounds in 2004, where he worked extensively with Betts. He is Meghan, Duchess of Sussex's distant relative.
Mookie Betts Real Name
Betts' parents picked his name in part to match Major League Baseball's initials. His full name is Markus Lynn "Mookie" Betts. Soon after Betts was born, his parents watched former NBA player Mookie Blaylock play basketball, which is how he got the nickname Mookie. Betts claims he has never met Blaylock.
Early Life and Education
Betts batted .548 with 24 steals as a junior at Nashville's John Overton High School. Betts signed a commitment letter to attend the University of Tennessee on a baseball scholarship in November of that year.
In addition to being a successful basketball player at Overton, Betts was also voted Class AAA All-City Player of the Year for Nashville, Tennessee. In his senior year, Betts averaged 14.1 points, 9 assists, 4 rebounds, and 3 steals per game. He was selected MVP of the District 12-AAA league. Betts was also a standout bowler, winning the Tennessee Boys Bowler of the Year award in 2010 with a top score of 290. In Donelson, Tennessee, he grew up bowling at the Donelson Strike and Spare.
Personal Life
Mookie Betts Net Worth
American professional baseball player Mookie Betts has a net worth of $50 million. He has played for the Boston Red Sox and the Los Angeles Dodgers since joining Major League Baseball in 2015. He signed the second-largest baseball contract in MLB history, a $390 million, 12-year deal, in July 2020. The contract also included a $65 million signing bonus.
Mookie Betts Contract
Initially, Mookie Betts signed a one-year contract with the Boston Red Sox for $750,000 in 2017. Later, he signed a 12-year contract deal with the Dodgers on July 22, 2020, for around $420 million.
Current Contract
Finally, Betts agreed to a deal with the Los Angeles Dodgers on a 12-year, $365,000,000 contract that included a $65,000,000 signing bonus, $365,000,000 guaranteed, and an annual average salary of $30,416,667. For 2022, Betts will receive a base salary of $17,500,000 plus a signing bonus of $5,000,000 in 2022, for a total salary of $22,500,000.
Mookie Betts Wife
Betts and his longtime girlfriend, Brianna Hammonds, started dating in high school. The couple had their first child, a girl, in November 2018. Betts and Hammonds announced their engagement in January 2021 and married on December 1, 2021 in Palos Verdes, California.
Real Estate
Betts and his wife currently reside in Franklin, Tennessee. Betts also paid $7.6 million for a house in Encino, Los Angeles, when he became a Dodger. The sellers were football coach Chip Kelly and his wife, Jill Cohen, who had paid $7 million just two years earlier.
Mookie Betts Necklace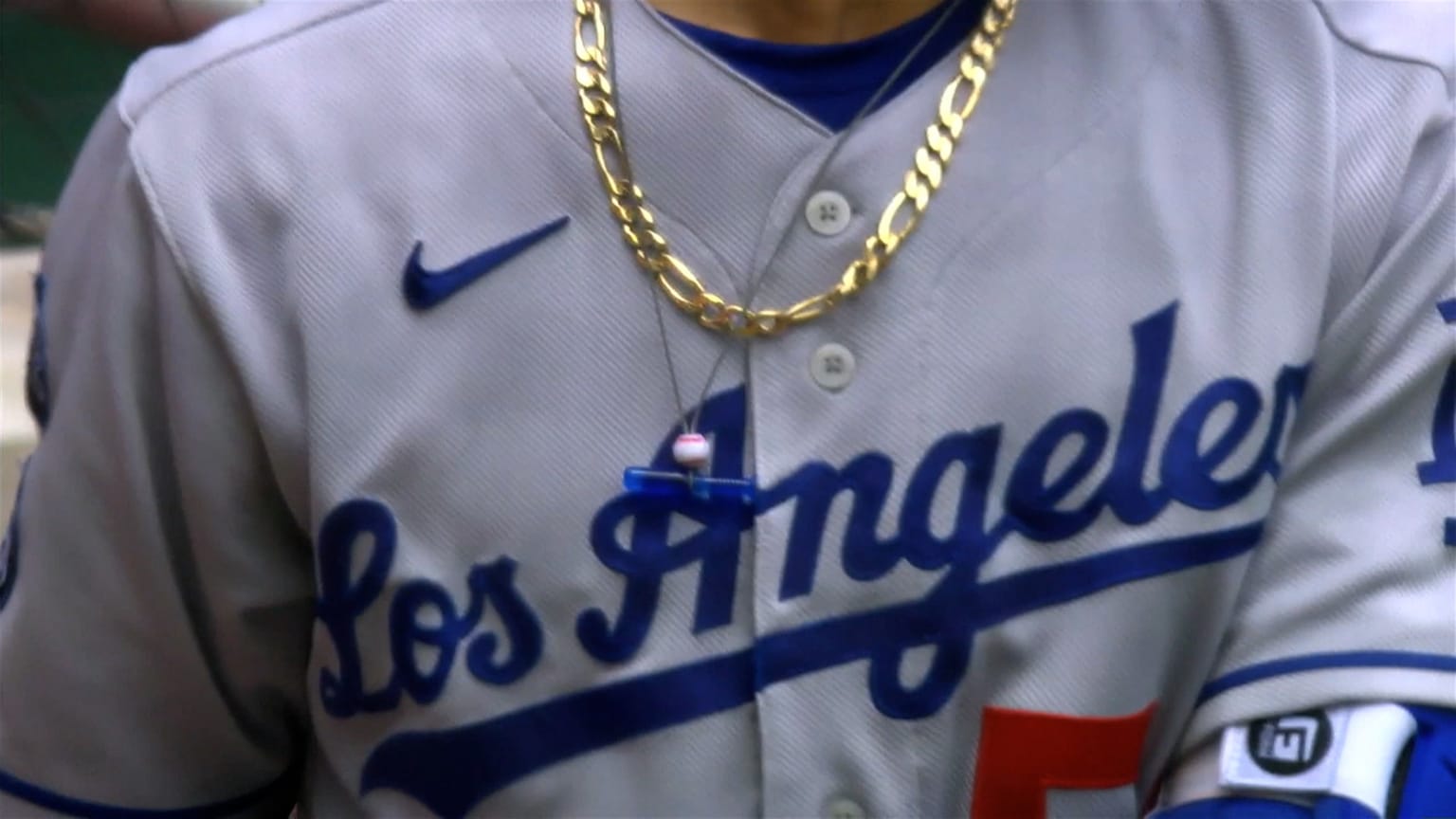 Betts rose to fame as a Red Sox player for his necklaces. A 13-year-old fan gifted one to Betts during spring training in 2018. It was before he won the AL batting championship, the MVP Award, and the World Series. Betts wore the necklace again after being traded to the Los Angeles Dodgers, where he won his second World Series.
Mookie Betts Jersey
Mookie Betts is a Major League Baseball right fielder for the Los Angeles Dodgers in the United States (MLB). He was previously with the Boston Red Sox. He usually wears a jersey with his number 50 on it.
Mookie Betts Instagram
His Instagram handle is @mookiebetts.
He goes under the name Mookie Betts on Instagram. As can be seen, he currently has 1.2 million followers and follows 1664 people on Instagram.
Mookie Betts Trade
Mookie Betts was traded from the Red Sox to the Los Angeles Dodgers during the 2020 offseason. Betts and the Dodgers are now in the World Series against the Tampa Bay Rays. Meanwhile, Boston had its poorest winning percentage in a season since 1965. In the near future, the 2019-20 off-season's big deals have benefited just the Dodgers and Betts.
Mookie Betts trade details
Dodgers received: Mookie Betts, David Price, cash
Red Sox received: Alex Verdugo, Jeter Downs, Connor Wong
The Twins were initially part of a three-team deal that was cancelled, but the Dodgers and Twins agreed to a separate transaction. In exchange for Brusdar Graterol, a prospect, and a draft pick, Minnesota received Kenta Maeda and one other player in the deal.
Why did the Dodgers trade for Mookie Betts?
The Dodgers started the season as the defending National League West Division champions. Nobody had any doubt that the Dodgers would win the division again. However, the Dodgers determined to break through and win their first World Series since 1988. Betts enters the picture. Betts had the second-most Wins Above Replacement during his first full seasons in 2015 and 2019, according to FanGraphs. No one in baseball would pass up Betts for the proper price if he were available. Moreover, the Dodgers would have been foolish to pass on Betts in almost any trade. As it turned out, the Red Sox wouldn't even challenge the Dodgers on the return.
According to FanGraphs, Boston received the Dodgers' Nos. 5, 7, and 13 prospects in exchange for Betts and Price.
Why did the Red Sox trade away Mookie Betts?
The first reason the Red Sox made this deal with the Dodgers was because of David Price, not Betts. Price had to pay the Red Sox $96 million over the last three years of his deal, an outrageous amount of money for an elderly pitcher on the decline. Betts was reportedly relocated to avoid paying the Competitive Balance Tax.
In order to avoid losing Betts to free agency, the Red Sox intended to move him while he still had a season left on his contract. They also thought more highly of the prospects they obtained than the rest of the market. The Red Sox would literally be staring at a ticking time bomb if he even hinted that he would leave Boston after 2020. Boston was sure they'd be successful in 2020. So they traded Betts for three quality prospects. This would have been preferable to having Betts depart in the winter without giving Boston's system any further help. However, the prevailing complaint in that explanation was that the Red Sox did not obtain May, Lux, or Ruiz back in the exchange.
There must be enough faith in Verdugo, Downs, and Wong to feel that giving up one MVP-calibre season from Betts is valuable in the long run.
Who won the trade?
While one side stayed home to watch the playoffs, the other started the World Series on Tuesday night. That, combined with Betts' agreement to return to the Los Angeles Dodgers for another 12 seasons, might be enough. However, $365 million seemed to be a bit excessive for Boston during a pandemic.
It's unlikely that one of the players Boston obtained in exchange for Betts will ever be a top-three player in baseball. Altogether, Boston will not be able to completely evaluate this transaction for at least a decade. If the Dodgers and Betts win the World Series in the first year of what might be a 13-year collaboration, the Dodgers will have already proven that the deal did not result in a loser.
The Dodgers would always fly the flag Betts brought them.
Professional Career
2011 to 2012:
In the fifth round of the Major League Baseball draft in 2011, the Boston Red Sox picked Betts. It was the year before Betts was scheduled to start playing baseball at the University of Tennessee. He immediately backed out of his commitment to the University of Tennessee and signed a $750,000 deal with the Red Sox. He appeared in one game with the GCL Red Sox of the junior Gulf Coast League in 2011. In 2012, he had a brief time with the Lowell Spinners of the New York-Penn League, mostly at shortstop or second base.
2013 to 2014:
Betts began the 2013 season with the Greenville Drive of the Law A South Atlantic League. The South Atlantic League All-Star Game chose him because of his 19-game hitting streak. In July of that year, Betts was promoted to the Salem Red Sox of the High A Carolina League. He finished the season strong, earning him the titles of Offensive Player of the Year and Breakout Player of the Year in the Boson minor league system.
Betts started the 2014 season with the Double-A Eastern League's Portland Sea Dogs. It was before he was promoted to the Triple-A International League's Pawtucket Red Sox in June. Betts has been playing the outfield in addition to second base since mid-2014.
Betts was promoted to the Major League Red Sox in June of 2014. In late June, he made his team debut. In July, he hit his first home run and collected his first major league hit against the Yankees. He hit his first career grand slam against the Rays in August, leading to a Red Sox win. Betts, 21, became the youngest Red Sox player in 49 years to smash a grand slam. He played most of the season in the outfield but moved to second base after the normal second baseman was injured. During the season, he appeared in games for both the Red Sox and their affiliated AA and AAA teams.
2015:
Betts blasted a home run in his second at bat on Opening Day of the 2015 Red Sox season, becoming the third youngest player to do so. This was the start of a tremendous season for Betts. He had possibly his most thrilling performance of his career during a game in April when he robbed an opponent player of a home run, stole two bases in a single play, and hit a home run all in the first three innings.
2016 to 2018:
For the first time in his career, Betts received a selection to the 2016 MLB All-Star Game. He received the 2016 July AL Player of the Month honor. Despite losing to the Cleveland Indians in the 2016 ALDS, the Red Sox enjoyed a fantastic 2016 season and won the AL East Division. Betts had another good season in 2017, as he went 129 plate appearances without striking out. Betts won the American League MVP award the following year, in 2018, after helping the Red Sox win the World Series. He is the only player in American League history to have won the World Series, a Gold Glove award, a Silver Slugger award, and the AL MVP all in the same season.
2019 to Present:
Betts played his final season in Boston. Later, he moved to the Los Angeles Dodgers in early 2020. He had a successful career with the Dodgers, earning his fifth consecutive Gold Glove and fourth Silver Slugger award. His back and shoulder injuries prevented him from participating in the 2021 National League All-Star Game. He returned to the field in 2021 and 2022. Betts will smash his 200th career home run in July of 2022.
Awards
Mookie Betts was born on October 7, 1992, in Nashville, Tennessee. He is a Major League Baseball right fielder for the Los Angeles Dodgers in the United States (MLB). Mookie used to be a member of the Boston Red Sox. He became the first player in MLB history to win the Most Valuable Player, Silver Slugger, Gold Glove, batting crown, and World Series in the same season in 2018, while playing for the Red Sox.
The list of all the awards Mookie Betts won in his career is given below:
Firstly, he won the Wilson Def Player award in the year 2016.
Secondly, he also won the Wilson Overall Def Player in 2016.
Thirdly, he won the 2018 AL Batting Title.
Fourthly, he won the Major League Player of the Year award in 2018 as well.
Fifthly, again in 2018, he won the AL MVP award.
Sixthly, he also won the Wilson Def Player award in 2018.
Seventhly, he was the winner of the 2019 All-MLB Team 2 award.
Finally, he won the 2020 All-MLB Team 1 award.
Mookie Betts Injuries
Betts has suffered quite a lot of injuries during his professional career as a sportsman. Some of his major injuries include the following:
On 18 June 2022, Mookie suffered from a rib injury.
Similarly, on 17 June 2022, he suffered from a rib injury as well.
On August 10th, 2021, he received a hip injury diagnosis.
Similarly, on 17 July 2021, he suffered from a hip injury as well.
He was found ill on 22 June 2021.
On 30 May 2021, he suffered from illness again.
He injured his shoulder on 23 May 2021.
On 20 April 2021 he suffered from an injured wrist and forearm.
He injured his back on 7 April 2021.
On September 27, 2020, he received a hip injury diagnosis.
On 2 August 2021, he suffered from an injury to his middle finger.
He suffered from an injury to his foot on 29 September 2019 and again on 14 September 2019.
His other injuries include an injured chin on 5 August 2019, strained left abdominal and tightness on the side on 28 May and 29 May respectively in 2018.
He also suffered from right hamstring tightness and bruised left foot on 28 April 2018 and 14 April 2018 respectively.
FAQs about Mookie Betts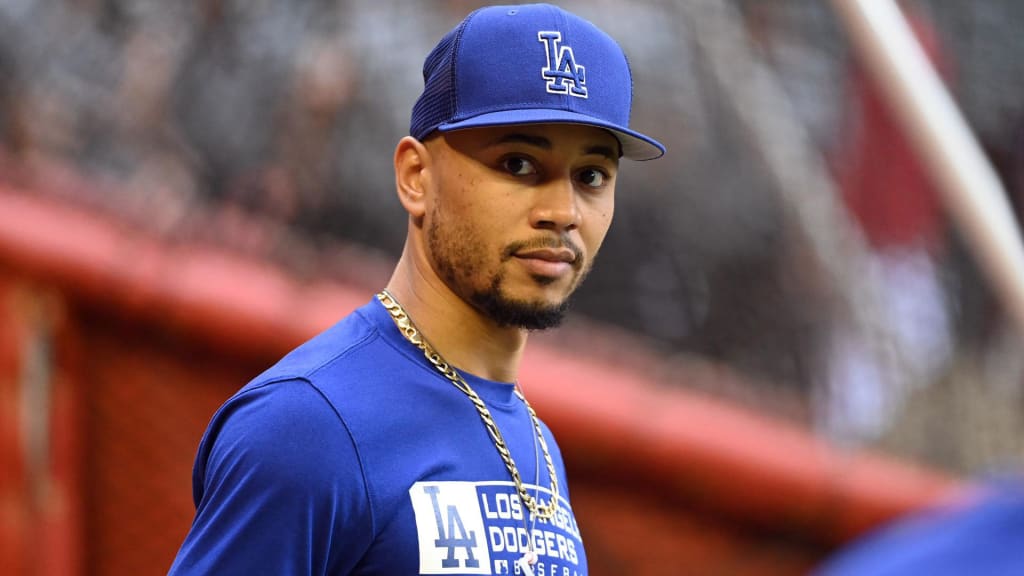 Is Mookie Betts vegetarian?
Mookie Betts is a vegan. He switched to being vegan in 2021.
What is Mookie short for?
Mookie is short for Markus. His full name is Markus Lynn Betts.
What nationality is Mookie?
Mookie Betts is American.
When did Mookie get married?
Betts got married on December 01, 2021 to Brianna Hammonds.
Who is Mookie's mom?
Diana Benedict is the name of Mookie's mother.