Luka Modric is a Croatian pro footballer who regularly plays as a midfielder for Real Madrid club in La Liga. And, he also leads the national team of Croatia. He mostly plays in a central midfield position. But, he can also act as an offensive or defensive midfielder. He is commonly regarded as one of the best midfielders of all time, as well as the top Croatian player of all time.
Modric made his Croatian debut against the Argentine team in March 2006. And, he scored his first league goal against Italy in a preseason game. Modric has featured in every big tournament for which Croatia has entered, such as the UEFA European Championships in 2008, 2012, 2016, and 2020. Also, he was a part of the FIFA World Cups in 2006, 2014, and 2018. He was chosen to the Team of the Tournament at Euro 2008, as only the 2nd Croatian to do so. Following group phase exits in his initial two World Cups, Modric led the Croatian team to the 2018 World Cup Final, where they awarded him the Golden Ball as the game's best player. He went on to be the country's most honored player in history in March 2021. Between 2007 and 2021, he was voted Croatian Football player of the Year a phenomenal ten times.
Luka Modric Biography
| | |
| --- | --- |
| Date of birth | 9th Sept, 1985 |
| Age | 36 Years |
| Gender | Male |
| Height | 5 ft. 8 inches |
| Profession | Football player |
| Nationality | Croatia |
| Current team | Real Madrid |
| Position | Midfielder |
Luka Modric Net Worth
Croatian soccer player Luka Modric has a total value of $75 million. Modric has continued to play for Madrid in the Spanish La Liga in 2021. Modric is widely viewed as one of the finest midfielders of all time, and he is often known as the foremost Croatian player ever to put on a pair of soccer boots. He got his start as a 16-year-old with Dinamo Zagreb and later made his way to Tottenham, where he spent a few years participating in the English Premier League.
Luka signed Real Madrid in 2012 after showing his worth. He soon established himself as a key member of "Los Blancos," earning numerous League Titles and other trophies with the Spanish club. Modric has received numerous honors for "Best Midfielder," such as the prized Ballon d'Or. Luka has also been a key player for Croatia's national squad, which he heads. The climax of his international career was most likely the 2018 World Cup, when he guided the Croatian team to the final, where they were beaten by France.
Luka Modric Golden Ball
Luka Modric of Real Madrid is the 17th holder of the Golden Foot award. The Golden Foot is given to players who are over the range of 29 years. As per the main site, the Golden Foot honor is 'given to the top players of all time.' The 2018 Ballon d'Or victor has had a poor start to Real Madrid's 2019-20 year. However, it is claimed that his 2018 Ballon d'Or title helped him earn the 2019 Golden Foot title. PSG striker Edison Cavani of Uruguay won the Golden Foot award in 2018.
Luka Modric Ballon D'or
Luka Modric follows in the footsteps of Golden Boot champions like Roberto Baggio, Nazario, and Ronaldinho. They gave Luka Modric the award in Monaco. Modric told the press after getting the prize that earning the Golden Foot prize was a joy for him. The Real Madrid maestro also stated that, despite a poor start to the 2019-20 year, he is now close to his best after losing a couple of games due to an injury. Luka Modric is the second man in a year to earn the Golden Foot honor after receiving the Ballon d'Or.
Luka Modric Awards
Modric was named FIFA World Cup Golden Ball victor for his great efforts in midfield as the Croatian team reached the final for the very first time. He was also a key figure in Real Madrid's historic 12th Champions League/European Cup win. The committee named him  UEFA Player of the Year and FIFA Best Player of the Year.
Modric made his first shift to Dinamo Zagreb at the tender age of 16. But after a year with the youth squad, they loaned him out to Zrinjski Mostar for playing in the Bosnian Premier League.
Modric was crowned Bosnian Player of the year at the age of 18, proving his play form and flexibility.
Despite his great win in Bosnia, the Croatian was unable to get into the Zagreb first squad. And,  they loaned him out to Croatian club Inter Zapresic in 2004.
Luka Modric Achievements
Modric got the Croatian Soccer Hope of the Year prize after yet another incredible run away
from his affiliated club. So, this got him a berth in the Blues' first squad for the 2005/06 year.
Modric secured a new contract with the club in 2016, keeping his stay until 2020. Later that year, Modric made the killer pass for Cristiano Ronaldo to earn his 2nd goal in the World Cup final, aiding Real Madrid to a 4-1 victory over Juventus. Luka Modric added the finest great success a footballer can add to his tally in the 2017/18 season: the Ballon d'Or.
Luka Modric World Cup 2018
Croatia was a fantastic World Cup team. They were tenacious and tough.
However, they needed the skills of an artist. They wanted someone who could create miracles from nowhere. Modric did that. He won the Golden Ball not just because he ran a lot or always made the proper passes. But, because a few moments into the match he saw what no one could see and had the ability to make that dream happen.
Luka Modric World Cup Stats
According to FIFA data, they named Croatia the best attacking side during the World Cup. They had 352 predatory and furious raids. England, who had been seen as one of the main candidates to reach the finals, had fallen to Croatia's uproar. In fact, they had a 2-1 defeat and put an end to all but the wildest English hopes.
Luka Modric World Cup 2022
Luka Modric's deal with Real Madrid expires on June 30, 2022. And, we may see one more renewal before his final retirement from the beautiful game occurs. It's better to enjoy this man's football ability for the time being, because they'll be gone shortly.
Modric has done an incredible number for Croatia. He has led his national team to the late phases of major world events. And, he has clearly proven to be the best athlete on the field, for either side.
Luka Modric Wife
Vanja Bosnic and Luka Modric managed to meet in 2007 and wedded in 2010. Vanja  is three years older than Luke. The agent and the midfielder initially met while Vanja was acting as an agent for the Mamic Sports Agency.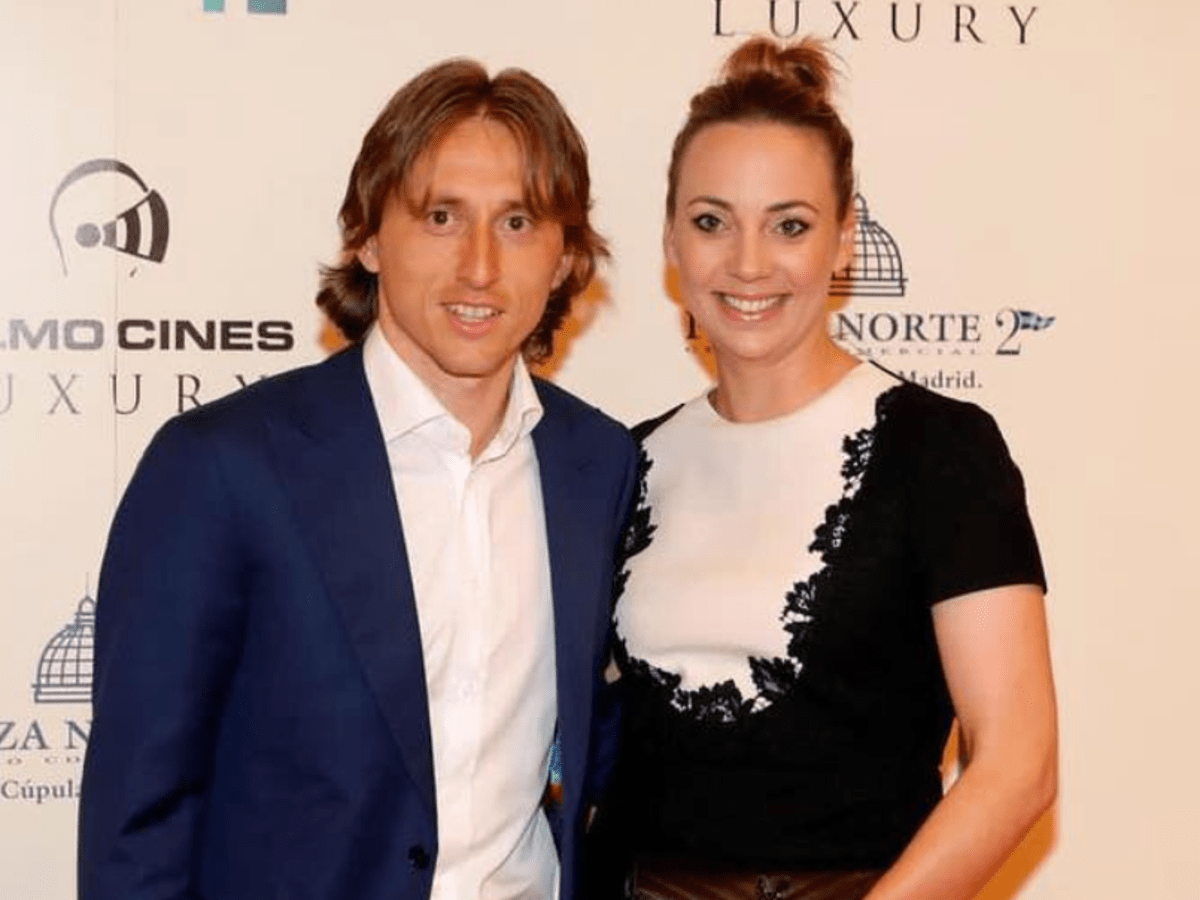 Luke's wife, unlike other players' spouses, keeps a quiet image and even has a hidden Instagram account. She held positions as an agent for the Mamic sports agency. Later, she left the firm and then became his agent, aiding Luka Modric in having a deal with the Real Madrid club in 2012.
Luka Modric Achievements
Modric was the first player since Ronaldo in 1998 to earn both the World Cup Ballon D'or and the UEFA Men's Player of the Year award in the same year. And, the first player since Romario in 1994 to gain both the World Cup Ballon D'or as well as the Best FIFA Men's Player of the Year Award.
Modric and Real Madrid were ousted from all titles in the 2018/19 season, losing to Ajax in the Champs League, and Barcelona in both the Copa Del Rey and La Liga.
However, in the next season, Modric and Real Madrid won La Liga while also beating Atletico Madrid on points to claim the Supercopa de Espana.
Modric and Croatia were unable to compete for either the 2010 World Cup or the 2012 European Championship given the lack of skill.
Croatia, on the other hand, played for the 2014 World Cup in Brazil, where some other team eliminated them in the pool stages after losing twice and earning one.
Croatia got through the play offs at Euro 2016, but later Portugal defeated them in the round of 16.
The 2018 World Cup in Russia judged Modric's personal skill. They made it to the final after beating Nigeria, Argentina, and Ireland, as well as Denmark, Russia, and England.
Luka Modric Father
He is the eldest son of Stipe Modric of Modric and Radojka Dopu of Kruevo near Obrovac. His parents have both begun their jobs in the knitwear industry. Modric was born and raised at the stone cottage of his paternal grandpa. In fact, he was named after him. He spent his days sitting on the road above the town of Modric. And, he was herding goats by the age of five.
Luka Modric FAQs
Is Modric a defensive player?
Modric's skill in control and value to Real Madrid's offense are plain. But, the level of space he covers in defense is also the key to the group's ability to influence opponents and win easily even when battling counter-attacks on a constant basis.
Is Luka Modric the captain of Croatia?
Ans: Unlike most who fail to keep up to the mark that come with the captain's position, Luka Modric has looked impressive and claimed his first Real Madrid title as captain.
Is Luka Modric a Regista?
He cannot be a regista since Los Merengues cannot accept such a role in a key position. Toni Kroos has become a more reliable deep player for Real Madrid club.
Did Luka Modric play for Tottenham?
Modric had 127 league matches for Tottenham Hotspur before joining the Real Madrid club back in August 2012, hitting 13 goals and giving 20 assists.
Who bought Modric?
Spurs have reached a contract with Real Madrid to sell desired player Luka Modric. The Croatian international flew to Spain on Monday to undergo a physical before signing a five-year term with the Spanish champs in a lucrative deal worth £30 million.
What is Modric's jersey number?
Luka Modric has a jersey number 10 while playing for Croatia.
Who was Real Madrid No 10 before Modric?
Ans: Luka Modric has earned the shirt formerly worn by Ferenc Puskas, Laudrup, Clarence Seedorf, and Luis Figo at Real Madrid club. After James Rodriguez's 2- year loan move to Bayern Munich, Luka Modric has been made Real Madrid's new number ten.