Eden Hazard is a Belgian football player. He is a player who plays as an attacking midfielder or as a winger (forward). For his ability to use both his feet almost equally well, he is very versatile with positions. He has played as a winger on both sides, as a striker, and even a lone striker. His accuracy makes him dependable with penalties and free kicks also. People, including his idol Zinedine Zidane, consider him an extremely talented footballer right from his early days, especially for his technical soundness. Eden Hazard is an integral part of the Belgian national team and for all the clubs he has played so far, most notably Chelsea and Real Madrid. Quite remarkably, both of Eden Hazard's parents were professional footballers. His siblings Thorgan, Kylian, and Ethan Hazard are also professional footballers. Of four children, Eden Hazard is the eldest.
Overall, Hazard is almost everything every forward aspires to be and only a few become. He became a legend and one of the most desirable players for any team in a very short time.
Eden Hazard Age

He was born on 7 January 1991 and is currently 31 years of age.
Eden Hazard Wife
Natacha Van Honacker is the name of wife of Eden hazard. They both married in year 2012.
Eden Hazard Kids
Eden Hazard and his wife has three sons named Samy Hazard, Leo Hazard, and Yannis Hazard. Samy is the youngest and Yannis is the eldest one.
Eden Hazard Salary
Eden Hazard earns £381,000 per week, £19,812,000 per year playing for Real Madrid as a AM RLC.
Eden Hazard Net Worth

As of 2022, Eden Hazard's net worth is estimated to be $100 million.
Eden Hazard Stats
Hazard is one of the best footballers of the current and every generation. His speed, dribbling skills, playmaking abilities, and calm and composed nature make him an asset for almost every team he has played for throughout his career. His flair for football made Zinedine Zidane, the great French footballer and Eden Hazard's idol say: Eden is technically gifted and very fast. He will be a major star in the future. I would take him to Real Madrid with my eyes closed. Zidane made this statement when Hazard was only 19 years old (in 2010). His stats and regular appearances speak for his footballing ability.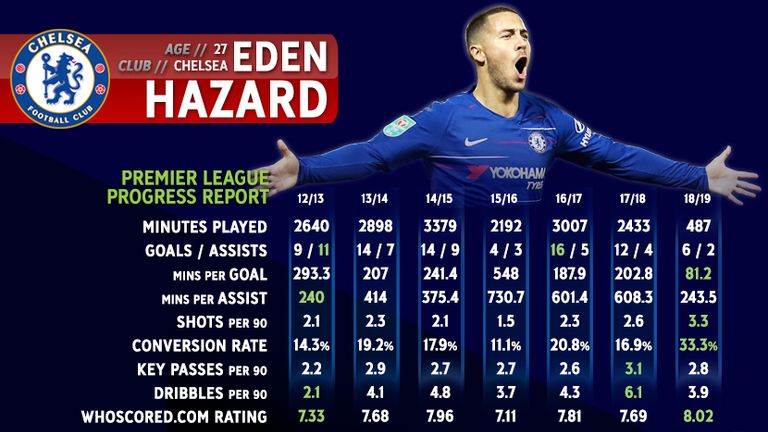 Going by his club statistics, Eden Hazard has made 625 appearances so far and scored 167 goals. In chronological order, Hazard played first for Lille B in CFA, then Lille in Ligue 1 followed by Chelsea in the English Premier League, and currently for Real Madrid in the La Liga. Hazard has had his longest and best career statistics with Chelsea where he played 352 matches and scored 110 goals.
For Belgium, Hazard has played 120 matches and scored 33 goals.
Eden Hazard World Cup Stats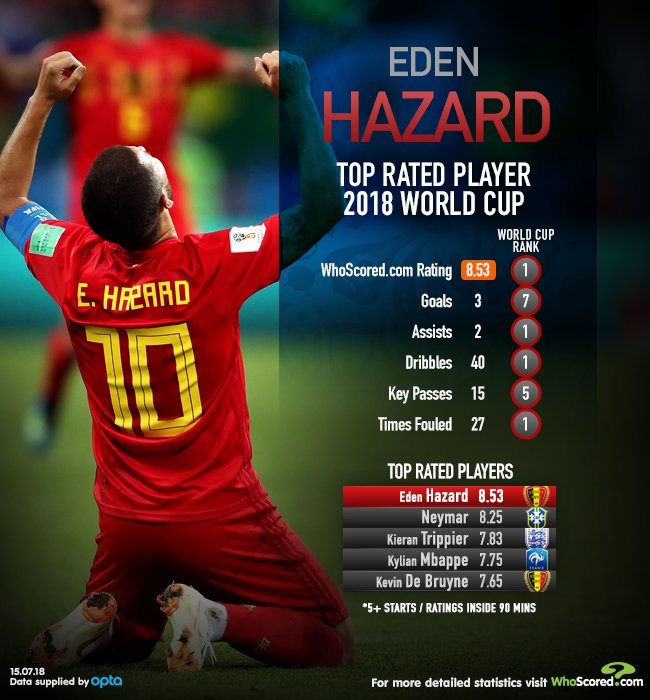 So far, Eden hazard has played in two football world cups, in 2014 and in 2018. He made his senior international debut in 2008 against Luxembourg.
In those two world cups, Eden Hazard has scored 3 goals in 10 matches. Additionally, he also provided 4 assists throughout his world cup career. All his world cup goals came in 2018, while he gave 2 assists in each World Cup season.
As still one of the best players for Belgium alongside the likes of superbly consistent and skilled Kevin de Bruyne and the lethal striker Romelu Lukaku, Eden Hazard is expected to play for the 2022 football world cup. This is despite his absence of form and an unfortunate bond with injuries.
Eden Hazard vs. Brazil World Cup 2018
While his time in London, Eden Hazard showed what his capabilities are much before his second world cup. He carried this form, although not equally effective at scoring and assisting, with dribbling and tearing through the opposition's defence. The game versus Brazil in that tournament was where he unleashed himself as a dribbler and made that game memorable. He was absolutely unbelievable in that game. Most surprisingly, he made 10 take-on attempts and completed all of them. Furthermore, he dribbled with a staggering 100% accuracy, a feat achieved in a World Cup last in 1966 per Optajoe. Despite very good performances from his teammates Kevin de Bruyne and Romelu Lukaku, Eden Hazard grabbed most of the attention.
Eden Hazard Injury
As a footballer and regular for his teams over the years, Eden Hazard has worked a lot on his game. His consistent appearances and results speak for it. But lately, Hazard has seen a sharp dip in his number of matches and performance. The biggest reason is that Hazard, in the last three seasons, saw a lot of injuries which affected his game. While he was Chelsea and saw his prime days which earned him a place amongst the all-time elites of the game, he did not get injured so frequently.
While at Chelsea, he got injured only 14 times over 6 seasons. There he missed 21 games (as per transfermarkt). Since his entry into Real Madrid in 2019, Eden Hazard got injured 16 times and missed 71 games in just 3 seasons. Moreover, he has struggled with every injury for a higher number of days while at Real Madrid compared to his time at Chelsea.
As a very active player on-field, we can expect him to be prone to injuries but a recent increase in injuries is worrisome. His form is suffering from a decline. His fans hope Eden Hazard gets his form back soon and plays for Real Madrid as he could for Chelsea.
Eden Hazard World Cup 2022
Hazard is an asset for the Belgian side without any doubt. His records speak for it. However, his lack of form for the past couple of years and heightened risk of getting injured are extremely worrisome. Fans and the team hope that he is back to his genius. In the qualifiers, Belgium topped their group and is ranked second in FIFA world cup rankings. They are extremely hopeful about their World cup 2022 journey and the presence and form of Eden Hazard can be a huge determining factor.
Coach Ramiro Martinez believes there is stiff competition in the Belgian side for a place in the 2022 World Cup squad. He especially hopes for Eden Hazard to make a comeback and contribute to the side's efforts toward winning the tournament. As a part of the "golden generation" of Belgian footballers who have taken Belgium to new heights in the game, and being one of the foremost players in that league, it is highly expected that Eden Hazard will come back. Until then, Eden Hazard will have to show he still has it while he is still with the Los Blancos who bought him for an astonishing 125 million euros.
Hazard Best Season
At Chelsea, Eden Hazard saw his best days so far. It was so good that he won almost every trophy with Chelsea. It is difficult to pick one good season so we pick his three best seasons there.
2013-14 was only the second season of Hazard with Chelsea. With 14 goals and his first hat-trick, the newcomer to London announced his presence and bright future. His speed and dribbling skills combined with an outstanding goal-scoring ability for a youngster in the most competitive football league cemented his position as a regular player for Chelsea. Although Chelsea could not win that season, Hazard made sure he wreaked havoc on the opposition team.
2014-15 was when Chelsea won not just the Premier League but the League Cup also. Eden Hazard had another remarkable season with the blues and this time, he had an even stronger team. Jose Mourinho made signings like Diego Costa and Cesc Fabregas and indicated he was only eyeing making it big. Whenever the team could not find scoring opportunities, Hazard tore through the opposite side's defence and either scored or made opportunities from the wing. With prolific forwards like Didier Drogba and Diego Costa, Hazard developed superb chemistry and Chelsea's front-line was almost unstoppable. The strong midfield with Nemanja Matic and Fabregas made sure he got assists he materialized and gave the team the attack it needed. He scored 14 goals in the Premier League and 2 in the League Cup.
2016-17 was even better for him. The new tactic introduced by Antonio Conte allowed Eden Hazard to attack to his fullest. These freedoms made opportunities come to the Belgian like never before. Eden Hazard scored 16 goals that season and became a nightmare for almost every defence. The season confirmed his status as a Chelsea legend.
Hazard Brothers
The Hazards from Belgium are famous for their love for football not just as fans but as professional players too. All of them might not be famous for their individual records but that the whole family is comprised of professional footballers is definitely striking. Both parents and all four children have found a career in the beautiful game. Of all of them, Eden Hazard has the most stellar career so far. His brothers Thorgan, Kylian, and Ethan Hazard are also professional players. Despite frequent comparisons with Eden, Thorgan is catching up well with his elder brother.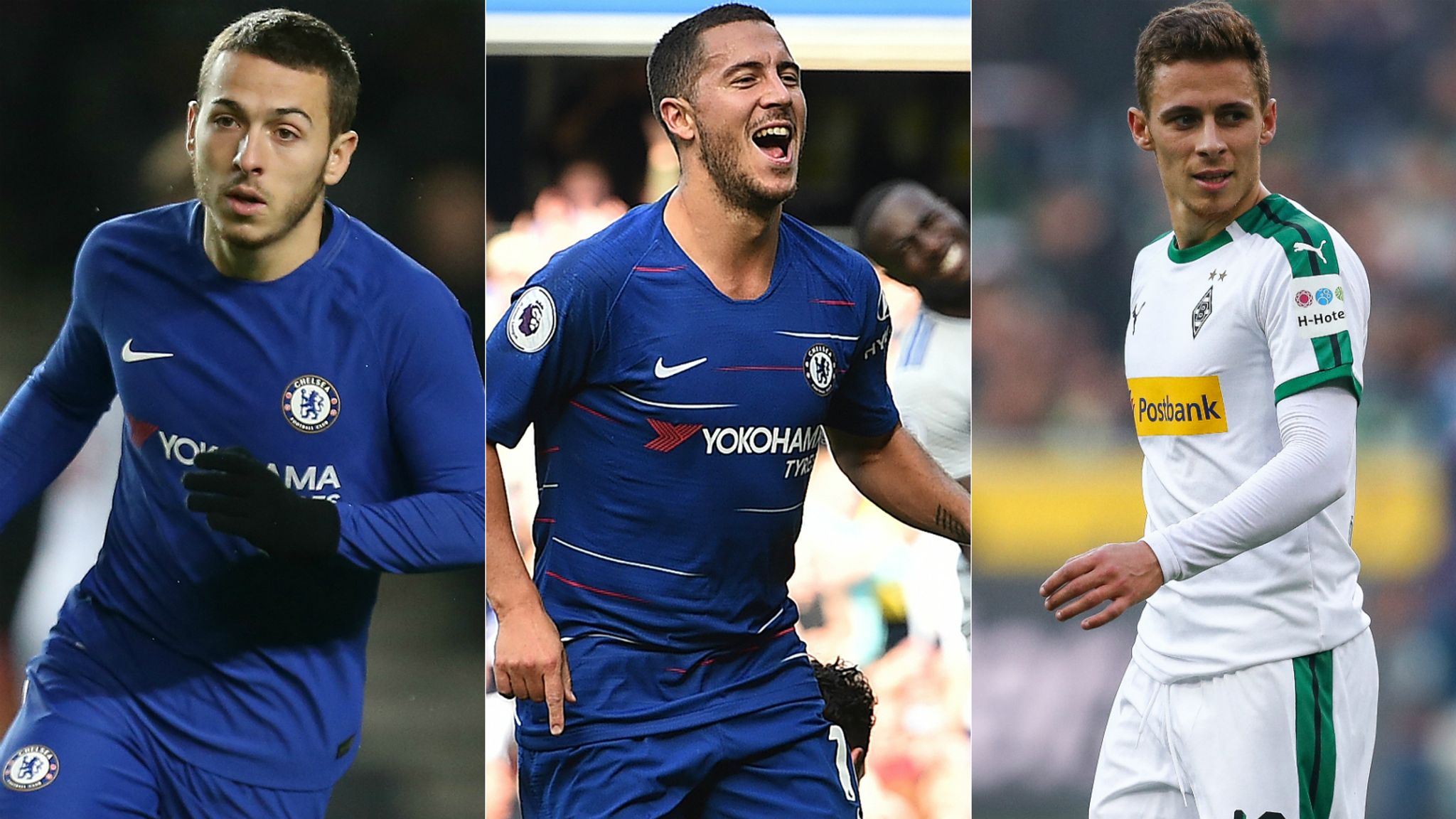 Currently, Thorgan Hazard plays for the Bundesliga giants Borussia Dortmund and has made quite a reputation there. Kylian Hazard plays for Cercle Brugge in the Belgian First Division A league. Currently, he is with Racing White Daring de Molenbeek 47 (RWDM47) for a loan in the Belgian First Divison B. The youngest brother Ethan Hazard plays for the local Belgian club AFC Tubize at the academy level and is yet to but on track to make a professional entry to football.
Eden Hazard World Cup FAQs
How many goals has Eden Hazard scored for Real Madrid?
In his three seasons with Real Madrid, he has managed to score only six goals.
What is Hazard position?
He is a forward player who is very versatile with positions there. However, his most preferred position is on the wings, especially the left wing.
Has Hazard won the World Cup?
He is yet to win the World Cup although he has won almost every other football tournament with his teams.
Has Eden Hazard won the Champions League?
He was a part of the Real Madrid side when they won their 14th Champions League trophy in 2021-22.
Is Eden Hazard right or left footed?
He is one of the few players who is equally skilled with both his feet. However, he is natural with his right foot. This makes the left-wing his most preferred position on the field despite being effective in all forward positions.