Camilo Doval is a young professional baseball player for the San Francisco Giants of Major League Baseball (MLB). He established a successful career by playing in various lower leagues before hitting the professional ranks.
Get to know all about the rising MLB star's bio, wiki, age, height, family, siblings, child, career stats, contract details, salary, net worth, and more. Explore our FAQs section for additional information.
Camilo Doval Bio/Wiki
| | |
| --- | --- |
| Real Name | Camilo Doval |
| Birth Date | 4 July 1997 |
| Age (as of 2023) | 25 Years |
| Birth Place | Yamasá, Dominican Republic |
| Nationality | Dominican |
| Profession | Baseball Pitcher |
| Religion | Christianity |
| Sun sign | Cancer |
Camilo Doval: A Quick Look at His Early Life
Camilo Doval, the proficient pitcher for the San Francisco Giants, was born in the charming town of Yamasá in the Dominican Republic. Raised in a lively household, his upbringing helped shape his resilient and dynamic nature, traits evident in his game performances today.
Family & Siblings Influence on Doval's Career
Doval comes from a large family headed by his mother, Rosa, a dedicated elementary school teacher, and his father, Sergio, a hard-working farmer. His parents, although separated, have instilled strong values and work ethics in him, evident in his commitment to baseball. As one of Rosa's four children, Doval also shares a close bond with his astounding 23 siblings and half-siblings, keeping in touch through a vibrant Whatsapp group chat.
Wife, Girlfriend & Child
Camilo Doval, a skilled and promising baseball player, has managed to keep his relationship status under wraps, leaving everyone intrigued. Throughout his career, Camilo has been committed to maintaining a clear distinction between his personal life and his public persona.
While Camilo has not made any public announcements regarding his relationship, it is known that he has a son named Lian, born in October 2021. However, the identity of his girlfriend has been kept confidential. He values his privacy and prefers not to have his personal affairs become the subject of media scrutiny or sensational headlines.
Camilo Doval Age
Camilo Doval, a talented individual hailing from Yamasa, Dominican Republic, was born on July 4, 1997. At the young age of 25, Camilo has already made a mark in his chosen field. His accomplishments and dedication have garnered attention and praise from peers and enthusiasts alike.
Camilo Doval Height
Camilo Doval stands at an impressive height of 6 feet 2 inches (1.88 meters or 188 centimeters). His tall stature adds to his commanding presence on the baseball field, allowing him to showcase his skills with remarkable reach and agility.
Camilo Doval Minor leagues
Doval also signed as an international free agent with the San Francisco Giants in October 2015. He did it at the age of 18 for a 100,000 dollars signing bonus. In 2016, he also pitched for the Rookie-level DSL Giants in the Dominican Summer League. He did that with a 2-0 record with one save and a 1.66 earned run average (ERA). For the Rookie-level AZL Giants in 2017, he went 1-2 with one save and a 3.90 ERA, with 14.2 strikeouts per 9 innings (2nd in the Arizona League). Then, In 2018, he was 0-3 with a 3.06 ERA, 11 saves (5th in the South Atlantic League), and struck out 13.2 batters per 9 innings (3rd).
Doval also pitched for the Class A Augusta Greenjackets and was a (MiLB.com) Organisation All-Star in 2018. He went 3-5 with a 3.83 ERA in 45 bullpen appearances for the Class A-Advanced San Jose Giants in 2019, allowing only 6.6 hits per 9 innings and striking out 12.8 hitters per 9 innings. He was also named a California League Mid-Season All-Star in 2019. Doval struck out 12.8 batters per 9 innings in his first four minor league seasons. Doval did not participate in 2020 because the Minor League Baseball season was canceled due to the COVID-19 epidemic. After the 2020 season, he was added to the Giants' 40-man roster. Then, In 2021, he will play for the Triple-A West Sacramento River Cats and the main league Giants.
Doval also fired a 104.5 mph fastball in July while throwing for the River Cats. He was 3-0 with one save and a 4.99 ERA for the River Cats in 2021, averaging 12.9 strikeouts per 9 innings across 28 bullpen appearances totaling 30.2 innings.
Camilo Doval 2021
Doval got promoted to the big leagues for the first time on April 16, 2021. Then, on April 18, he made his MLB debut at the age of 23, tossing a scoreless inning of relief with two strikeouts against the Miami Marlins. In September 2021, he joined Brian Wilson as the second Giants pitcher to throw a pitch faster than 102 mph since Statcast began recording in 2008. That same month, at 24 years and three months old, he became the Giants' youngest pitcher to record a save since Rod Beck in 1992. After pitching 14.1 scoreless innings, Doval was awarded the National League Reliever of the Month for September/October.
In those outings, he also struck out 20 hitters and walked only three, and at the conclusion, he was the team's closer. Doval was 5-1 with three saves and a 3.00 ERA with the Giants in the 2021 regular season. He struck out 37 hitters in 27 innings thrown in 29 bullpen appearances, averaging 6.3 hits and 12.3 strikeouts per 9 innings with a 1.037 WHIP. His average fastball velocity of 98.6 mph put him in the top 1% of MLB pitchers. Doval pitched a spotless ninth inning in a 4-0 win against the Los Angeles Dodgers in Game 1 of the 2021 National League Division Series.
He then pitched two spotless innings to preserve the Giants' 1-0 victory against the Dodgers in Game 3 of the National League Division Series. He also became the only rookie since saves became an official statistic in 1969 to have a two-plus inning playoff save without allowing a baserunner. It brought his scoreless streak to 19.1 innings, during which he gave up 8 hits, walked three, and struck out 25.
Camilo Doval 2022
Doval's first complete season in the major leagues, and his first as the Giants' closer, came in 2022. He was 6-6 with 27 saves (6th in the NL) in 30 chances, a 2.53 ERA in 68 bullpen appearances (6th) and 51 games completed (2nd), and struck out 80 batters in 67.2 innings. His average fastball velocity of 99 mph put him in the top 1% of MLB pitchers. His four-seam fastball tops out at 104 mph, and he also throws a strong slider in the high 80s and the odd change-up. Doval added a sinker averaging in the high-90s to his pitch repertoire in the midst of the 2022 season.
He also depended heavily on his 88 mph slider (which hitters hit.154 against), 99 mph cutter, and 98 mph sinker. He was selected the National League Reliever of the Month for September once more.
Camilo Doval Fantasy 2023
Moreover, Camilo Doval was on his way to a successful 2022 season as the Giants closer, with a first-half line of 39.2 innings pitched, a 3-5 record, a 2.95 ERA, a 1.24 WHIP, 12 saves, and 49 strikeouts. Doval then threw a sinker, a pitch he had never thrown before, in July. He not only threw the sinker, but he threw it more than any other pitch, with a 57% use rate for the rest of the season. Doval's second-half numbers were even better: 3-1 W-L, 1.93 ERA, 1.25 WHIP, 15 saves, and 31 Ks (28.0 IP). Doval's groundball rate (GB%) increased from 48.5% in the first half to 67.6% in the second half as a result of the sinker.
You may have also noted a decline in strikeouts, from 29.0% in the first half to 26.5% in the second half. Doval's one shortcoming is that he walks too many batters, as his 10.5% BB% ranked fifth among the 17 pitchers with at least 20 saves. The free passes won't damage Doval as long as he maintains his high GB% and respectable K%, but not allowing a home run in the second half won't last until 2023. He has all of the ingredients to have a highly strong season and surpass his ADP of 77 (number 12 relief pitcher).
Camilo Doval MLB Stats
Camilo Doval, a professional baseball player, has been an integral part of the San Francisco Giants since 2021. His career stats reveal an impressive journey, displaying his exceptional skills as a pitcher.
2021 Season
In 2021, Doval had a solid debut year with the Giants, participating in 29 games. He pitched with an earned run average (ERA) of 3.00, allowing only 9 earned runs (ER). His WHIP (Walks plus Hits per Innings Pitched) was 1.04, reflecting his ability to limit base runners. He finished the year with 5 wins (W), a single loss (L), and secured 3 saves (Sv).
2022 Season
Building on his inaugural season's success, Doval's performance improved in 2022. He participated in 68 games, during which he secured 27 saves and maintained a commendable ERA of 2.53. His WHIP slightly increased to 1.24, yet he managed to allow only 19 earned runs. He achieved 6 wins and endured 6 losses, further establishing his importance to the Giants' pitching rotation.
2023 Season
As of 2023, Doval has participated in 29 games for the Giants, showcasing his continued growth and refinement. His ERA has dropped to an impressive 1.86, and his WHIP has lowered to an excellent 1.00, both indicating his effective pitching. He has collected 1 win and 2 losses and already saved 17 games, demonstrating his reliability in high-pressure scenarios.
Career Stats
Over his career spanning three years, Doval has taken part in 126 games, keeping his WHIP to an average of 1.14 and his ERA at 2.47, showing consistent performance. He has secured 12 wins, faced 9 losses, and saved a total of 47 games, underscoring his pivotal role in the Giants' bullpen.
| Year | Team | Games Played (GP) | Complete Games (CG) | Earned Runs (ER) | Wins (W) | Losses (L) | Saves (Sv) | WHIP | ERA |
| --- | --- | --- | --- | --- | --- | --- | --- | --- | --- |
| 2021 | Giants | 29 | 0 | 9 | 5 | 1 | 3 | 1.04 | 3.00 |
| 2022 | Giants | 68 | 0 | 19 | 6 | 6 | 27 | 1.24 | 2.53 |
| 2023 | Giants | 29 | 0 | 6 | 1 | 2 | 17 | 1.00 | 1.86 |
| Career | Giants | 126 | 0 | 34 | 12 | 9 | 47 | 1.14 | 2.47 |
Camilo Doval Net Worth
So, Camilo has made a tidy fortune from his baseball ventures. Camilo and the San Francisco Giants agreed to a one-year, $750,000 contract with a $750,000 annual pay. In 2023, Doval's basic pay will be $750,000, with a total income of $750,000.
Camilo Doval Jersey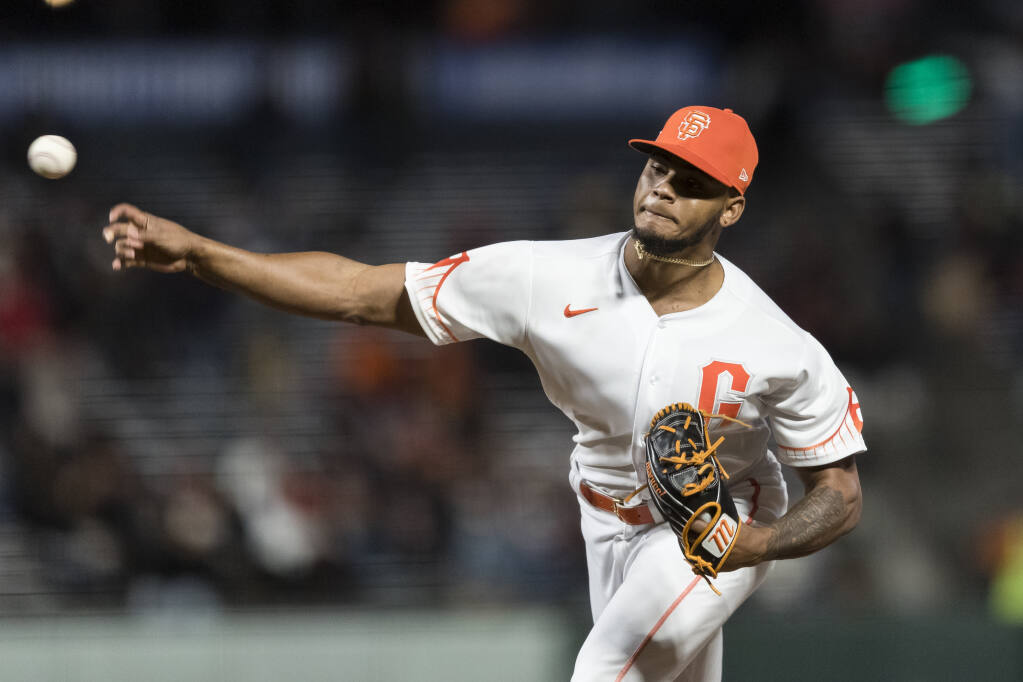 Camilo Doval is a Major League Baseball pitcher for the San Francisco Giants. He also wears jersey number 75.
Camilo Doval WBC
Camilo Doval, the SF Giants closer, showcased his impressive skills during his performance in the World Baseball Classic, despite the Dominican Republic's unfortunate elimination after a 5-2 defeat to Puerto Rico. The 25-year-old right-hander exhibited his talent in two tournament games, striking out three without allowing a baserunner in 2.1 innings, using just 14 pitches in 1.1 of those innings. Doval's fastball consistently hit over 100 mph, and his slider was successful in both instances he used it.
In a challenging scenario, with the Dominican Republic trailing 5-2 in the seventh inning, Doval was called into the game. He quickly silenced the opposing team, striking out Mets All-Star shortstop Francisco Lindor to close the inning. He continued his stellar performance in the eighth, eliminating Red Sox outfielder Enrique Hernandez, Royals catcher MJ Melendez, and forcing Diamondbacks infielder Emmanuel Rivera to ground out.
Former Giants starter Johnny Cueto, who pitched for the Dominican Republic, had a difficult day, surrendering three runs on four hits, including a home run, over two innings. Notably, Doval was the only current Giants player featured in Wednesday's game.
Doval, who maintained a 2.53 ERA with 80 strikeouts and 27 saves in his first full MLB season in 2022, is now set to rejoin the Giants in Scottsdale for regular-season preparations. If his WBC debut is any indication, Doval seems more than prepared to return to the SF Giants' bullpen, assuming no injuries interfere.
Camilo Doval Interview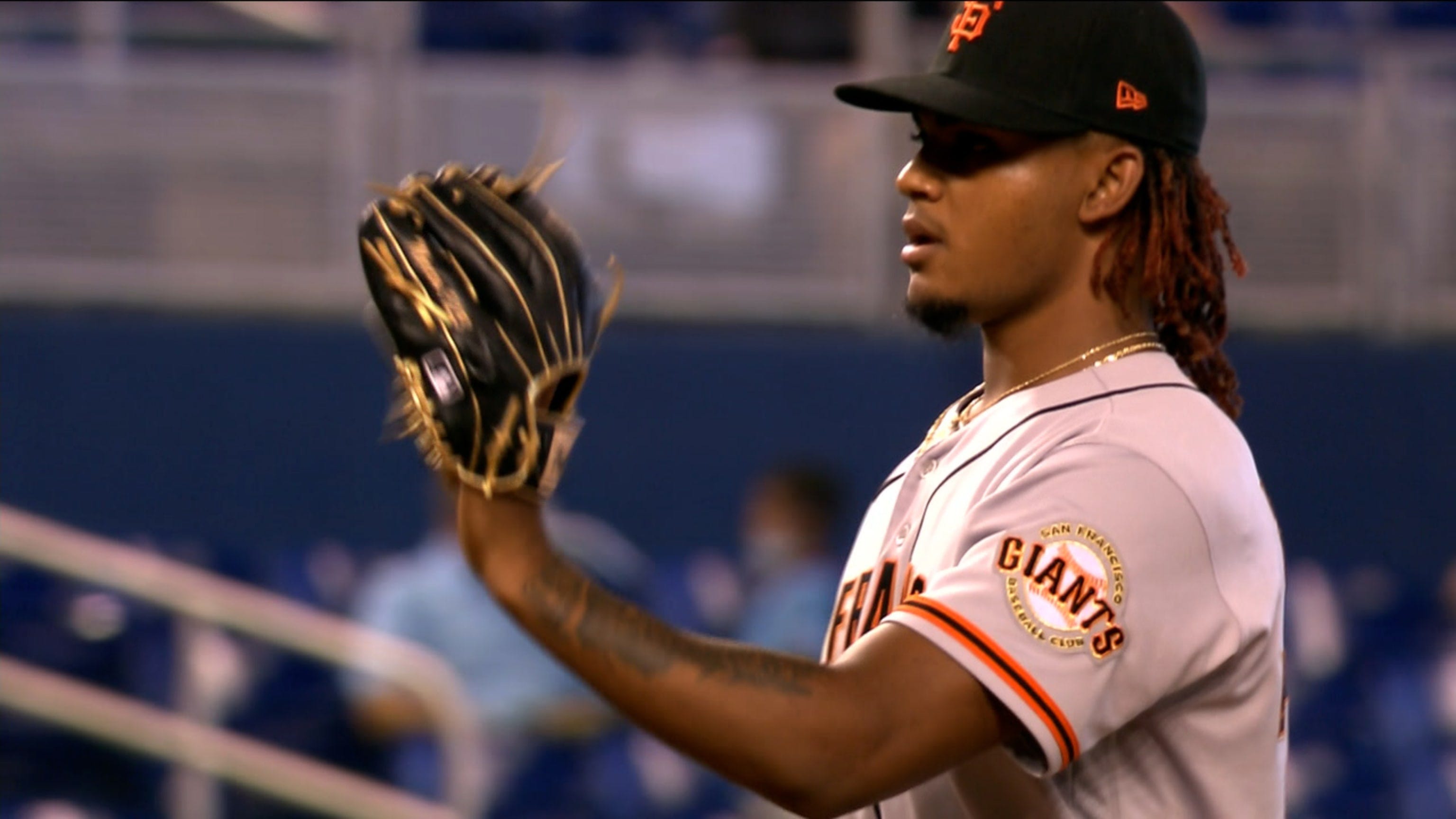 Gabe Kapler's reliance on Camilo Doval was demonstrated when Kapler called him for a four-out save and was ready to repeat the strategy the next day. Despite Doval possessing an outstanding right arm, Kapler maintained protective measures due to his heavy usage. When Doval signaled his readiness to play despite the burden, he proceeded to secure a 7-4 win against the Philadelphia Phillies, leading to the season's first sweep. This highlighted his valuable role in the team and Kapler's trust in him.
Doval became the first Giants closer since 2018 to record three consecutive saves, emphasizing Kapler's dependency on him. His endurance shone brightly as he made 20 appearances in 16 days and secured the final out of nine Giants victories this month.
Despite his intense activity, Doval keeps his cool. He currently ties for the NL lead in saves with 11, a position he has held by making the ninth inning look seamless. Even when challenged by the Phillies, Doval received advice from coaches and managed to strike crucial players, ending the game. His commitment to the team and readiness to handle save opportunities epitomize his contribution to Kapler's team.
Camilo Doval Contract
Camilo Doval agreed to terms with the San Francisco Giants on a one-year, $750,000 contract. It also includes $750,000 guaranteed and an annual average salary of $750,000. Doval will receive a base pay of $750,000 and a total compensation of $750,000 in 2023.
Some Frequently Asked Questions
Is Camilo Doval right handed?
So, Camilo Doval throws right-handed and has thrown 1121 pitches this season.
How many saves does Camilo Doval have?
Doval, who had 27 saves last season, is giving plenty of fantasy value through 15 appearances this season, tying for the sixth most saves in MLB with an 11.66 K/9.
Who is the San Francisco Giants' closer?
Camilo Doval will rejoin the Giants in Scottsdale to prepare for the start of the regular season. Doval will return to the SF Giants' bullpen, barring an injury. Doval had a 2.53 ERA in 67.2 innings thrown with 80 strikeouts and 27 saves in his first full MLB season in 2022.
How much money does Camilo earn?
Camilo Doval agreed to terms with the San Francisco Giants on a one-year, $750,000 contract. It also includes $750,000 guaranteed and an annual average salary of $750,000.  Doval will receive a base pay of $750,000 and a total compensation of $750,000 in 2023.
Is Camilo Doval a newcomer?
Camilo Doval is a 2022 Panini Donruss Rookie #72 for the San Francisco Giants.