Jordan Poole, born on June 19, 1999, is an American professional basketball player for the Golden State Warriors in the NBA. He attended Rufus King High School in Milwaukee and La Lumiere School in La Porte, Indiana.
As a junior, he made the first team All-Wisconsin, and as a senior, he won the Dick's National High School Championship in 2017. Poole then played for the Michigan Wolverines in college, contributing to their success in the Big Ten tournament and reaching the national championship game in 2017-18. In that tournament, he made a game-winning buzzer-beater three-point shot.
After playing two seasons as a two-way player, Poole became an integral part of the Warriors' rotation in 2021, known as the "Poole Party." In the 2021-22 NBA season, he led the league in free throw percentage and won an NBA championship with the Warriors.
Explore our comprehensive guide on NBA star Jordan Poole, including his biography, career stats, and personal life. Learn about his age, height, contract details, and net worth. Gain insights into his family background, including details about his parents and siblings. Discover who he's dating and find answers to frequently asked questions about this rising basketball talent. All this and more in our complete Jordan Poole profile.
Bio/Wiki Table
Full Name
Jordan Poole
Date of Birth
June 19, 1999
Age
23 Years Old
Birthplace
Milwaukee, Wisconsin, USA
Height
6 feet 4 inches
Weight
88 kg
Position
Point Guard / Shooting Guard
College
University of Michigan
NBA Team
Golden State Warriors
Drafted
28th overall in the 2019 NBA Draft
Net Worth
$16 million
Career Highlights
NBA Champion (2022)
NBA Regular Season Stats
Career average: 15.8 PPG, 2.6 RPG, 3.4 APG
NBA Playoff Stats
Career average: 14.5 PPG, 2.6 RPG, 3.7 APG
Social Media
Instagram: @jordan_poole
Twitter: @JordanPoole_2
Jordan Poole Biography
Jordan Anthony Poole, born on June 19, 1999, in Milwaukee, Wisconsin, to Monet and Anthony Poole, emerged as a prominent basketball player during his time at Rufus King High School in Wisconsin.
In 2016, Poole transferred to La Lumiere School in Indiana, gaining valuable experience in nationally televised games on ESPN and a college-like basketball environment. As a top-100 high school prospect, he played a pivotal role in La Lumiere's victory over Montverde School, led by future NBA player R.J. Barrett, in the 2017 Dick's national championship.
During the championship game, Poole's exceptional performance included 13 points and a game-changing buzzer-beater in the third quarter, securing the title for La Lumiere. However, his most memorable moment came in the 2018 NCAA tournament, when he delivered a clutch game-winning buzzer-beating three-point shot, propelling Michigan to the Sweet Sixteen.
Parents
Monet Poole, Jordan's mother, dedicates her career to making a difference as a social worker and case manager at the Eisenhower Center. Monet and her husband, Anthony Poole, met during their college years and have remained a strong couple ever since.
While Monet prefers to maintain her personal life with her children private, she takes immense pride in their accomplishments. She frequently hosts gatherings at their home, inviting extended family members to join in the enthusiastic support for Jordan during his basketball games.
As for Anthony Poole, he is not only Jordan's father but also a professional basketball instructor and teacher at Playground Elite in Wisconsin. With a deep passion for the sport, Anthony has been mentoring and coaching Jordan since his early years, nurturing his basketball skills and talents.
Siblings
Among Jordan's two siblings, one of them is Alex Poole. Following her academic journey, Alex pursued her education at Marquette University, where she actively participated in the women's basketball team. Alongside her studies, she focused on public communication, showcasing her diverse interests and talents.
Alex's passion for media and entertainment led her to create her own late-night show on Lewis Student Radio. With a captivating mix of music genres ranging from pop to country, she entertained her audience with a dynamic selection. Additionally, Alex's dedication to her basketball career bore fruit as she reached the Elite 8 stage of competition during her junior year.
Jordan Poole Age, Birthday
As of 2023, Jordan Poole is 23 years old. He was born in 1999, and his birthday falls on June 19th. Each year, he joyfully commemorates this special occasion alongside his close friends and family. Being born on June 19th, his zodiac sign is Gemini, reflecting the characteristics associated with that astrological sign.
Educational Qualification
Poole's educational journey in basketball commenced during his time at Rufus King High School, where he rapidly emerged as one of the nation's most promising talents. Demonstrating remarkable skills, he gained recognition as the second-ranked prospect overall and the top shooting guard in the 2017 recruiting class when he made his commitment.
Continuing his academic and basketball pursuits, Poole chose to play collegiate basketball at the University of Michigan. Around 13 months after his commitment, he solidified his decision by signing his national letter of intent. Poole's stellar performance persisted as he made a significant impact by hitting a game-winning three-pointer, leading the Michigan Wolverines to the second round of the NCAA Tournament.
Jordan Poole Height
At present, Jordan Poole has an impressive height of 6 feet 4 inches (193 cm) and maintains a weight of approximately 88 kg (194 lbs). As a professional basketball player, he understands the importance of physical fitness and athleticism. To excel on the court, Poole engages in rigorous training sessions and follows a well-balanced diet tailored to meet the demands of his sport. By prioritizing his health and well-being, he maximizes his performance during games, utilizing his height advantage to excel in various aspects of basketball.
Jordan Poole Girlfriend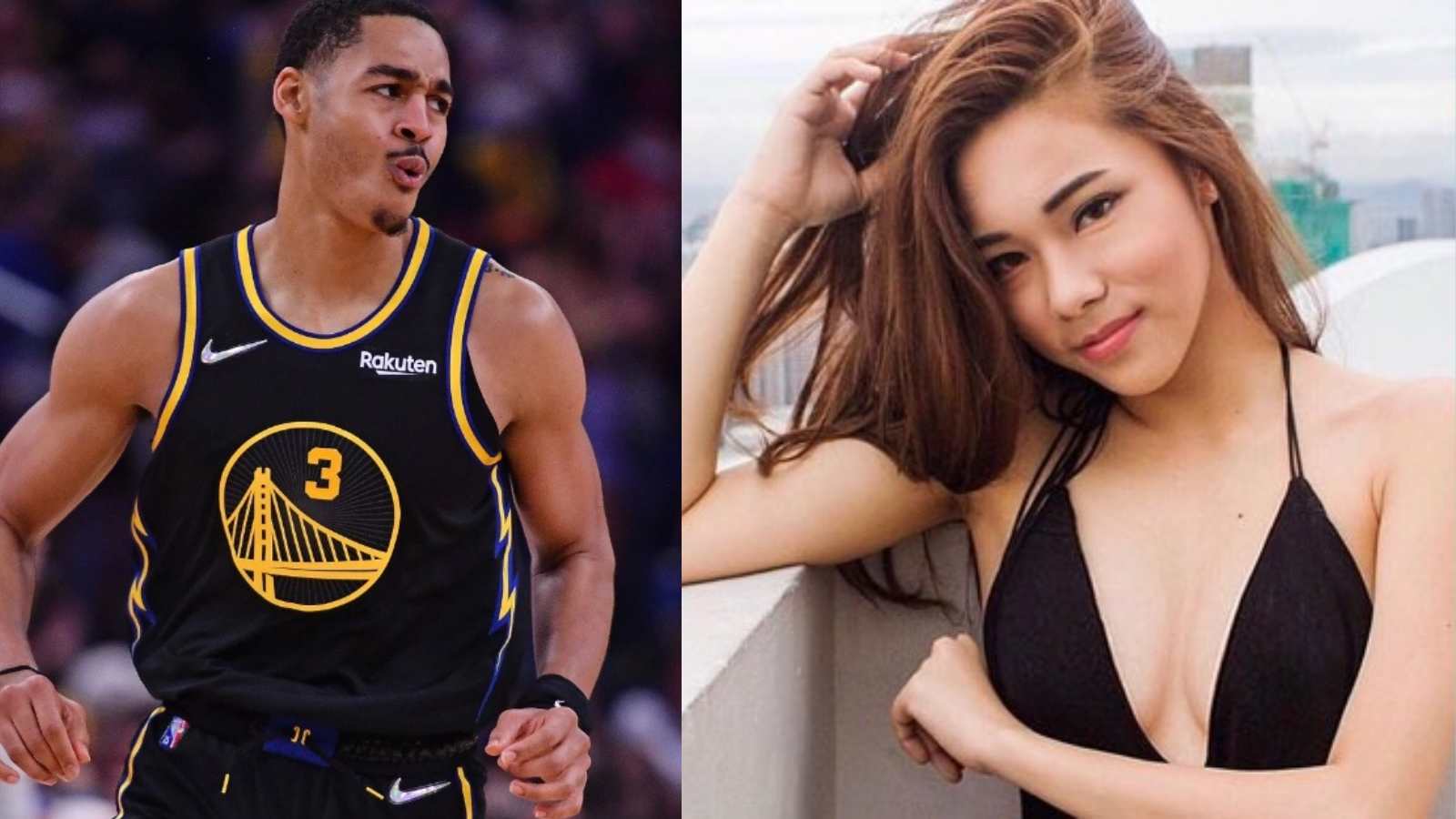 Jordan Poole, the talented player from the Golden State Warriors, has yet to claim an NBA championship ring. However, his personal life is filled with love and support as he is currently in a relationship with his girlfriend, Kim Cruz. Jordan and Kim share a strong bond and are often seen together, standing by each other's side through all the ups and downs.
Kim Cruz, a remarkable individual in her own right, is a 24-year-old Filipino artist and blogger. Born in the Philippines in 1997, she initially made her mark as a television personality. However, her passion for art led her to explore a career in the creative realm. Kim decided to further enhance her artistic skills by enrolling in an art gallery, where she dedicated herself to producing captivating masterpieces.
Together, Jordan Poole and Kim Cruz form an unstoppable duo, supporting and inspiring each other along their respective journeys. Their deep connection and unwavering support indicate a bond that is likely to endure for a lifetime, adding another dimension of fulfillment to their lives beyond the basketball court and the art world.
High School Career
During his freshman year at Rufus King High School, Jordan Poole showcased his talent by making a crucial three-point shot to tie a game in the closing seconds, coming off the bench. As a highly sought-after recruit, Poole visited several universities, including Illinois, Wisconsin, Indiana, Drake, and Marquette.
It was during his visit to the University of Michigan for a football game against BYU on September 26, 2015, that Poole received an offer. Impressed by the campus atmosphere, he returned on October 17 for the rivalry game against Michigan State. On October 23, 2015, Poole made his commitment to Michigan, becoming the first recruit for the Class of 2017. At that time, he held the impressive rankings of the 2nd overall prospect and the top shooting guard in the national class of 2017.
As a junior, Poole received recognition as a WBCA All-State Boys Basketball first-team selection in 2016. In July 2016, he announced his transfer from Rufus King to La Lumiere School in Indiana for his senior year. This move provided him with a campus lifestyle, exposure through ESPN broadcasts, and the opportunity to team up with talented prospects like Brian Bowen and Jeremiah Tilmon.
Poole solidified his commitment to play college basketball for the University of Michigan by signing his letter of intent on November 11, 2016. He was ranked as the 90th overall prospect at that time. Poole's senior year at La Lumiere culminated in a remarkable achievement as a member of the championship-winning team in the 2017 Dick's National High School Tournament. In the championship game, Poole showcased his skills with 13 points, including a shot clock buzzer-beater in the closing seconds of the third quarter. La Lumiere defeated Montverde Academy, led by talented Canadian player R. J. Barrett, to claim the prestigious title.
College Career
Freshman Season
During his freshman season at the University of Michigan, Jordan Poole had several standout performances. In a Big Ten conference season opener against Indiana on December 2, 2017, Poole led the team with 19 points, marking his Big Ten debut with an impressive showing. He continued to shine throughout the season, contributing to Michigan's success.
One notable game was against Maryland on January 15, 2018. Despite trailing by 14 points in the first half and 10 points at halftime, Michigan rallied back with seven consecutive three-point shots, including three by Poole. His 11 points played a crucial role in Michigan's 68-67 victory.
Throughout the regular season, Poole displayed his shooting prowess with three consecutive games of double-digit scoring. Notably, he made nine out of 12 three-point shots against Ohio State on February 18, Penn State on February 21, and Maryland on February 24.
In the 2018 NCAA tournament, Poole's heroics once again made headlines. On March 17, he hit a game-winning buzzer-beating three-point shot against Houston, propelling Michigan to the Sweet 16. This shot mirrored a similar buzzer-beater he made in the previous year's Dick's National Championship game.
Sophomore Season
Moving into his sophomore season, Poole continued to impress. On November 17, 2018, he recorded a career-high 22 points in a victory against George Washington. He showcased his shooting skills once again on November 28, contributing 18 points, including 5-for-8 three-point shooting, in a win over North Carolina.
Throughout the season, Poole consistently displayed his scoring ability and three-point shooting prowess. He earned recognition as the Big Ten Player of the Week on December 3 for his performances against ranked opponents. Poole finished the season with All-Big Ten honorable mention accolades.
Michigan's journey in the 2019 NCAA tournament was once again fueled by Poole's contributions. He led the team with 19 points in a victory over Florida in the second round, securing their third consecutive Sweet 16 appearance.
Following the season, Poole, along with teammates Iggy Brazdeikis and Charles Matthews, declared for the 2019 NBA draft with the intention of hiring agents. Poole's college career showcased his scoring ability, clutch performances, and overall impact on the success of the University of Michigan basketball program.
Jordan Poole

Professional Career
Golden State Warriors (2019–present)
Early years (2019–2021)
Jordan Poole embarked on his professional basketball journey with the Golden State Warriors, after being the 28th pick in the NBA's first draft round on June 20, 2019. With a three-year contract worth $6.2 million, he officially became a Warrior on July 11.
Making his NBA debut on October 24, he demonstrated his potential against the Los Angeles Clippers, managing five points, two rebounds, and assists each, and a steal. Poole then marked his first NBA start with 13 points, contributing to the Warriors' first win of the season against the Pelicans on October 29.
In December, he played for the Santa Cruz Warriors in the NBA G-League, where he exhibited his scoring ability, earning 23 points against Stockton Kings and later 31 points against the Texas Legends.
Rejoining the Golden State Warriors in January 2020, Poole continued to make notable contributions. He set a career-high of 21 points in a victorious match against Orlando Magic on January 18.
Facing the 2020-21 season without Klay Thompson, Poole proved himself by setting new personal records. On March 4, 2021, he scored 26 points against the Phoenix Suns, and later, a stunning 38 points in a win over the Pelicans on May 14. Amid the challenging 2020-21 season, the Warriors also relied on the skills of Kent Bazemore, Mychal Mulder, Damion Lee, and Kelly Oubre Jr.
Breakout season and first championship (2021–present)
In the 2021-2022 season, Jordan Poole emerged as a star for the Golden State Warriors, filling in for injured Klay Thompson. A highlight was his 33-point performance, including eight three-pointers against the Toronto Raptors on November 21, 2021.
Thompson's return in 2022 saw a three-guard system involving Poole, Thompson, and Stephen Curry. Poole shone especially when Curry was out, scoring over 20 points in 18 of the season's final 20 games. This included 17 consecutive games with 20+ points, ending on April 7 with 19 points and a career-best 11 assists against the Los Angeles Lakers.
Poole led the NBA in free throw percentage with 92.5%, the first time in 45 years teammates took the top two spots in this category, with Poole edging Curry.
In the 2022 NBA playoffs, Poole made a stunning debut, scoring 30 points against the Denver Nuggets in Game 1 and contributing 29 points and eight assists in Game 2, leading to a series victory. The Warriors clinched the NBA championship, granting Poole his maiden NBA glory.
During the 2022-2023 season, Poole started 47 of 95 games, facing role fluctuations. Despite challenges during the playoffs, where the Warriors were eliminated by the Lakers, Poole continued to impress, including a career-best 43-point game against the Raptors and a 41-point game against the Trail Blazers.
Off-court, Poole extended his contract with the Warriors, signing a four-year deal worth $123 million. Despite the playoff disappointment, Poole's steady progression bodes well for his future, keeping Warriors' fans eagerly awaiting his contributions.
Jordan Poole Net Worth
With an impressive professional basketball career, Jordan Poole, the renowned American player, has amassed a net worth of $16 million. This substantial fortune is a result of his lucrative deals and contracts within the basketball industry. Poole's journey to financial success began when he secured his first professional contract with a basketball team, signing a deal worth $6.2 million over three years.
Jordan Poole Contract
During the summer, Jordan Poole, a player for the Golden State Warriors, inked a contract extension with the team. Prior to signing the extension, he was entering the final year of his rookie deal, which was worth $10.09 million over four years. Under his original contract, Poole was slated to earn $3.90 million for the current season.
However, with his new contract extension, the outlook for Poole has changed significantly. In October, he reached an agreement with the Golden State Warriors on a four-year extension valued at $128 million. Additional reports suggest that, depending on certain incentives, his total earnings from this contract could reach approximately $140 million. In simpler terms, Poole will be earning an average of $32 million per year over the course of his contract.
This substantial contract extension provides Poole with financial security and serves as a testament to his value and potential within the Warriors organization. With this new deal in place, Poole has a bright future ahead, both on and off the court.
Jordan Poole Position
Despite initial criticism regarding his rawness in the NBA, Jordan Poole has shown significant growth and development as a player, particularly in his scoring abilities. Poole has emerged as a dynamic and efficient scorer, showcasing his prowess both at the rim and in the mid-range.
As a prolific rim finisher, Poole exhibits a strong ability to drive to the basket and convert at close range. This skill contributes to his overall offensive impact and scoring output. Additionally, he has honed his mid-range shot creation, allowing him to score effectively from that area of the court as well.
In terms of position, Poole is versatile, capable of playing as either a point guard or shooting guard. This versatility provides the Golden State Warriors with flexibility in their lineup configurations and allows Poole to adapt to different roles on the court.
Alongside his scoring prowess, Poole has also made strides in his playmaking abilities. He has become a solid passer, evidenced by his career-high average of 4.0 assists per game. This improvement in his passing skills further enhances his overall contribution to the team's offense and highlights his growth as a well-rounded player.
With his evolving skill set and continued progress, Jordan Poole has demonstrated his potential to make a significant impact on the court, not only as a scorer but also as a playmaker.
Jordan Poole Stats
College
Throughout his college career, spanning a total of 75 games, Poole played an average of 22.7 minutes per game. He showcased his shooting abilities with a field goal percentage of .434 and a three-point percentage of .370. From the free-throw line, he had an impressive free throw percentage of .831. Poole contributed to the team with an average of 2.2 rebounds, 1.4 assists, 0.8 steals, and 0.2 blocks per game. He scored an average of 9.4 points per game over his college career.
In college, Jordan Poole played for the University of Michigan. Here is a table summarizing his statistics for each season:
| Year | Team | GP | GS | MPG | FG% | 3P% | FT% | RPG | APG | SPG | BPG | PPG |
| --- | --- | --- | --- | --- | --- | --- | --- | --- | --- | --- | --- | --- |
| 2017–18 | Michigan | 38 | 0 | 12.5 | .429 | .370 | .827 | 1.4 | .6 | .5 | .2 | 6.1 |
| 2018–19 | Michigan | 37 | 37 | 33.1 | .436 | .369 | .833 | 3.0 | 2.2 | 1.1 | .2 | 12.1 |
| Career | | 75 | 37 | 22.7 | .434 | .370 | .831 | 2.2 | 1.4 | .8 | .2 | 9.4 |
NBA regular season:
Throughout his NBA career, Poole has played in a total of 266 games, starting in 115 of them. He has averaged 26.3 minutes per game. His shooting percentages include a field goal percentage of .421 and a three-point percentage of .339. From the free-throw line, he has a free throw percentage of .878. Poole contributes across various categories, including an average of 2.6 rebounds, 3.4 assists, 0.7 steals, and 0.2 blocks per game. He has scored an average of 15.8 points per game throughout his NBA career.
Here is a table summarizing Jordan Poole's regular season statistics for each year of his NBA career:
| Year | Team | GP | GS | MPG | FG% | 3P% | FT% | RPG | APG | SPG | BPG | PPG |
| --- | --- | --- | --- | --- | --- | --- | --- | --- | --- | --- | --- | --- |
| 2019–20 | Golden State | 57 | 14 | 22.4 | .333 | .279 | .798 | 2.1 | 2.4 | .6 | .2 | 8.8 |
| 2020–21 | Golden State | 51 | 7 | 19.4 | .432 | .351 | .882 | 1.8 | 1.9 | .5 | .2 | 12.0 |
| 2021–22† | Golden State | 76 | 51 | 30.0 | .448 | .364 | .925* | 3.4 | 4.0 | .8 | .3 | 18.5 |
| 2022–23 | Golden State | 82 | 43 | 30.0 | .430 | .336 | .870 | 2.7 | 4.5 | .8 | .3 | 20.4 |
| Career | | 266 | 115 | 26.3 | .421 | .339 | .878 | 2.6 | 3.4 | .7 | .2 | 15.8 |
NBA playoffs:
In the playoffs, Jordan Poole has played a total of 35 games, starting in 9 of them. He has averaged 25.4 minutes per game. His shooting percentages include a field goal percentage of .450 and a three-point percentage of .346. From the free-throw line, he has a free throw percentage of .867. Poole has contributed an average of 2.6 rebounds, 3.7 assists, 0.8 steals, and 0.3 blocks per game during the playoffs. He has scored an average of 14.5 points per game throughout his playoff career.
Here is a table summarizing Jordan Poole's playoff statistics for each year:
| Year | Team | GP | GS | MPG | FG% | 3P% | FT% | RPG | APG | SPG | BPG | PPG |
| --- | --- | --- | --- | --- | --- | --- | --- | --- | --- | --- | --- | --- |
| 2022† | Golden State | 22 | 5 | 27.5 | .508 | .391 | .915 | 2.8 | 3.8 | .8 | .4 | 17.0 |
| 2023 | Golden State | 13 | 4 | 21.8 | .341 | .254 | .765 | 2.2 | 3.5 | .8 | .2 | 10.3 |
| Career | | 35 | 9 | 25.4 | .450 | .346 | .867 | 2.6 | 3.7 | .8 | .3 | 14.5 |
Jordan Poole Baddies Meme
Despite the initial anxiety surrounding the absence of Stephen Curry, the Golden State Warriors have been on an impressive winning streak. Jordan Poole, a young and talented player, has emerged as a key contributor in Curry's absence. Interestingly, NBA fans on Twitter have noticed a peculiar pattern in Poole's performances – he seems to excel when surrounded by a specific type of crowd, affectionately referred to as "baddies".
This phenomenon was first observed during the NBA playoffs last season, where a meme circulated featuring Poole gazing at a group of female fans in the stands. It seemed to ignite something within him, motivating him to perform exceptionally well against their opponents in the finals. Surprisingly, this was not an isolated incident.
Throughout this season, Poole's outstanding performances have been attributed to a power-up received from the presence of certain fans. It appears that Dub Nation, the passionate fanbase of the Warriors, may have discovered the secret to unlocking Poole's full potential on a nightly basis.
Whether it's the energy, support, or simply the positive vibes from these particular fans, it's clear that Poole's performance level reaches new heights when they are present. As a result, the connection between Poole and the "baddies" has become a fascinating and amusing storyline, capturing the attention and curiosity of NBA fans.
FAQs
What is Jordan Poole's height and weight?
Jordan Poole stands at 6 feet 4 inches tall and weighs 88 kg.
When was Jordan Poole born?
Jordan Poole was born on June 19, 1999.
Which college did Jordan Poole attend?
Jordan Poole attended the University of Michigan.
Which NBA team does Jordan Poole play for?
Jordan Poole plays for the Golden State Warriors.
What position does Jordan Poole play?
Jordan Poole plays as a Point Guard and Shooting Guard.
When was Jordan Poole drafted into the NBA?
Jordan Poole was drafted 28th overall in the 2019 NBA Draft.
What are some of Jordan Poole's career highlights?
Jordan Poole won an NBA Championship with the Golden State Warriors in 2022.
What is Jordan Poole's net worth?
Jordan Poole's net worth is estimated to be around $16 million.
What are Jordan Poole's average stats in the NBA regular season?
Jordan Poole has averaged 15.8 points, 2.6 rebounds, and 3.4 assists per game in his NBA regular season career.
What are Jordan Poole's average stats in the NBA playoffs?
Jordan Poole has averaged 14.5 points, 2.6 rebounds, and 3.7 assists per game in his NBA playoff career.