Drea Celina, also recognized as Andrea Celina, is a prominent Instagram star and influential social media personality. Many know her as the girlfriend of Ryan Garcia. She has become a familiar face online.
Ryan Garcia, her partner, is more than just a skilled fighter in the U.S. He's a boxing sensation. He has a career filled with remarkable achievements. Garcia's prowess in the ring is undeniable, and his talent was honored in 2017. He won ESPN's "Prospect of the Year" award.
As of 2023, Garcia's standing in the boxing world has grown. The latest rankings by The Ring magazine place him in the fourth position among the best active lightweight boxers globally. This rank shows his hard work, dedication, and exceptional skill.
In this article, we will explore Ryan Garcia's relationship with Drea Celina. We'll cover details about Celina's age, the couple's relationship dynamics, and their net worth in 2023. Thus, we'll provide an insightful look into their lives.
Whether you're a boxing fan or follow social media trends, this article will give you a glimpse into the world of Ryan Garcia and Drea Celina. Together, they have captured the attention of many people. Therefore, if you're interested in knowing more about them, read on.
Who Is Ryan Garcia Girlfriend, Drea Celina?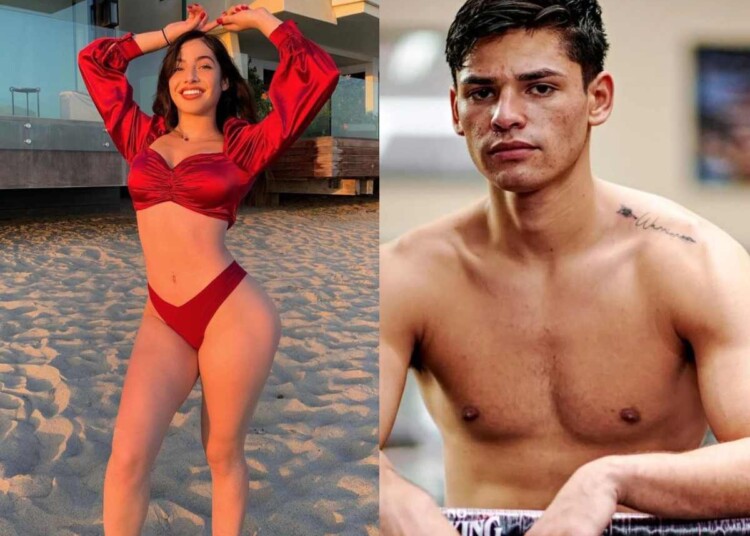 Drea Celina, known for being Ryan Garcia's girlfriend, has made a name for herself in fitness and fashion. Born in 1998, she's a fitness trainer and fashion expert. On Instagram, she has over 149K followers, and on TikTok, 30.4K follow her.
In 2019, Celina and Garcia started dating, and his boxing career began to soar. A year later, they welcomed their child, a significant event for them. But, they have faced challenges. One public incident involved Garcia kissing TikTok star Malu Trivajo. This caused tension, but a public apology from Garcia mended their relationship.
Ryan Garcia's career is equally engaging. He made his pro debut in 2016, and in 2021, he defeated Luke Campbell. Winning the interim WBC lightweight title was a major achievement. His recent win over Javier Fortuna in July was his 19th knockout victory. Additionally, Garcia's next match against Gervonta Davis promises to be exciting.
Together, Garcia and Celina showcase a mix of sports talent and social media influence. They intrigue fans with their relationship filled with love, struggles, and growth. Whether it's in the boxing ring or online, their influence reaches many. Therefore, they have become one of the most talked-about couples recently.
Drea Celina Biography/Wiki
| | |
| --- | --- |
| Full Name | Drea Celina |
| Nickname | Andrea |
| Date of Birth | January 12, 1996 |
| Birthplace | United States |
| Age | 27 years old |
| Sun Sign | Capricorn |
| Nationality | Mexican |
| Height | 5 feet 5 inches |
| Weight | 58kg |
| Body Measurements | 36-24-36 inches |
| Eye Color | Dark Brown |
| Hair Color | Blonde |
| Education | Graduated |
| Religion | Christianity |
| Marital Status | Unmarried |
| Boyfriend | Ryan Garcia |
| Children Name | Rylie Garcia, Bela Garcia |
| Net Worth | $2 million |
| Social Media Presence | Instagram |
| Profession | Instagram Star |
Drea Celina Age: How Old Is Ryan Garcia's Girlfriend?
Drea Celina, the captivating Instagram star and girlfriend of professional boxer Ryan Garcia, was born on January 12, 1996. As of 2023, she is 27 years old.
Her relationship with Garcia has brought her into the spotlight, and her age often becomes a topic of interest for fans and followers.
Drea Celina Height: How Tall Is Ryan Garcia's Girlfriend?
Standing at an elegant height of 5 feet 5 inches, Drea Celina's stature adds to her graceful presence. Her height complements her modeling career, where she showcases various brands and fashion trends.
Whether posing for a photo or standing beside her famous boyfriend, Ryan Garcia, Drea's height is a defining aspect of her physical allure.
Drea Celina Weight: How Much Does Ryan Garcia's Girlfriend Weigh?
Drea Celina's weight is approximately 58 kg (128 lbs), a reflection of her commitment to fitness and a healthy lifestyle. Her weight contributes to her overall physique, which she often flaunts on her social media platforms.
As a fitness enthusiast, Drea maintains her weight through regular exercise and a balanced diet, inspiring many of her followers to pursue a healthy lifestyle.
Drea Celina Physical Appearance & Body Measurements
Drea Celina's physical appearance is characterized by her stunning body measurements of 36-24-36 inches. With dark brown eyes and brown hair, she exudes a natural beauty that resonates with her audience.
Her body measurements, coupled with her height and weight, create a harmonious and attractive physique.
As an Instagram star, Drea's physical appearance plays a significant role in her online presence, where she promotes various brands and shares glimpses of her life with Ryan Garcia.
Ethnicity and Religion of Ryan Garcia's Girlfriend, Drea Celina
Drea Celina, the well-known girlfriend of American professional boxer Ryan Garcia, is a proud resident of the United States. With a rich heritage that includes Mexican and Italian descent, she represents a beautiful blend of mixed ethnicity.
Living in a country celebrated for its diversity, Drea's background is a testament to the multicultural fabric of America. Her faith is deeply rooted in Christianity, reflecting her spiritual values and beliefs.
Who Is Ryan Garcia? A Glimpse into the Life of the Boxing Sensation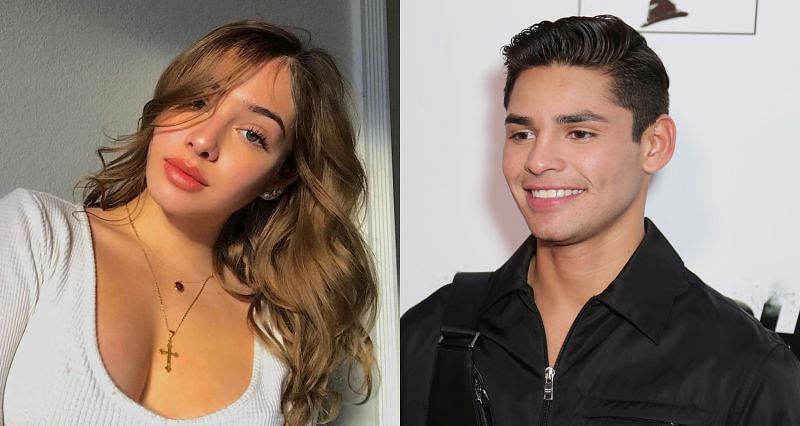 Ryan Garcia was born on August 8, 1998, in Victorville, California. As of 2023, he's a promising 24-year-old American professional boxer. He stands at an impressive height of 5 feet 10 inches (178 cm) and weighs around 70 kg (154 lbs).
His parents, Henry Garcia and Lisa Garcia, raised Ryan with love. Alongside his four siblings: Demi, Sasha, Kayla, and Sean, he grew up in a nurturing environment. Consequently, his upbringing shaped his character and helped him in his boxing career.
As for Ryan Garcia's net worth, it's an astounding $20 million as of 2023. This amount doesn't just reflect his success in the ring. It also includes his savvy business dealings and profitable endorsements. Therefore, Garcia's accomplishments in and out of the ring have led to his substantial financial success.
How did Ryan Garcia and Drea Celina meet?
The story of Ryan Garcia and Drea Celina meeting is intriguing. It blends modern romance with fame, sports, and social media. They started dating in 2019 when Ryan's boxing career was on the rise. At the same time, Drea was emerging as a Mexican social media influencer. She focuses on beauty, fitness, and fashion.
The exact details of their first meeting are not public. However, their relationship is well-known, especially after a video of Celina playfully punching Ryan emerged. She was pregnant at the time, and this body shot challenge video attracted significant attention. Thus, it showcased their fun and loving nature.
Despite their fame, both Ryan and Drea value privacy. Ryan, known for his charm and flashy style, rarely shares family pictures. He keeps his personal life private. Similarly, Drea avoids posting pictures with the WBC silver champion. Instead, she focuses on her professional partnerships with various brands. Therefore, while the couple's public image is lively and engaging, they maintain a discreet personal life.
Ryan Garcia and Drea Celina Children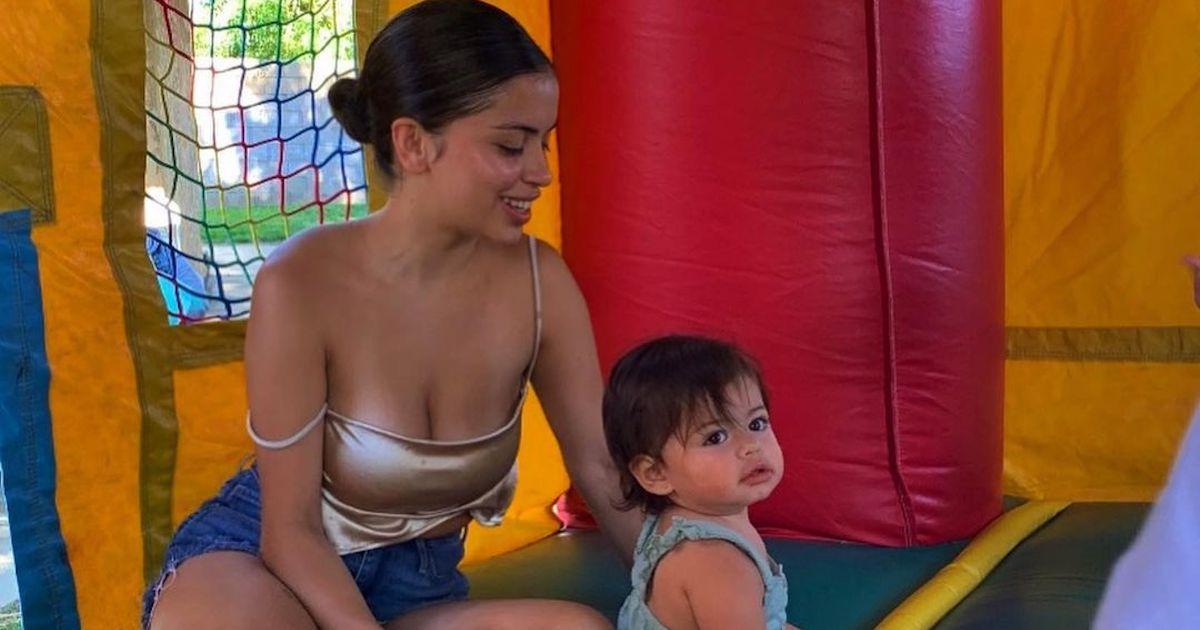 Ryan Garcia, a boxing sensation, and Drea Celina, a top social media influencer, share two beautiful daughters. These daughters symbolize different life chapters for them.
Ryan's first daughter, Rylee, was born in March 2019. Her mother is his previous girlfriend, Catherine Gamez. After they broke up, Ryan began dating Drea. Together, they welcomed their second daughter, Bela, in December 2020.
Ryan even has an Instagram account for his elder daughter, Rylie. Through it, he showcases their strong father-daughter bond. Therefore, the children have become a beloved part of Ryan and Drea's public image.
Despite some relationship controversies, Ryan and Drea's bond with each other and their children seems strong and unbreakable. Their family connection shows resilience and continues to grow, reflecting their shared commitment and love.
Ryan Garcia and Drea Celina Net Worth 2023
As of 2023, Ryan Garcia's net worth stands at an impressive $20 million. This figure reflects not only his success in boxing but also his business skills. Moreover, it highlights his status in the world of athletics.
Ryan's earnings come from various sources. He has earned about $15 million from fight purses alone. Additionally, he has lucrative endorsements with well-known brands. Gym Shark, Dior, Gatorade, and 1800 Tequila are some examples.
Drea Celina, Ryan Garcia's girlfriend, is also well-known. She has earned recognition in the modeling industry. In 2023, her net worth is estimated to be $2 million. Drea's modeling career is the main source of this income. She has worked with various companies, promoting their products on social media.
Thus, both Ryan and Drea have successfully leveraged their talents and opportunities to build substantial wealth.
FAQs
Who is Ryan Garcia?
Ryan Garcia is a promising American professional boxer, recognized as one of the top talents in the sport. As of 2023, he is 24 years old and has a net worth of $20 million.
Who is Drea Celina?
Drea Celina is a prominent social media influencer and model. She specializes in beauty, fitness, and fashion, and as of 2023, her net worth is estimated at $2 million. She is also known as Ryan Garcia's girlfriend.
How did Ryan Garcia and Drea Celina meet?
The exact details of their first meeting are not publicly known, but their relationship began in 2019. They have often been in the public eye, particularly with social media posts and videos showcasing their playful and loving dynamic.
Do Ryan Garcia and Drea Celina have children?
Yes, Ryan and Drea have a daughter named Bela, born in December 2020. Ryan also has another daughter, Rylee, born in March 2019, from a previous relationship with Catherine Gamez.
What are Ryan Garcia's major endorsements?
Ryan Garcia has secured lucrative endorsements with several well-known brands, including Gym Shark, Dior, Gatorade, and 1800 Tequila.
What's the net worth of Ryan Garcia and Drea Celina as of 2023?
As of 2023, Ryan Garcia's net worth is $20 million, and Drea Celina's net worth is estimated to be $1.2 million.
What are the sources of Drea Celina's net worth?
Drea Celina's net worth primarily comes from her successful modeling career. She has worked with various companies and promotes their products through her social media posts.