Masour Ousmane Dembélé is a french professional footballer. Ousmane plays as a forward for the La Liga club FC Barcelona. He also is a part of the french national football team. Like many others, Ousmane was a young boy who dreamed of being a footballer one day. He practiced day and night and put hours of sweat and toil into his work. Thus, he became who he is today. At only 20 years of age, he was already the second most expensive player alongside his fellow player Paul Pogba.
Ousmane began his career at Rennes and later played for prominent clubs like Borussia Dortmund and FC Barcelona. Ousmane won 20 caps and scored five goals at the junior level before eventually joining the French National senior football team. He was a member of the winning team during Fifa 2018. Keep reading to know more about his career, injuries, contract details, net worth and, personal life.
Read Also: 5 Pieces Of Soccer Equipment Every Player Needs
Some Facts about Ousmane Dembélé
Birthday
The French forward was born on the 15th of May, 1997.
Ousmane Dembélé's Age
Dembélé was born in the year 1997, on the 15th of May. Hence, as of now, he is 24 years old.
Height
According to sources, Ousmane Dembélé stands at 1.78 m or 178 cm tall
Weight
Currently, Ousmane Dembélé is 73 kg or nearly 161 pounds in weight
What Nationality is Ousmane Dembélé?
Ousmane Dembélé is a French Footballer. He was born and raised in Vernon, Eure in Normandy.
Ousmane Dembélé Jersey Number
Ousmane Dembélé wears jersey number 11 for the forward position in the French national football team. He used to wear number 11 for the club FC Barcelona too. After his teammate Antoine Griezmann left the club, he won the jersey number 7. Griezmann previously wore the number 7 Jersey for FC Barcelona.
Ousmane Dembélé New Jersey number
Until recently Ousmane Dembélé wore the jersey number 11 at FC Barcelona. Recently, his fellow player, Antoine Griezmann left to play for Atletico Madrid. Thus, Ousmane won the number 7 jersey. This number has previously been worn by famous players like Villa and Pedro.
Ousmane Dembélé's Family
Ousmane Dembélé was born in the year 1997 to his father Ousmane Dembélé Senior and his mother Fatimata Dembélé. He has two siblings, a brother, and a sister.
Ousmane Dembélé's Parents
Ousmane Dembélé is a footballer of French descent. His father is Ousmane Dembélé Senior, a french man who comes from Malan. His mother is Fatimata Dembélé, who is of Mauritanian and Senegalese descent.
Ousmane Dembélé's Agent
Dembélé's agent is Moussa Sissoko.
Is Ousmane Dembélé an African?
Ousmane Dembélé is not an African. His father is a Mauritanian man. His mother is a Mauritanian-Senegalese lady who is from Wally Datang.
Early Life
Ousmane Dembélé was born on the 15th of May in the year 1997, in Eure, Vernon, France. His birth name was Masour Ousmane Dembélé. His parents are Ousmane Dembélé Snr and Fatimata Dembélé. Ousmane has two siblings, a brother and a sister. Ousmane was also greatly inspired by his uncle Badou Sambague.
His uncle also used to be Ousman.s agent. Badou Sambague used to teach Ousmane. Ousmane began his career in this sport at the Madeleine Evreux in the year 2004. Ousmane was only seven years old when he started playing at the Madeleine Evreux. His uncle became an attorney after his retirement.
Ousmane has said in many interviews that he values his mother's opinion and advice greatly. He said that his mother handles all his contract negotiations because she knows him best. Hence she would obviously make the decisions that would be best for him.
Club Career
Rennes 2014-2016
As has been said before Ousmane Dembélé played in the junior team at the Madeleine Evreux. He started playing professionally as a senior for the club Rennes in 2014. On the 6th of September, 2014 he made his debut as a Rennes player in the Championnat de France Amateur. He came on as a substitute for Zana Allee in the 78th minute. Ousmane assisted Kourouma in the second goal which helped them to win the match.
The 24 year old scored his first career goal on the 9th of November. This goal was against the reserves of Laval. In the first season, Ousmane scored a total of 13 goals in 18 matches. He also scored a hat trick in 2015 against Herouville.
In 2015, on 6th November, Ousmane debuted professionally. He scored his first goal on the 22nd of November against Bordeaux. On 6th March, Ousmane was able to score his first Ligue 1 hat trick. The match was against Nantes which was held in the Derby Breton.
Borussia Dortmund 2016-2017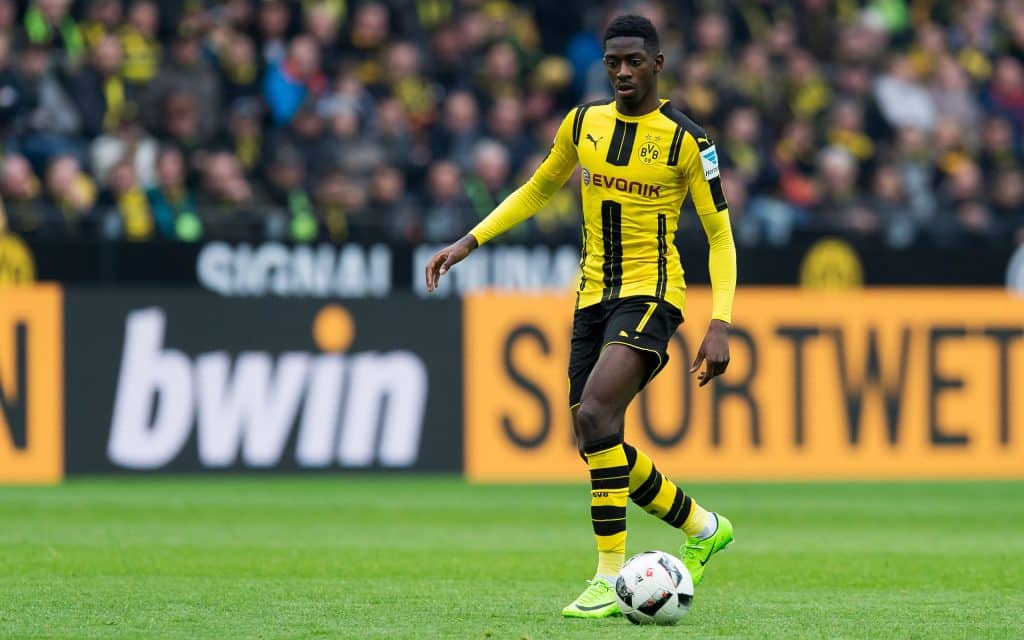 In the year 2016, on 12th May the club Borussia Dortmund signed Ousmane Dembélé. The contract was set to last five years starting from the 1st of July. Ousmane debuted on 14th August in a DFL Supercup match. The game was against Bayern Munich. Borussia defeated Bayern in a 2-0 victory.
On the 20th of September 2016, Ousmane scored his first club goal for Borussia Dortmund. The match was against VFL Wolfsburg in the Bundesliga. Borussia won the match 5-1. Ousmane scored his first Champions League goal in November 2016. The match was against Legia Warsaw who they defeated on the group stage.
On 26th April 2017, Ousmane became Man of the match in the game against Eintracht Frankfurt. Because of Ousmane's winning goal, Dortmund had won their first major title in five years. After the season was over, Ousmane was awarded a place in the Bundesliga Team of the season. He also won the Rookie of the Season award.
FC Barcelona 2018-present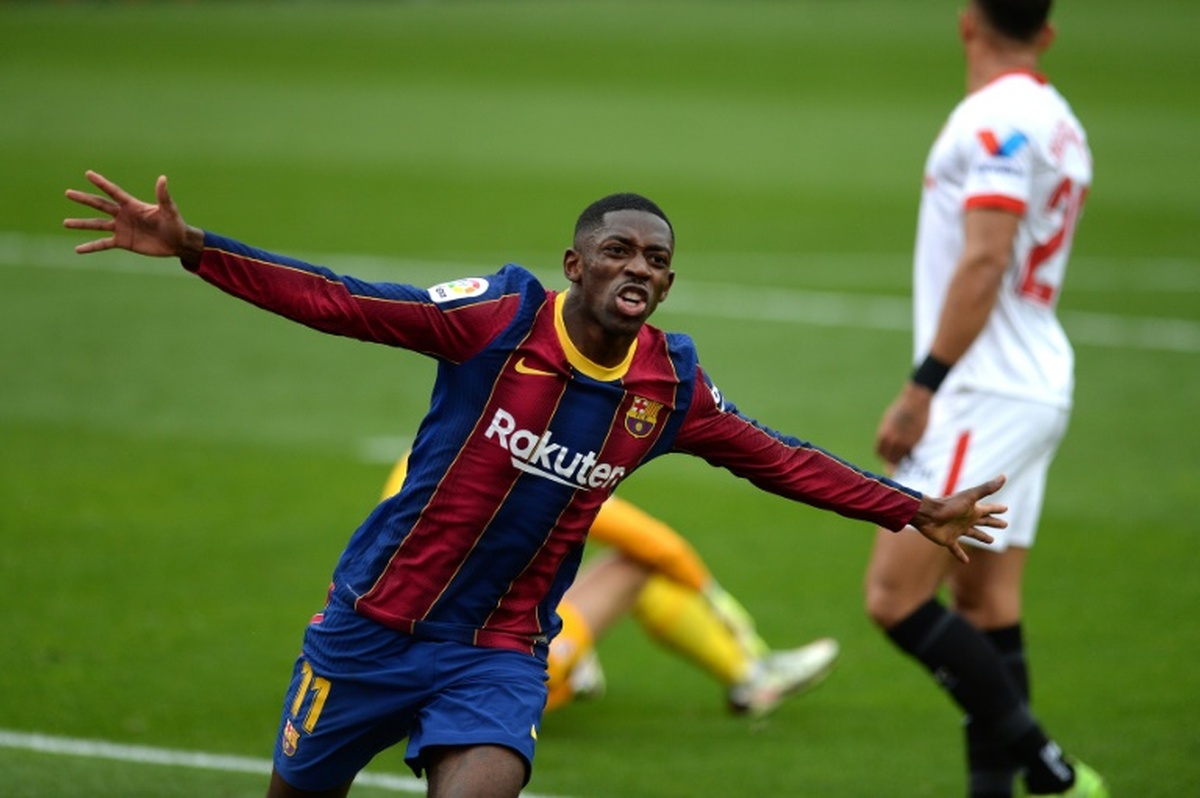 In August 2017, Ousmane Dembélé signed a five year contract with FC Barcelona in exchange for €400 million. This made him the second most expensive player. He made his debut on 9th September in the 68th minute as a substitute for Deulofeu. Ousmane assisted in the final goal. Nonetheless, he was ruled out twice in that season for injury. Once for four months and the second time for two weeks.
Ousmane scored his first goal for FC Barcelona in a Champions League match, against Chelsea. Although the match was a draw, he scored his first La Liga goal for his club on 17th April against Celta Vigo. Ousmane Dembélé scored four goals in 24 matches in his first Spanish season. Thus, he won the Copa del Rey and the La Liga winner's medals that year.
Ousmane Dembélé In Barcelona
In the year 2018, on the 12th of August Ousmane scored the winning goal for Barcelona. The match was against Sevilla in the Spanish Super Cup league. Thus he was able to win Barcelona their 13th Supercopa de Espana title. On 25th August he scored against Real Valladolid in La Liga. He scored again the next week in a match against Huesca. That goal was his first home goal of the season.
Ousmane scored again on 15th September in the victory against Real Sociedad. On the 18th of September, Ousmane assisted Arturo Vidal in the final match against Real Madrid. They were able to secure a 5-1 victory and win the El Clasico title. Without taking any breaks the next week Ousmane was back. This time he helped Barcelona win against Rayo Vallecano. He scored the equalizer in the 87th minute of the match with a half volley.
After that Ousmane assisted Barcelona in winning many matches including games in the Champions League and later Copa del Reys. In October 2020, Ousmane scored his first Champions League goal for Barcelona. The match was against Juventus.
Ousmane Dembélé & France
Ousmane Dembélé & His International Career
The 24 year old made his debut for the French National football team in September 2016. He replaced Griezmann in a friendly match against Italy. Ousmane scored his first goal for his country in a friendly match against England. He was a part of the winning squad as France beat Croatia in Fifa 2018.
Ousmane Dembélé & Injury
Last year Ousmane Dembélé suffered a very serious injury in a match against Hungary where he played in the French National team. Because of this injury, the French player was forced to miss the rest of the UEFA Euro 2020. Although the match was a 1-1 draw, this injury will impact Ousmane's career greatly.
Ousmane Dembélé was unable to play for four months because of his injury. He had to receive surgery on his knee. As a result of this, he will have to miss the beginning of Barcelona's team in the 2021-22 campaign.
In the match against Hungary, France was lagging behind and they were looking for a way to get back into the game. After playing for 57 minutes, Ousmane Dembélé replaced Adrien Rabot as a substitute.
As a result of his introduction, the team changed to a 4-24 formation. Thus, France was able to equalize the match. Despite contributing to saving France from failure, the coach asked Ousmane to come back off after playing for thirty minutes. Ousmane looked dejected because of this.
What Happened To Ousmane Dembélé? Is He Injured Again?

In the year 2020 Ousmane Dembélé suffered an injury on his knee. Because of this, the FC Barcelona team had to rule him out for four months. Nevertheless, FC Barcelona remains hopeful that Ousmane will be able to rejoin the team around the New Year.
According to some reports, the French Federation said that Ousmane Dembélé would have to miss the rest of the UEFA Euro 2020 because of the injury he got on his knee.
They went on to say that Ousmane had radiological examinations at the Budapest hospital. Due to his incompatible recovery time, he will be unable to play for about four months now.
The medical staff of the French team and his club FC Barcelona discussed this serious condition in great detail. The coach of the french team Didier Deschamps spoke at length to the doctor Franck Le Gall about Ousmane's situation. The medical team and the club both hoped that Dembélé would be able to start playing after four months. Nonetheless, Ousmane hopes to make a full recovery and return to his team around October of 2021. As of now, his injury lasted 122 days and counting. For now, he has missed 12 matches for his club FC Barcelona.
Ousmane Dembélé & His Contract
Sources report that club FC Barcelona has almost agreed to renew Ousmane Dembélé's contract. Ousmane's transfer window will be over really soon. This is because Ousmane will not have any contract due next summer. Thus, this deal was very important for FC Barcelona.
FC Barcelona was already facing monetary issues at the club along with a very high salary mass. Hence Barcelona was aware that they must renew Ousmane's contract. They will probably reduce his salary but the possibility of the footballer ending his contract with his club is low.
If this fails then FC Barcelona will probably have to sell Ousmane to manage their finances. This is because if the end of the contract window closes next summer before they can renew the contract, they will have to give Ousmane away for free.
Marca reports that Mundo Deportivo has said that the contract will be renewed. Ousmane has agreed to the reduced salary. This new contract according to sources will last till 2025. Even so, we do not have any more information about the new contract between FC Barcelona and Ousmane. Ousmane has refused to comment on this situation.
Ousmane Dembélé's Girlfriend
According to reports, Ousmane Dembélé is not dating anyone at the moment and he is single. Sources do say that he had at least one relationship in the past. Nonetheless, Ousmane likes to keep his personal life private so his dating life is not publicly known.
Ousmane Dembélé's Salary
Most of Ousmane's earnings come from playing football professionally. His additional sources of income include brand endorsements, advertisements, etc. As of now, Ousmane earns a lofty sum of €210,000 weekly. In short, His base salary is €10 million and his market value is €65 million.
Ousmane Dembélé's Net Worth

Currently, Ousmane Dembélé has an estimated net worth of $1-$6 million. Nevertheless, it is difficult to predict celebrity net worth because of changing lifestyles and spending patterns. Ousmane is still one of the most expensive players in the world despite his knee injury in June this year.