So, Robert Lewandowski is a professional football player from Poland. He was a striker for Bayern Munich, the Bundesliga club. However, very recently after a lot of doubts, he has moved to the La Liga giant Barcelona FC as its striker. Moreover, he is also the captain of the national football team of Poland. Many consider Robert Lewandowski to be the best striker the game has ever seen because of his techniques, positioning as well as finishing. Additionally, he is one of the best players that Poland or the Bundesliga has ever produced or seen. Therefore, he has scored a total of more than 600 senior career goals combining both for his country as well as his club.
Hence, Lewandowski has a lot of feathers on his crown. Let us quickly see a few. He is the third overall men's international goalscorer in Europe. So, before him lay only Ferenc Puskas and Cristiano Ronaldo. In 2015, he won IFFHS World's Best International Goal Scorer Award, and in 2021 IFFHS World's Best Top Division Goal Scorer Award. Moreover, he also won the IFFHS World's Best Player in 2020 and was also the winner of the European Golden Shoe for the 2020-21 session. He also got the Best FIFA Men's Player Award as well as the UEFA Men's Player of the Year Award in 2020. Moreover, he has also earned the title of the VDV Bundesliga Player of the Season for striking five times. He is also the fastest goalscorer in Europe as per the Guinness World Records.
He also won the Bundesliga Top Scorer Award for 7 seasons. Moreover, in 2021, he finished second in the Ballon d'Or. So, this makes him just 33 points behind Lionel Messi who won it.
Robert Lewandowski Age
Robert Lewandowski took birth in the historic city of Warsaw in Poland. So, he was born on 21st August 1988. Therefore, as of July 2022, he is 33 years old.
Robert Lewandowski Wife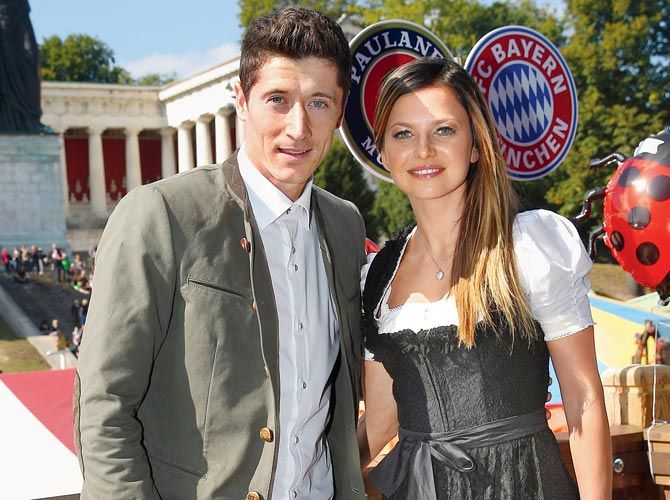 Robert Lewandowski found love in an extremely talented athlete. So, his wife Anna Lewandowska had been the winner of the bronze medal at the Karate World Cup of 2009. The duo married in the Church of the Annunciation of the Blessed Virgin Mary in Serock on 22nd June 2013. So, they have been together since then. Moreover, they have two daughters- Klara and Laura.
Robert Lewandowski Agent
So, the agent of Robert Lewandowski is Pini Zahavi. However, he has recently made it to the news a lot because of Lewandowski's transfer. This is because his decision to leave the Bundesliga giants- Bayern Munich has garnered a lot of attention and criticism recently. Yet, Lewandowski finally chose Barca over Bayern Munich.
Robert Lewandowski Stats
So, let us take a quick look now at the number of matches Robert Lewandowski has played in each tournament along with the number of goals he has scored.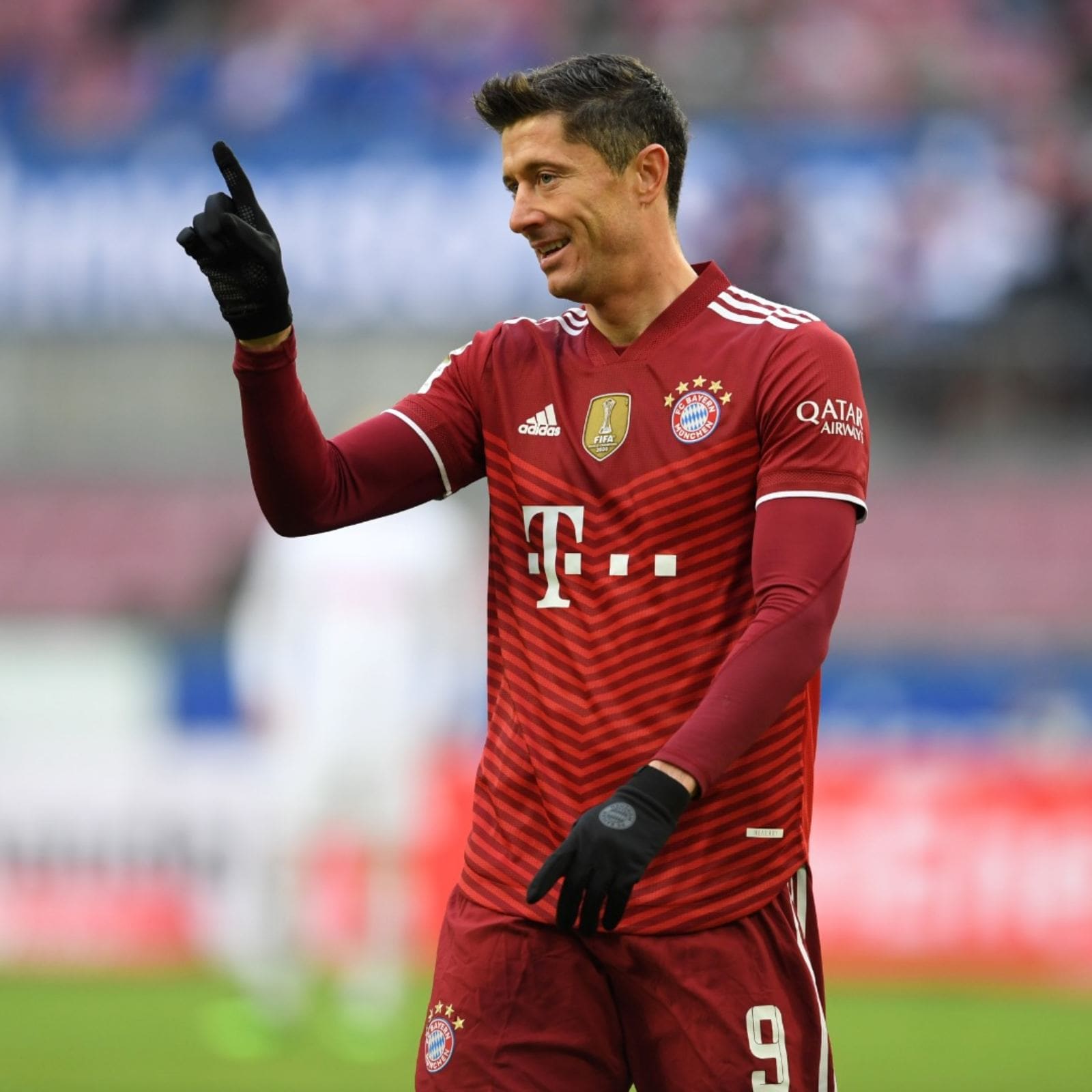 | | | |
| --- | --- | --- |
| Competition | Total no. Matches played | Total no. of Goals made |
| Bundesliga | 384 | 312 |
| Champions League | 106 | 86 |
| Ekstraklasa | 58 | 32 |
| DFB Pokal | 50 | 39 |
| 1-Liga | 32 | 21 |
| DFL Supercup | 11 | 7 |
| UEFA Cup | 8 | 1 |
| Fortuna Polish Cup | 7 | 2 |
| Europa League | 6 | 1 |
| Europa League Qualifying | 6 | – |
| UEFA-Club Qualifikation | 4 | – |
| Club World Cup | 2 | – |
| UEFA Super Cup | 1 | – |
| Superpuchar | 1 | – |
| total | 676 | 509 |
Robert Lewandowski Transfer News
So, back in June, Barcelona FC made the 40m Euro bid. This was when Robert Lewandowski confirmed that he might leave Bayern Munich where he had played for so long. He was confident that he would be able to join Barcelona by the end of this week. However, Barcelona has made a lot of delays that have frustrated Robert Lewandowski, his wife, and his agent. There had been a fair amount of hope amongst critics and fans that he might take a U-turn and return to Bayern Munich. So, the chief reason behind this is Frankie de Jong who is blocking his transfer. In a recent statement, Barcelona has said they cannot afford Lewandowski unless they force out Frankie de Jong. However, in the meantime, as per reports, Bayern Munich was ready to negotiate with Barcelona for the transfer of Robert Lewandowski.
Finally, mid-July, Barcelona confirmed that Lewandowski joined them as the striker.
Robert Lewandowski Barcelona
The transfer news of Robert Lewandowski from Bayern Munich to Barcelona had been a burning issue for various reasons. To begin with, Barcelona has made several transfers in a short period which is quite uncommon. On the other hand, loyal fans have not been particularly happy about the transfer. As per reports, Lewandowski has been receiving death threats and calls over the dangerous transfer. However, Barcelona is putting in extreme efforts to have him on board but the problem is with de Jong. In the meantime, PSG is trying to secure him. This is even though he is interested in joining Barcelona. But despite all the competition, the striker chose to shift to the La Liga club.
However, now that the 2022 FIFA World Cup is coming up, let us take a look at how the world cup career of Robert Lewandowski has been over the years.
Robert Lewandowski's First World Cup
So, despite being one of the best strikers of all time, Robert Lewandowski made his world cup debut quite late in life. He did so when he was almost 30 years of age. Therefore, the first world cup that "the body" or "Lewy" Lewandowski played was in 2018. However, being a star player of Bayern Munich for years, this delay might be because in the World Cup the performance of the entire Polish team matters as a whole.
Robert Lewandowski World Cup 2018
As a Polish national football player, he has been quite phenomenal. So, in the 94 games that he had played, he had scored 53 goals before the 2018 FIFA World Cup. Moreover, he is the best goal-scorer Poland has. Therefore, the team placed all its hope on his performance. Everyone expected that Poland would reach the round of 16 along with teams like Senegal and Japan. However, Poland lost to Senegal 1-2. So, Lewandowski failed however he had little space to do anything by himself. He did not get many services. So, if one looks at the number of passes that his Polish teammates gave him, there was only one pass from Milik.
Hence, if there was a better partnership, Poland might have had a better shot at winning the game.
Robert Lewandowski World Cup 2022
So, after his debut in the last World Cup, we will again see Robert Lewandowski in the FIFA World Cup 2022. The Poland national team is quite worked up as they made sure to play at Qatar on 29th March 2022. So, this came after their win against Sweden 2-0 in the World Cup play-off. This was a historic victory for Poland because they have not defeated Sweden since 1991. Therefore, the two winning goals in the second half came from Robert Lewandowski and Piotr Zielinski.
Robert Lewandowski's World Cup goals
Despite his outstanding performance as a Bayern Munich (now Barca) striker, Robert Lewandowski does not get a lot of luck while playing for his country. Since he has only played one world cup till now, the number of goals here is nothing remarkable. He made 16 goals in the European qualifying campaign for the FIFA World Cup in 2018.
Robert Lewandowski World Cup Stats
So, if we disregard the qualifying matches and goals, there is not much to be said about his World Cup career. Therefore, he has played a total of 3 World Cup matches as of now. However, he has not made a single goal in any of these matches.
Robert Lewandowski FAQs
Why is Lewandowski called Robert?
So, his parents named him Robert Lewandowski because they believed when he becomes an international player, he would need an English name. Hence, the name Robert came such that people all over the world can easily pronounce it. This is because they would have easily butchered a Polish name.
How many golden boots does Lewandowski have?
Up till now, he has the title of 1 golden boot to his name.
How many goals has Robert Lewandowski scored in his career?
So, in the history of the Bundesliga, Lewandowski is one of the most successful players. Throughout his career, he has scored more than 600 goals representing both his country Poland and his club Bayern Munich (previously). Moreover, for a detailed list of all the goals he has scored, head over to the Robert Lewandowski stats section.
Who has more goals between Suarez and Robert Lewandowski?
Lewandowski has way more goals than Suarez, but the major difference lies in the club career of each footballer.
How many red cards have Robert Lewandowski got?
So, to date, he has never got a red card. However, he received a yellow card once.
How tall is Robert Lewandowski?
He is 1.85 m tall. So, he is around 6 feet tall.